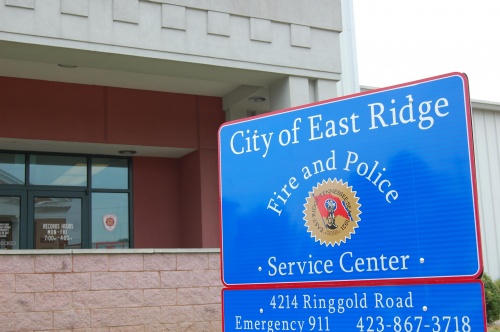 East Ridge officers responding to an auto theft, Monday morning,  discovered the stolen vehicle in the middle of the road.
According to a police report, officers were dispatched to 3715 Bennett Road on an "auto theft that just occurred." Dispatchers told police that the stolen vehicle was a silver Mercedes and was last seen five minutes prior to the dispatched call. "Upon arrival on the scene I instead located a silver Mercedes parked in the middle of the roadway with the emergency flashers on with several parties standing around it, one being the witness and other being the victim," the report states.
The victim told police that she left the car running with the keys in it to warm up and heard the motor revving. The woman told officers that she saw a white male suspect get out of the vehicle on Bennett Road and run to a waiting vehicle parked in the 1200 block of Connelly Lane. The suspect vehicle is described as being an older model Chevrolet Impala. The suspect is described as a white male wearing a black toboggan and a white jacket. 
A witness told police that she followed the Impala down John Ross Road to Sunrise Terrace where she lost sight of the car.
The report states that when police inspected the Mercedes they noticed the gear shift lever was torn off of the steering column "due to the suspect's ignorance of the workings of Mercedes vehicles." 
The report states that the officer on the scene personally contacted Walker County dispatch and advised them of the BOLO on the Impala. At the time of the report there was no further suspect information.
_ 4222 Ringgold Rd.: Police were called to the Speedway early Wednesday morning on a theft. According to a police report, when officers arrived just before 5 a.m. they spoke with an employee who told them that a black male came to the register with a few items and asked for a carton of Newport cigarettes. The employee rang up the purchase and placed the bag on the counter. The suspect presented a debit card for payment, which was declined. The employee told police that the man told her that money should be added to the card and stood waiting for a moment. The report states that the suspect then asked for a wood-tip cigar to add to the purchase. As the employee turned to get the cigar, the suspect picked up the bag and walked out the side door. The employee said the suspect got on a bicycle and rode southbound on Tombras Avenue. The report states that police checked the area but found nobody riding a bicycle. The value of the stolen items ( a carton of cigarettes, Speedy Choice honey bun and a Red Bull energy drink) was placed at $64.