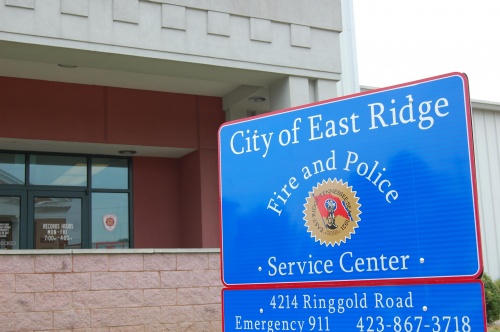 _ 3119 Old Ringgold Rd.: Police were called to the address on Sunday evening on a reported animal theft. According to a police report, officers spoke with occupants, a man and a woman, who said that while she was out doing laundry and the man was at work, someone entered their apartment and stole their pet Boxer, Bo. The distraught owners of Bo told police that they locked the front door but did not engage the dead bolt. The male victim told officers that there is a slight crack in the door frame on the front door that allows the door to be "jimmied" by using a credit card. The victims told police that the rear sliding glass door doesn't lock but it is secured with a rod at the base to prevent anyone from entering. The report states that officers saw the sliding glass door had apparently been opened from the inside, allowing the "dognappers" to exit the apartment. The dog is brindle colored and has a chip embedded in it for identification. There is no suspect information at the time of the report. 
_ 929 Spring Creek Rd.: Police responded to the Doctor's Building on a report of suspicious activity, Tuesday afternoon. According to an affidavit of complaint, a caller alerted police to a black male who was suspected of smoking a narcotic. Police entered the building and immediately discerned an odor of burning marijuana, the report states. Police then saw a man, later identified as Terrance Terrell Lee of a Kirby Avenue address in Chattanooga, in the area from where the odor was coming. Lee, the report states, was carrying a two-year old child as officers demanded that he stop. Lee refused to stop and entered Suite 104. Police continued to demand that Lee stop but he continued his flight through the office, thereby further endangering the child. Lee then entered the manager's office and turned around when he realized it wasn't an exit. The report states he continued to resist officers' efforts to stop him for investigation and attempted to enter an exam room where his girlfriend was being seen. When Lee handed off the child to his girlfriend, police were able to take him into custody. The report states that while Lee was fleeing, he continued to try and remove something from his front pants pocket. A pat down search of Lee produced about two grams of suspected cocaine, a small digital scale and $546 cash. Lee was charged with Resisting Stop, Frisk, Halt, Possession of Schedule II Drugs for Resale and Possession of Drug Paraphernalia. He is due to appear in East Ridge Municipal Court on April 5.
_ 3625 Ringgold Rd.: Police were called to the Cascades Motel on a reported assault, Tuesday. According to an affidavit of complaint, when police arrived they met with a woman who told them she had been strangled and bitten on the left ear and above the right eye by her boyfriend, Jeremy Rains, after they had argued. The woman told police that Rains had threatened to "cut himself" if she tried to leave him. The report states that officers spoke with Rains in a different room. Rains told police that his girlfriend had cut  him with a knife on his back while he was asleep. He said that when he woke up, the girlfriend tried to run out of the room. According to Rains, she slipped and hit her head on the door frame. The report states that officers observed redness and finger marks on the woman's neck and a bite mark above her right eye and another bite mark on her left ear. Blood was dripping down from the bite mark on the ear, the report states. Police saw numerous cuts on Rains' lower back. All the cuts were fresh and in a swooping downward direction from left to right. Police charged Rains with Aggravated Domestic Assault and he is due to appear in municipal court on April 5.
_ 702 Frawley Rd.: Police were dispatched to the address early Sunday evening on a reported disorder. According to an affidavit of complaint, police spoke with a woman who said that her boyfriend, Gerald Jerome Knox, 49, of a South Germantown Road address, showed up at her house and was beating on the door. The woman said she didn't answer the door and observed Knox leaving. The woman told police that he returned in about five minutes and began beating on her bedroom window. The woman said she opened the door and Knox made his way inside. Once inside, the report states, Knox threatened her and began pushing her. She was able to get the man outside long enough for her to call police. The report states that while officers were investigating the incident, Knox started walking to his vehicle. Officers told Knox to go back to where he was standing but he didn't comply. The report states Knox got into his car and when officers tried to stop him, he attempted to slam the door shut. The report states that an officer used his Taser on Knox, who got out of the car and ran on foot. Police gave chase, the report states, but lost Knox in a wooded area. Warrants were taken out on Knox and he was subsequently arrested and charged with Domestic Assault and Resisting Stop, Frisk and Halt.