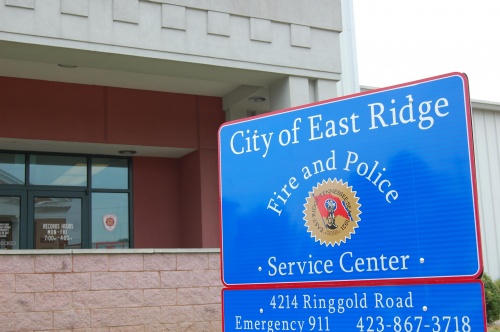 The following information was compiled from ERPD "pass along reports."
March 31 – Day Shift
3500 block Ringgold Road/Suspicious Person:
Reginald Rice Jr entered the office at this address and went into their bathroom. After being in there for almost an hour police were called. Rice came out and after a brief conversation it was discovered he had a warrant thru General Sessions and was transported to Silverdale. (22-004425)
4400 block Lanoir Circle (vehicle burglary):
The resident reported the theft of his black Glock 22 (.40 cal.) with TLR-1 flashlight attached from his vehicle sometime between last night and this morning. Caller advised the gun was loaded with three extra magazines and a black inside-the-waistband holster. (22-004447).
4400 block Lanoir Circle (vehicle burglary):
Complainant reported the theft of a red and black backpack containing several prescription bottles of medication from his vehicle sometime between 0045 and 1630hrs this date. (22-004449)
1500 block Tombras Ave (miscellaneous):
Police dispersed multiple unattended and over-age juveniles from the new Pioneer Frontier structure after school dismissed. (No number assigned)
4214 Ringgold Rd. (AOA):
Michael Helton was taken into custody on a Hamilton County Warrant and was transported to the jail by East Ridge Police. (No number assigned)
*********************************************************************
March 31 – Night Shift
3600 block Ringgold Road (Arrest/Warrant 22-004456):
Casey Maxwell was taken into custody at this location for outstanding warrants through Hamilton County.
6500 block Slater Road (misdemeanor citation 22-004465):
Police made a consensual encounter with three parties at this location. A male was issued a misdemeanor citation for simple possession after he was found to have four Roxicodone pills and a marijuana cigarette in his possession. Karen Campbell was found to have active East Ridge Warrants. She was transported to Silverdale.
*********************************************************************
April 01 – Day Shift
22-004473- 5300 block Haisten Court- Suspicious Activity-
The caller requested police respond and check a large trash bag in his trash can. He advised an unknown person left the bag without his permission. On scene police checked the bag and found garbage. It is unknown who left the bag.
22-004474- 5500 block Ringgold Road- Suspicious Person/Trespass Warning-
The caller advised of a homeless male sleeping in the business. On scene police encountered him. He was checked for warrants and issued a trespass warning.
22-004479- 7600 block Standifer Gap Road- Warrant Service-
Jeremy Daniels was served an East Ridge warrant for Alias Capias: Driving on Revoked, Suspended, or Cancelled License. Daniels is currently in custody at the Hamilton County Jail at Silverdale.
22-004480- Mack Smith Road @ Brack Street- Suspicious Person-
The caller advised a male was walking in the roadway and trying to stop cars. On scene police checked the area but the male had already crossed over into Georgia. Catoosa County was notified.
22-004486- 1400 block Mack Smith Road- Overdose-
The caller advised a male in this room was unresponsive. On scene police located the male and administered Narcan. The male was identified. He was transported to Parkridge East.
22-004489- 3600 block Ringgold Road- Disorder/AOA Warrant Service-
Kevin Webb was detained on Hamilton County warrants following a disorder at this location. He was transported to Silverdale without incident.
22-004492- 3700 blk of Fountain Avenue- Shot Fired-
The caller advised she heard a single gunshot in the area. She also advised she observed a male in a black Mercedes driving away from the location where she heard the shot. On scene police checked the neighborhood with nothing located.
22-004500- 5800 block Ringgold Road- Theft From Vehicle-
The caller requested police respond regarding the theft of catalytic convertors from three of their 26 foot trucks.  Police contacted the complainant who advised sometime between 1900 hours on 3/31/22 and 0900 hours on 4/1/22 an unknown suspect(s) stole the catalytic convertors off of three of their 26 foot rental trucks. Complainant was unable to provide police with the tag numbers of the vehicles but did state they are Ford F650 trucks. Patterson and a fellow employee estimated the value of the catalytic convertors to be approximately $600 each.
*********************************************************************
April 01 – Night Shift
3700 block Ringgold Rd/Arrest-Drugs for resale, Unlawful Possession of a Firearm by Felon, Possess Firearm During Felony:
A suspicious vehicle was observed at this location, and a consensual encounter with Dominic Nance led to the discovery of marijuana packaged for resale (approximately 56 grams), scales and packaging material, currency ($653) and a loaded Smith and Wesson 9mm firearm hidden in the vehicle. Furthermore, Nance's criminal history check revealed he had a prior felony conviction. (22-004518)
900 block Spring Creek Road/Arrest (22-004505):
Police responded to Parkridge East Hospital regarding a combative patient. The patient was arrested and charged with assault after threatening to kill hospital staff.
S Germantown & Claremont/Arrest (22-004513):
James Sander III was arrested following a traffic stop at this location for outstanding warrants out of general sessions for theft of property and violation of an order of protection.
6700 block Ringgold Road / Intoxicated Parties:
Garrett McQueen and Kyle Minnis were taken into custody for disorderly conduct and public intoxication after being found in front of the Quality Inn and refused to go inside for the night. (22-004524)
600 block S Germantown Rd / DUI:
Laarone Rolax was taken into custody for DUI, Implied Consent, Open Container, and Possession of a Prohibited Weapon following a traffic stop for a speeding violation. (22-004511)
4214 Ringgold Road/Drugs/DOR (22-004525)
Derrick Ross was arrested for possession of marijuana for resale and driving revoked at this location during a traffic stop. 25.6 grams
Ringgold Road at I-75/Reckless driving (22-004521)
Police attempted to stop a reckless driver in a white Dodge Charger after officers witnessed the vehicle cutting doughnuts and sliding the vehicle sideways in heavy traffic. At the time of the stop, it was believed the vehicle was also involved in a shooting in Chattanooga. Upon attempting a traffic stop, the vehicle fled. A pursuit ensued. During the pursuit it was determined that the Charger was not associated with the shooting suspects. The pursuit was discontinued at this time. 
6500 block Ringgold Road/Simple Possession (22-004508)
Police made contact with a suspicious subject, Larry Henderson, at Mapco Gas Station. Henderson admitted to having drug paraphernalia in his vehicle during the interaction. Drug paraphernalia and suspected fentanyl was recovered. Henderson also had an active warrant for vandalism out of East Ridge. Henderson was placed under arrest.
1400 block Mack Smith Road/ Drug overdose (22-004516)
Upon arriving, police found a man unconscious. During the investigation, it was discovered that he had approximately 3.5 ounces of marijuana, THC edibles, and THC oil in his possession. Warrants are pending due to him being transported by EMS.