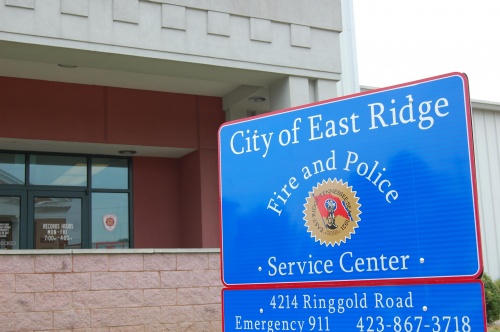 According to a press release from the East Ridge Police Department, two men have been arrested in connection with recent auto burglaries.
Assistant Chief Stan Allen released the following information on Thursday morning:
On Wednesday, June 05, 2019 at 6:10 AM East Ridge Police were dispatched to the 3600 block of Weldon Drive for a found property call. When they arrived several items such as school related papers, markers, and a hole punch were found tossed on the ground. Officers were able to attribute the property to a resident in the block. Officers made contact with the resident who stated the items belonged to her and were originally in a navy-blue backpack with the specific embroidery on the front. The victim checked her vehicle and found that her bag, along with electronics, was missing.
Officers returned to the original complainant's house and, while gathering his information, a black 2007 Kia Optima drove past towards the dead end of the road. The resident identified the vehicle as unusual for the dead-end street. Officers noticed the temp tag on the vehicle was altered and the driver side brake light was not operating. The vehicle was stopped for the traffic violations resulting in the recovery of the stolen backpack, sitting in plain view, and contents. The driver, Leandrese McDowell (28 years old, 2300 Wilson Street Chattanooga) and the passenger, Rashawn Caslin (21 years old, 315 Gillespie Road Chattanooga) were removed from the vehicle and detained. A search of the area around the driver and the passenger was conducted and a Taurus .380 handgun loaded with five rounds was discovered. The gun's serial number was ran through dispatch and it verified to be stolen.
A check of Mr. McDowell's drivers information found his license to be suspended. Both suspects were transported to the East Ridge Police Department and the vehicle was transported to the East Ridge Police Department Impound Lot to be searched by CID. Detectives and patrol gained and served a search warrant for the impounded car. Officers were able to locate additional property from three yet unreported auto burglaries. Both Mr. McDowell and Mr. Caslin were arrested and transported to the Hamilton County Jail. They were both charged with auto burglary and theft related charges. Additional charges are pending the investigation of surveillance footage and seized property.
The East Ridge Police Department would strongly urge residents to remove valuables from their vehicles and lock all doors at night. All of the vehicle burglaries attributed to McDowell and Caslin were perpetrated against unlocked cars after dark. Surveillance footage captured by a resident showed additional abandoned attempts on other vehicles. The subjects simply left after finding the vehicles locked.