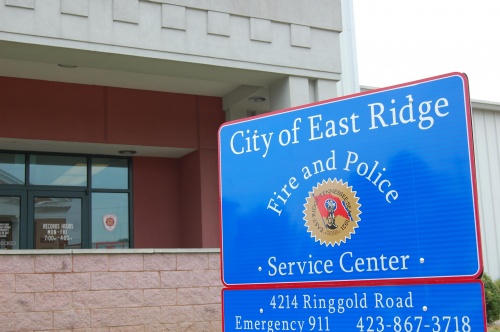 The following information was compiled from ERPD "pass along reports" provided by the administration.
January 07 – Day Shift
1410 Mack Smith Road / Missing Person:
Police were contacted by management of the Budgetel after seeing a juvenile thought to have been missing. Police spoke the child and the mother of the child. The 17- year old South Sudanese child had been visiting relatives in Kentucky and somehow ended up in New York. She finally made her way back to Tennessee with the help of family and friends.
6401 Ringgold Road / Theft:
An employee of McDonald's suffered the theft of $60 from her purse while she was working. Management reviewed video footage and discovered it was taken by an employee who was immediately terminated. A warrant for theft is pending.
6301 Ringgold Road / Theft:
A tall B/M with facial tattoos and wearing all black clothing walked into the Boost cellphone store asking about the newest phones. He told them he wanted to buy an iPhone SE, valued at $400. While doing the paperwork the suspect took the phone and ran out. The suspect left in a white Chevy Malibu traveling west.  The suspect vehicle had dealer stickers on the front windshield.
601 Walnut Street (Warrant Service):
Steven Bradley Troglen was served with an East Ridge warrant for an alias capias charge of driving on revoked.
1316 Greens Lake Road – Alarm:
Police responded to a commercial alarm at this location. Police were cancelled once arriving on scene.
*********************************************************************
January 07 –Night Shift
4101 Ringgold Road (Auto Theft 21-000273):
Police responded to an automobile theft involving a white 2011 Chevrolet Malibu. Officers do have suspect information and warrants will be sought.
335 Camp Jordan Road (Shots Fired):
Caller reported hearing gunshots in the area. Police checked the area and did not locate anything.
193 Cecil Lane (Suspicious Activity 21-000282):
Police were summoned regarding several male subjects around a car at a late hour of night. Parties were gone when police arrived.
6514 Ringgold Road (Arrest 21-000287):
Matthew Patterson and Shawn Lee were taken into custody for Public Intoxication and transported to the Hamilton County Jail after police observed the parties in a disorder.
5400 Ringgold Road (DUI 21-000288):
James T. Blanks was taken into custody for DUI and Driving Without a License following a traffic stop for multiple traffic offenses.
180 Frawley Road (Disorder 21-000289):
The reporting party stated he was attempting to repossess a vehicle and there were parties in the vehicle who refused to let the vehicle go. The tow driver was advised he needed to secure a court order to repossess the vehicle since there was a dispute over the validity of the repossession order.
*********************************************************************
January 08 – Day Shift
 4339 Ringgold Road- Hold Up Alarm-
Police responded to Quick Stop to check the business. On arrival the alarm was found to be accidental.
320 Ringgold Road (Fabric Care Laundry)- Theft-
The caller advised an unknown suspect took her clothes after she left them overnight. The surveillance video shows two unknown suspects enter the business and take the clothes. This incident is still under investigation. 
5517 Ringgold Road (Suds n Shine Laundry)- Unwanted Person-
The caller advised a white male was loitering on the property and refusing to leave. On arrival by police it was discovered that the male had left the property. He was located riding his bike in the area and advised to stay away from the business unless he was a customer.
1523 Keeble Street (Hide Away Storage)- Auto Theft/Vehicle Burglary-
On arrival police met with the complainant, an employee of R2 Delivery. Complainant stated sometime between 1/7/2021 around 1700 hours and 1/8/2021 around 0950 hours, a yellow box truck was taken from the property. The truck had property inside the back belonging to a third party. The third party was contacted, and he advised he would come to East Ridge later to report his stolen furniture. The keys were still on scene indicating the suspect forced entry into the vehicle and did not have the keys to start the vehicle. The vehicle was entered in NCIC.
While on scene with the auto theft, the complainant advised his black 2012 Ford Focus had been entered and the suspect vandalized the ignition switch to start the vehicle. He found a black Samsung phone that did not belong to him inside the vehicle. The phone was submitted to property for processing. Later in the shift the truck was located by Chattanooga police and removed from NCIC. The unknown suspect is still at large.
941 Spring Creek Road (Parkridge East)- Mental Health Consumer-
The caller advised he was drugged at a Walgreens by an unknown suspect. On arrival it was quickly determined the caller was suffering some sort of drug induced mental distress. He was evaluated by the medical staff.
501 South Moore Road (OLPH)- Found Property-
The caller advised she found a wallet at the rear of the church. The wallet was recovered and put in property for safe keeping.
3725 Fountain Avenue (The Belvoir )- Domestic Assault-
An anonymous caller reported a black male and female fighting in the parking lot. The caller also advised the specific apartment where the couple live. On arrival in the area police went to the apartment and spoke to the victim. She advised her boyfriend, Aubrillius Martin, left the area before police arrival. Warrants are being sought.
3600 block Gleason Drive- Deceptive Practice-
An unidentified suspect contacted the reporting party and stated that her computer insurance was due for renewal.  The suspect then obtained her Discover Card information and stated that he had accidentally credited her card with $10,000.  He then requested her bank account information to retrieve the money.  The reporting party contacted both her bank and Discover Card and halted any transactions. 
*********************************************************************
January 08 – Night Shift
 1460 Mack Smith Road / Intoxicated Person:
Police responded to this location regarding two separate calls about a male standing in front of cars and having trouble standing. Police located the male, who was leaning against a retaining wall. The odor of an alcohol beverage emitted from his breath when he spoke. He was having trouble standing and forming complete sentences when he spoke. The male, identified as Conor Gillman, was arrested for Public Intoxication and transported to the Hamilton County Jail.
1430 Mack Smith Road / Traffic Stop:
Alexandria McMiller was arrested for disorderly conduct and resisting arrest following a traffic stop at this location.
5510 Ringgold Road/DUI/PI:
Renee Brawner was arrested for DUI and possession of heroin and Xanax at this location. Randy Brawner was arrested for public intoxication.
3500 Bennett Road/Evading:
During a traffic stop, a passenger male gave false information and fled on foot. During a search of the vehicle police located the suspect's wallet in the passenger door. Police stood by at his residence several blocks down the road and apprehended the male walking home. The male was identified as Fredrick Carr and had felony warrants out of Hamilton County.
3400 Gail Dr Apt/Multiple warrants:
Police were called to an apartment about a Joshua Davis refusing to leave. Police arrived and detained the male. Mr. Davis had five warrants through East Ridge and a U.S. Marshall hold.
3300 block Shadowlawn Drive / Domestic Assault:
The reporting party stated that his girlfriend saw that he was texting other women.  She got angry, punched him in the nose with a closed fist and then sprayed him with mace.  EMS responded to the scene to attempt to clear out his eyes.  He refused transport to the Hospital. Police tried to contact the girlfriend to gather her statement, but she refused to reply.  Warrants are pending for Aggravated Domestic Assault on the woman.
5300 Ringgold Road / DUI Arrest:
Thomas Stringer was arrested for DUI following a traffic stop at this location.