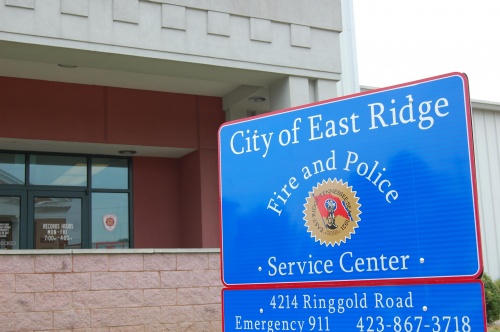 The following information is courtesy of the East Ridge Police Department.
Day Shift January 23, 2023
23-000928 – 1000 Bass Pro Drive – Theft/Evading – Officers responding to the Bass Pro on a theft call encountered a male party matching the description of the suspect near Champy's on Ringgold Rd. The suspect fled north on Mark Smith Rd but his attempts to elude police were unsuccessful. He was taken into custody for theft and evading.
23-000916 – 4214 Ringgold Rd – Warrant Service – A man was served with two Forfeiture Capias' for Driving on Suspended and Failure to Appear while in custody at the jail.
23-000919 – 1600 BLK Key West Ave – Check Well Being – Adult Protective Services advised they received a referral for the elderly resident at this address after receiving reports she was scammed through a sweepstakes.
23-000925 – 5400 BLK Clemons Rd – Disorder Prevention – The caller requested police assistance to retrieve a cell phone from an acquaintance who stopped paying her bill. Police stood by as the party returned the phone.
Night Shift January 23-24, 2023
23-000934 – 7609 Standifer Gap Road – Warrant Service – A party was arrested on East Ridge warrant Forfeiture Capias (Public Intoxication) while he was at Silverdale.
22-000147 – 7609 Standifer Gap Road – Warrant Service – A party was arrested on East Ridge warrants Driving on Revoked, Evading and Misuse of Registration while at Silverdale.
23-000931 – 4300 BLK Bennet Road – Harassment Report – Police took a harassment report, from a concerned parent. Her son began getting threatening messages on Instagram after an altercation occurred at the school earlier in the week. Report on file.
23-000932 – 4400 BLK Ringgold Road – Disorder – Customer was unhappy with how the employee spoke to him on the phone. The customer threatened to come up to the store and show the employee how to do his job. Nothing further.
23-000922 – 6700 BLK Jordan Run – Misc. Complaint – A concerned person called wanting the resident at this address checked on. The resident at this address stated she wished the caller would leave her alone. Police contacted her and advised her to stop contacting the resident.
23-000933 – 4100 BLK Ringgold Road – Theft – Employees stated a short male was actively shoplifting. Upon police arrival the subject was gone. Walmart employees were unsure what he exactly took. Report on file.
No Number Assigned – 941 Spring Creek Road – Assist Off Duty Officer – Police were called to assist an off duty officer working an extra job regarding a 441 party (mentally unstable) that CPD dropped off at this location.