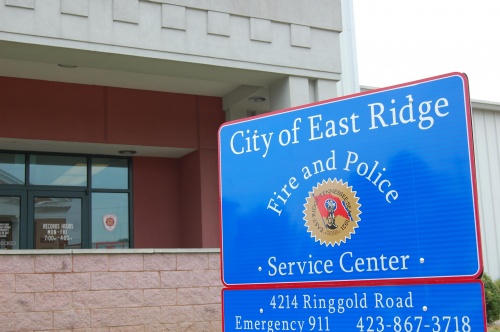 The following information was provided by East Ridge Police Department "pass along" reports.
August 15– Day Shift
6521 Ringgold Road (Wally's):
Suspicious Vehicle- The caller advised of a red Nissan in the lot with the doors open and engine running. Upon arrival officers located the vehicle owner. Her father was called to pick her up and her vehicle was left parked and locked on the lot.
1421 Wright Street- Disorder:
The caller advised of a male and female fighting in the area. Upon arrival police spoke to the two. Both advised the disorder was verbal.
1500 Keeble Street- Trespass/Warrant Service:
Garry Raines and Cody Hill were transported on multiple warrants to 601. After they were found on the property. Hill was also charged with aggravated trespassing.
4214 Ringgold Road-Warrant Service:
Mary Griffith from yesterday's traffic crash was served with several warrants. She was transported to 601.
1605 East Ridge Avenue- Alarm:
Dispatch advised of a burglar alarm at this residence. Police were canceled while enroute.
Pioneer Frontier Park- Possible Fight:
Police were made aware of a possible fight at the playground. Upon arrival no fight was located. Officers were already in the area due to the previous bolo.
1140 John Ross Road- Suspicious Activity/Property Damage:
On this date police spoke to the complainant regarding trespassers damaging her property. She advised over the last month unknown subjects have been entering her attic through an exterior air vent, pushing on the storm windows, climbing on her roof (house), and climbing on the shed roof all to enter the house. She advised she has not observed the subjects, but she has heard them and found the damage to her property. She requested an extra patrol of her property especially in the area of her shed.
1410 Saint Thomas Street (Motel 6):
Disorder- Motel 6 management reported subjects in room 143 had been disorderly and they wanted them removed from the premises. Officers contacted Taylor Neely, Michael Shane Cagle and Tyler Belcher. They were checked for warrants and asked to leave. While investigating the disorder officers located Randy Belcher passed out in a vehicle on the parking lot. He was awakened, checked for warrants and asked to leave as well.
1400 Sewanee Drive:
Suspicious Person- Complainant reported that she was approached by a heavyset w/m with dirty blond hair and beard, in a light gray newer model Jeep Cherokee and a Georgia tag, while she was on her exercise walk. The complainant stated that the male party told her that he was pursuing a massage therapy license and offering free massages. She declined and he left the area. She felt this was suspicious. Nothing located.
1425 S. Moore Road:
433 Vehicle – Caller reported a two-toned blue Honda Prelude improperly parked on the parking lot with the trunk open. Police checked the vehicle and found that it was not stolen and possibly broke down. No further.
*********************************************************************
Night Shift
6200 Ringgold Road / Traffic Stop:
Alexis Scott was issued a misdemeanor citation for driving on suspended.
3900 Bennett Road / License Required:
Derlin Osorio Mencia H/M was arrested on License Required. Second time arrested in East Ridge for said charge.
1113 Laurelwood Drive / Found Missing Juvenile:
A missing juvenile out of Chattanooga was located at this address. This address is the juvenile's former foster home. Police transported the Juvenile back to her home in Hixson.
*********************************************************************
August 16 – Day Shift
6727 Ringgold Road:
Complainant purchased electronics through Facebook from "Mike Poncho" in the amount of $160. Upon returning home the complainant discovered the items did not work. Poncho stated he would "make it right" and then blocked the complainant's calls.
4320 Ringgold Road:
An employee with Chambliss Center for Children, reported that a juvenile did not get on her bus to go home after school today. The juvenile ran away yesterday and was located at her former foster parent's home at 1113 Laurelwood Drive. The employee stated she is not there at this time. The juvenile was entered into NCIC.
1421 Choate Road:
Complainant reported the theft of a 4'x6' enclosed utility trailer belonging to Chattanooga Roofing Contractors. The complainant believes the trailer was stolen around August 7th when employees reported the theft of a license plate from a company vehicle. The trailer was entered into NCIC.
900 Belvoir Avenue:
Police located a male juvenile reported missing from Chattanooga. Contact was made with his mother, and he was transported to T.C. Thompson's due to cutting himself while missing.
1014 John Ross Road:
Police responded to a minor disorder in the parking lot of East Ridge Elementary after two female parents became upset after one car drove too close to the other.
1014 John Ross Road:
Police responded after a woman who smelled of alcohol arrived at the school to retrieve her child. Police determined she was not intoxicated, but she was not allowed to drive home with her child. They were both transported to their residence, and a friend came to retrieve her vehicle. A report was filed with CPS.
*********************************************************************
Night Shift
6728 Ringgold Road (Assist Other Agency):
The Catoosa County Sheriff's Office requested support in dealing with a trespassed individual at the Camping World facility. John Gale was involved in a verbal disorder in the main office on the Catoosa County side of the business. The suspect then moved to the campground in Tennessee. Gale was located and was removed from the property.
6708 Ringgold Road (Suspicious Person):
Employees at the Circle K Gas Station reported that a white male returned to the property after being criminally trespassed approximately 10 days ago. The employees only knew the individual as Mike and was unsure of the complaint number and date of the criminal trespass. The suspect was gone upon the arrival of the police.
1520 Keeble Street (Suspicious Activity):
The reporting party stated that three individuals were removing property from a vacated home, very late in the evening. Police found that one of the individuals was a previous resident at the home and had permission to remove a trampoline from the backyard.
6401 Ringgold Road (Assist other Agency):
Officers from the East Ridge Police Department responded to a request for support from the Catoosa County Sheriff's Department. A suspect in a possible vehicle theft had been located at the McDonald's on Ringgold Road. The suspect, Michael L. was detained and the missing 2018 Ford Escape was located in the parking lot. The owner of the Ford came to the location and recovered his vehicle. Due to inconsistencies in the owner's information, Catoosa County did not charge the suspect.
5712 Ringgold Rd (Animal Call):
Police responded to the report of a venomous snake in the bike lane of Ringgold Road near Groome's Transportation. Police arrived on scene and determined that the snake was a toy.
1208 Laredo Ave (Aggravated burglary):
Jeremy Jones was arrested for aggravated burglary and theft under $1,000 after he stole a Troy Built lawnmower from the garage at this address.
1113 Laurelwood Drive (Found Child):
A juvenile female that was reported missing today, was found at this address and removed from NCIC.
613 Stimpson Dr/Theft:
Police spoke with a man who stated that he ordered several books through Amazon. The man stated that his wife found one box of books on the front porch and found a plastic wrapper that was believed to belong to a second box. The man stated that Fed Ex delivered the books to his house before 1700 hours. The man was missing a total of twenty books. The man checked his Amazon account which stated all books were delivered.
1416 Choate Road/Burglary:
The complainant reported his garage was entered and several window a/c units were stolen.
5800 Ringgold Road/Traffic Stop:
Sarah Searles was issued a misdemeanor citation for possession of marijuana and possession of legend drug following a traffic stop at this location. Ms. Searles was transported by EMS to Parkridge East for a possible head injury from a wreck earlier in the day. Ms. Searles's vehicle was towed by Delaney's towing at owners request.
5500 Clemons Road/Suspicious activity:
Police were called to the area after a renter located a female walking in her back yard. Another neighbor observed a w/m jump his fence and several other fences while police arrived in the area. No parties were located.
*********************************************************************
August 17 – Day Shift
1620 Clayton Avenue:
The resident reported her 2005 Toyota Sienna was broken into overnight. Various items taken from the vehicle were in the yard at 1702 Clayton Avenue. All her items were returned.
1702 S. Clayton Avenue:
The resident came outside this morning to discover someone had gone through his unlocked vehicle and scattered some items on the ground. The resident reported nothing missing.
3510 Cherokee Avenue:
The resident reported someone broke into her Jeep overnight and stole her wallet and contents as well as her sunglasses. Her brother's truck was entered too, but he did not wish to make a report.
3636 Ringgold Road:
The complainant got into a verbal disorder with his wife on Rossville Blvd. He initially called CPD after she took his car keys. She then followed him to this location and took his keys again leaving him stranded with his tractor trailer at this location. He called a friend to come get him.
6828 Martha Avenue:
Police responded to an unconscious party. A man was located deceased in a downstairs bedroom. Drug paraphernalia was located beside him. CID and the ME responded, and the body was transported to the ME's office.
6710 Ringgold Road:
Police responded to a theft at the Best Western after a patron reported two diamond rings missing from her room while she was at the swimming pool. The patron suspects the cleaning lady.
**************************************************************
Night Shift
5324 Connell St (Domestic Assault):
The complainant reported that her ex-boyfriend, Terrence Baker, assaulted her at the residence. Baker left the residence prior to the arrival of police and was not located at his home. An arrest warrant will be sought for Baker.
3322 Ringgold Rd (R and B Carwash)–
Suspicious parties- RP called in stating a white female kept getting in and out of a vehicle behind the car wash changing clothes. After investigation on scene, Jonathan Cartwright was arrested for possession of drug paraphernalia, possession of schedule ll (heroin), possession of schedule ll (methadone), possession of schedule IV (xanax) and possession of schedule 1 (methamphetamine). The driver, Briaunna Partin, was arrested on a Coffee County warrant.
1536 Burns Avenue:
David Fricks was initially arrested for a Catoosa County warrant. Once in custody he advised that he had methamphetamine in his left shoe. In Fricks' left shoe was .17 Grams of methamphetamine. David Fricks was charged with possession of methamphetamine.
*********************************************************************
August 18 – Day Shift
1504 Truman Avenue:
Police responded on a disorder prevention after the complainant called requesting a standby while she retrieved her vehicle which she had loaned to her ex-boyfriend, Tony Bell. Bell was then arrested on an active county warrant for child support.
5504 Clemons Road:
Police responded to this unoccupied residence after the property owner reported seeing an unknown black male crawl inside through a rear window. Police searched the structure, but he was not located. It appears he has been sleeping upstairs without permission. A bicycle was located on the property and was placed into Property and Evidence at the request of the property owner.
4319 Duval Street:
Police responded to this location after a female subject stated she was having suicidal thoughts. She requested to go to Erlanger and was transported by ambulance.
4150 Ringgold Road:
The complainant stated she was traveling east on Ringgold Road when she observed two male juveniles throwing objects at which time one struck her passenger side front window and broke it. The motorist, who believes it was a rock, did not want to pursue charges. Police made contact with the parents of the children.
5911 Ringgold Road:
Police responded to Tweety's Auto Mart after an unknown male was found lying beneath a camper on the parking lot. Police made contact with Almon W. Almon stated he is homeless and had stopped to rest in the shade when he fell asleep. He was checked for warrants and instructed to move along.
100 Dorroh Lane Apartment 2:
Robert Henley was arrested on an outstanding East Ridge warrant for assault following an argument with his niece.
**************************************************************
Night Shift
3700 Connelly Lane (Suspicious Activity):
Police located a green Mazda with the warning lights operating in the roadway. A 17 year old male was located in a the driver's seat with a strong odor of an alcoholic beverage on his breath. The male was taken into custody and charged with Underage Driving While Impaired and Driving Without a License. The vehicle was towed by Broomes.
Engert Drive/Navajo Drive (Assist other Agency):
East Ridge Police and Fire responded to a crash in the area. Once the scene was secured, ERPD determined the crash occurred in Chattanooga. CPD responded and took over the crash investigation.
601 Walnut St (Warrant Service):
Roy (Mike) Malone was arrested at the Hamilton County Jail on an East Ridge Forfeiture Capias.
Keeble St (Hide-Away storage):
Suspicious persons- Stephen Chadwick and Ashley Woodard were asked to leave the property after staff found them running an extension cord to their storage unit.
Graston Ave-property damage–
A resident called in stating he heard a loud bang outside of his house around 2305 hours. He noticed his mailbox and trash can knocked over for his address and 6018 Graston. Police observed a white vehicle mirror on the ground in the area. The vehicle appeared to be traveling east on Graston heading towards Spring Creek Rd.
2400 E Main Street:
Andrew Nelms was arrested on an Alias Capias for driving while suspended after being stopped by Chattanooga Police.
1417 St Thomas St/Arrest:
Melissa Bryant was arrested for criminal impersonation after she lied to police and said she was her sister, Melinda. Robert Sisemore was arrested for possession of drug paraphernalia and also had felony warrants out of Georgia. Katherine Kilgore was arrested for Hamilton County Warrants. All this was a result of Ms. Bryant calling in high on methamphetamine stating that her friends were trying to duct tape her mouth and hold her down.
5301 Ringgold Road/Traffic Stop/Arrest:
Kevin Malcom was arrested after a traffic stop where the vehicle had a stolen license plate displayed. The vehicle VIN had been altered or damaged as well. The passenger Jessica Burns was arrested for possession of meth and drug paraphernalia.
6741 Ringgold Road/Vandalism:
The owner of Howard Transportation wanted to make a report after two of his vehicles was struck with multiple eggs.