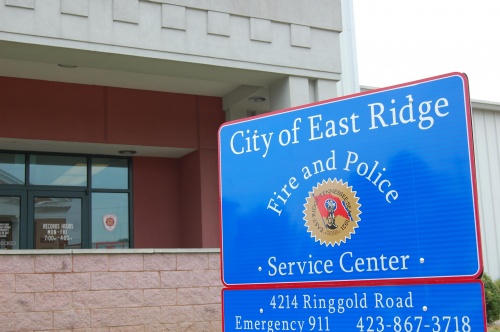 The following information is courtesy of the East Ridge Police Department.
Day Shift January 16, 2023
23-000662- 1014 John Ross Road- Wellbeing Check/Missing Juveniles- Police were dispatched to a wellbeing check at East Ridge Elementary School. Dispatch advised there was two juveniles reported to have been dropped off at the elementary school at approximately 0800 hours. School was not in session today. The caller advised dispatch she had dropped off the children and saw the children entering the school. Police entered the elementary school and found the school vacant. A family member arrived on scene and gave police a better description of the two missing children. Police got a tip that the female juveniles might have been seen at Bojangles. Police relocated to the Bojangles where the two females juveniles were found with a concerned party who had seen the two juveniles at Dollar General. The two juveniles were reunited with family. CPS report was filed.
23-000669- 7609 Standifer Gap Road- Warrant Service- A party was served an East Ridge warrant at Silverdale.
23-000675- 7609 Standifer Gap Road- Warrant Service- Another party was served an East Ridge warrant at Silverdale.
Night Shift January 16-17, 2023
23-000676- 1600 BLK Waterhouse Street- Theft from a Vehicle- Police were called to the residence regarding a catalytic converter being stolen from a vehicle. The victim advised she believes the crime occurred while she was at work sometime over the last week.
23-000680 – 1400 San Hsi – Traffic Stop – A party was issued a misdemeanor citation for simple possession following a traffic stop for speeding.
22-000692- 3657 Ringgold Road- Arrest-Warrant- A man was arrested on an East Ridge warrant at this location.
Day Shift January 15, 2023
23-000632 – 1400 BLK St Thomas St – Theft From Vehicle – The caller reported sometime between 0500 and 0700 someone entered her vehicle and removed a green Ryobi impact drill. Suspects are unknown at the time of report.
23-000633 – 1300 BLK S Seminole – Warrant Arrest – A woman was taken into custody on Hamilton County warrants after she was stopped for speeding. She was transported to Silverdale without incident.
Night Shift January 15-16, 2023
23-000645- 730 Germantown Circle – Unknown911 – Police received a 911 hang-up from this location. Police checked the area and did not locate anything.
23-000648 – 3600 bLK Ringgold Rd – Criminal Trespass – A woman was trespassed from a business after off-duty police working security for the store observed her concealing items in her pockets. Management declined prosecution but requested a trespass notice be issued.
23-000654 – 4214 Ringgold Road – Misc. Report – Police took a report from the Chattanooga Police Department about a man messaging an underage female in Knoxville, TN. Police are unable to make contact with the victim at this time.
23-000655 – 3400 Ringgold Road – Arrest – Following a traffic stop at this location, the driver was taken into custody for DUI 3rd, Driving on revoked for DUI and reckless driving.
23-000653 – 3725 Fountain Avenue- Assault in progress – Police responded and contacted two parties inside the apartment. No evidence of an assault occurred and police could not determine a primary aggressor. One party left for the night.
23-000656 – 707 S. Germantown Road – DUI – Police arrested a party for driving under the influence after officers observed her driving recklessly.
Day Shift January 14, 2023
23-000584 – 941 Spring Creek Rd – Disorder – Police were dispatched to assist hospital staff with a combative patient on CON attempting to leave the hospital. Officers assisted in restraining the party until her medications became effective.
23-000586 – 5300 BLK Ringgold Rd – Public Intoxication – A party was taken into custody for public intoxication by narcotics after she was observed yelling profanities and threatening patrons in a parking lot.
23-000592 – 4214 Ringgold Rd – Miscellaneous – The complainant reported his parents who are residents of Ooltewah had been scammed out of $50,000. He stated his parents had been contacted by persons stating they were connected with their bank in Ooltewah and were told to withdraw the cash and place it in a Bitcoin ATM in East Ridge. The RP had reported the fraud on the previous day to the Hamilton County Sheriff's Office.
23-000583 – 500 S. Seminole Dr – Suspicious Vehicle – Police responded to the area of Ringgold Rd and S. Seminole Dr after a concerned citizen reported a car stopped in the roadway with an unknown male asleep in the driver's seat. On arrival, police checked the area and later located a black Mazda 3 stopped in the roadway with possible crash damage and a disabled rear passenger tire. The vehicle was unoccupied; however, police observed signs of alcoholic beverages in and around the vehicle. Due to being a road hazard, the vehicle was towed.
23-000591 – 4214 Ringgold Rd – Theft/Deceptive Practice – The complainant came to the police department to report her Cash App account had been compromised and approximately $900 was taken. She advised she attempted to contact Spectrum entertainment to add a phone line to her current package, however, somehow made contact with a possible scammer and after they gained access remotely to her cell phone, transferred her funds to another account.
23-000597 – 4100 BLK Ringgold Rd – Domestic Disorder – Two people were in an extremely heated disorder in the drive-thru line to the extent of several witnesses contacting police. Police spoke with both parties who advised the argument got out of hand and resulted in a vape being destroyed. Police calmed the couple and they were released.
23-000607 –3816 Bennett Rd – Driving Under the Influence -A man was arrested for DUI, Driving Without a License, and Drinking Under Age after he pulled into the yard of this random residence and fell asleep with his vehicle still running. He was transported to the Hamilton County Jail without incident.
Night Shift January 14-15, 2023
23-000619 – 1600 BLK Rugby Place – Backup Other Agency – ERPD was asked to check this residence at the request of CPD for a suicidal party. The party was not located at the residence after speaking with the current homeowners.
23-000622- 4300 Ringgold Road- Arrest – A man was taken into custody for DUI 2nd following a traffic stop at this location.
23-000629- 3100 Ringgold Road- Arrest – While attempting to catch up to a vehicle speeding on Ringgold Road, police observed the vehicle crash inside the tunnels. The driver was taken into custody for reckless driving, driving with no license and DUI 2nd. He was also issued a traffic citation for speeding. His wife was instructed to leave the tunnels and get a ride home. While police were backing out of the tunnels and waiting on a tow truck the woman jumped into the driver's seat and began to attempt to drive away in the crashed vehicle. She was also arrested for DUI. A third party in the vehicle was taken into custody for public intoxication.
23-000623 -6700 Ringgold Road – Traffic Stop / AOA – A man was arrested for multiple driving related warrants out of Hamilton County Sessions Court following a traffic stop at this location.
23-000621 – 5700 BLK Scott Street – Well Being Check – Reporting party called in requesting police check on her friend at this location. The RP could not provide a reason why she wanted police to check on her. The was no answer at the door.
Day Shift January 13, 2023
23-000557 – 3200 block Ringgold Road – Warrant Service – A subject was taken into custody on multiple Hamilton County arrest warrants following a traffic stop. He was additionally charged with Simple Possession/Casual Exchange.
23-000569 – 6000 BLK Oakdale Ave – Drug Overdose – The party was found unconscious having overdosed on suspected Fentanyl. He was revived with Narcan and transported via EMS.
23-000559 – 400 BLK S. Howell Ave – Assist ERAS – Police assisted Animal Services with advising a resident that they had to remove their chickens from their property. The resident advised they understood.
23-000560 – 4214 Ringgold Rd – Warrant Service – Chattanooga Police were out with a subject at 3550 Cummings Hwy and it was found she had a valid Alias Capias for Possession of Controlled Substance. CPD transported the party to Silverdale where she was served with the warrant.
23-000563 – 4300 BLK Ringgold Rd – Deceptive Practice – Management reported a male subject came to the store on 01/09/2023 and shortchanged an employee for approximately $450. According to the complainant, the same party was suspected of the same issue at another location.
23-000568 – 4300 NLK Ringgold Rd – Deceptive Practice – A business advised they received a possible fraudulent check on 01/12/2023 at after a male used it to pay for an $850 guitar, however, it has not been confirmed.
23-000571 – 730 Germantown Cir – Shots Fired/Property Damage – An employee with the apartment complex advised he received a notification on their messaging service from the tenant who claimed he had an accidental discharge of his firearm. Officers arrived and spoke with the party, who advised it happened while he was downing the weapon and did not realize it still had a round in the chamber, when he squeezed the trigger. The round struck the floor but did not penetrate through to the apartment below it.
Night Shift January 13-14, 2023
22-000575 – 1600 Prater Road – Traffic Stop AOA – Police conducted a traffic stop at this location however the vehicle continued on Prater road to a final location of Prater and Bible Road. The driver was arrested for multiple warrants out of Hamilton and Catoosa Counties. He was also arrested by Catoosa County Sheriff's Office for Possession of Meth and Possession of Drug Paraphernalia.
22-000578 – 1500 BLK Karwill Lane – CPR In Progress – Police responded to this location in reference to a CPR in progress. Police arrived on scene and took over CPR to include administering one dose of Narcan. ERFD arrived on scene and took over care of patient. Following EMS arrival a pulse was located for the male who was transported to a local hospital.
23-000579 – 3800 BLK Ringgold Rd – Domestic assault – Police were called here regarding an assault. Police determined the primary aggressor and warrants are pending his arrest.
No Number Assigned – N. Terrace @ Germantown Road – BOLO – ERPD located a BOLO vehicle of an intoxicated driver at North Terrace and Germantown Rd. The vehicle was stopped in the middle of the road. The driver was passed out with the vehicle in gear. THP assisted EPRD in attempting to get the driver out of the vehicle. After the driver awoke, he fled in the vehicle. THP pursued the vehicle which ended at the Mapco in East Ridge.