Jan. 6 Day Shift
4300 blk of Ringgold Road- Traffic Arrest-
Anibal Ramirez was arrested on traffic charges following a traffic stop.
6728 Ringgold Road (Camping World)- Alarm-
Police responded to the business on a fence alarm. Upon arrival nothing out of the ordinary was located.
4150 Ringgold Road (Walmart)- Panic Alarm-
Upon arrival to the business the alarm was found to be accidental.
1421 Choate Road (Chattanooga Roofing Contractors)- Theft-
Upon arrival police spoke to the complainant. She advised sometime between 1-3-20 and today someone stole the registration tag from a company vehicle. The tag# 7536H16 was entered in NCIC as stolen.  The complainant is attempting to locate any possible video of the theft.
703 Shady Drive- Alarm-
Police responded and checked the residence. It appeared to be secure. Upon speaking with the homeowner, she confirmed there had been no entry.
4224 Bennett Road- Suspicious Persons-
The caller advised of a white male and female walking through her back yard. She advised upon confronting the duo they ran off toward Ridgefield Circle. Upon arrival officers searched the area but located no one. A short time later a white male fitting the description of the male subject was observed in the area of Prigmore Road and State Line Road. Police contacted the male. He was checked for warrants and sent on his way. He was also advised to stay off other people's property.
3314 Navajo Drive- Suspicious Person-
The caller advised of a female sitting at the roadside with her lower half in the roadway. Upon arrival the female was found to be in the city limits of Chattanooga. CPD was contacted.
924 Spring Creek Road (Physician's Surgery Center)- Suspicious Activity-
The caller advised of a small homeless camp in the woods behind the business. Upon arrival police checked the area but no one was located.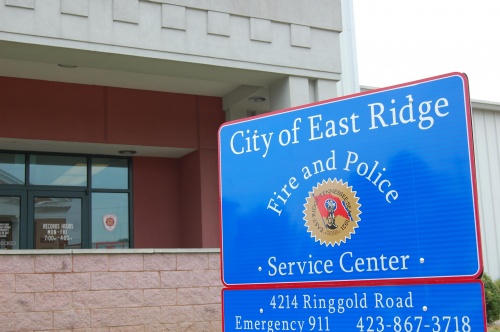 910 Harris Lane- Unconscious Person/Assist Fire-
The caller advised of a white male sick and unresponsive. Upon arrival police contacted the male subject. He appeared to be under the influence of a narcotic. He was transported to Parkridge East.
1515 McBrien Road (Titus International)- Vandalism-
Upon arrival police spoke with the reporting party. She advised sometime between 1500 hrs on 01/03/2020 and 0837 hrs on 01/06/20, an unknown subject damaged the front glass door of the building facing McBrien Road. Officers searched the building and did not locate any visible signs of burglary, however, there were two rear doors that were found to be unsecured.
*********************************************************************
Night Shift
4150 Ringgold Road (Walmart) / Passing Counterfeit Bills:
Police responded to Walmart to investigate a report of counterfeit money used to purchase a Visa Gift Card. Loss Prevention Associates handed police an envelope containing still pictures of the suspects, their vehicle, and a DVD of security video of the incident. According to the pictures the suspects are two black males approximately early twenties in age that entered the store around 1933 hours on the evening of January 5, 2020. The Six counterfeit $20 bills marked play copy money were submitted into Property and Evidence at ERPD along with the DVD and pictures.
4401 Ringgold Road / Intoxicated Person:
Police observed Mr. Eithan Saul Sandoval sitting in the driver's seat with keys in ignition and engine running at this location. Police requested for the driver to exit the vehicle. The driver was extremely unsteady on his feet and slurred his speech. Officers spoke to witnesses that stated the driver come close to striking a woman in the parking lot of this business as well as coming close to running into the side of the building as he parked. Police placed Mr. Sandoval in custody and transported him to the Hamilton County Jail for Driving under the Influence. A Search Warrant for a blood sample was approved and samples obtained without incident.
4214 Ringgold Road / Warrant Service:
Consuela Henderson was served with an East Ridge warrant for alias/capias (driving on suspended). Ms. Henderson was transported to the Hamilton County Jail where she will be held on a $5,000 bond.
1417 Mack Smith Road / Disorder:
Management called police due to a female party refusing to leave. Ruth Townsend was arrested on three East Ridge alias/capias warrants.
4100 Monroe Street / Traffic Violation (Bicycle):
Unit observed a male riding a bicycle that did not have a headlight on the bicycle. Jerry Lee Matthews was transported on a county warrant and a Field Interview was completed.
601 Walnut Street / Warrant Arrest:
Courtney Marshe Foster was arrested on East Ridge CAPIAS/ALIAS warrant for Domestic Assault. She was booked with no bond.
Windmere Dr / Suspicious Vehicle:
Police were called to this area due to the RP seeing a hunter green Toyota Tacoma driving in the area and pulling into people's driveways. Police searched the area but did not locate the vehicle described.