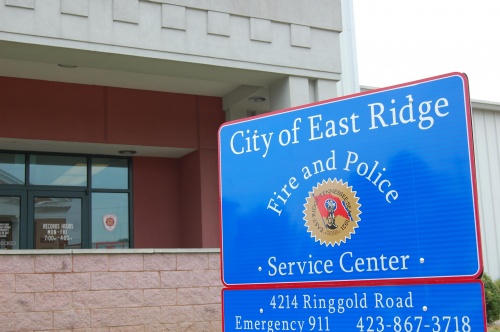 The following information was provided from East Ridge Police Department "pass along" reports.
July 9 Day Shift
4214 Ringgold Road:
Complainant advised that on June 26th she accidentally threw away the new registration sticker to her vehicle.  The woman was provided a complaint number to go receive a new registration sticker for her vehicle. 
4214 Ringgold Road:
Olivia Browner was served with a warrant while at the Hamilton County Jail.
728 Frawley Road:
Dispatch advised that the resident wanted an officer to call her.  Upon calling the resident, she said that her decal fell off her vehicle because she placed it over older decals and now needs a report number generated, so that she may obtain a new decal.  She said the last time she saw her decal was on July 7th around 10:00 am and noticed it was missing today around 10:00 am.  The decal was on a dark green 1998 Honda Civic. 
*********************************************************************
July 10 Night Shift
409 Meadowlark Trail:
A caller advised police that two (2) people were dropped off by someone driving a white sedan. The two people were said to have backpacks and were going behind houses. Police checked the area but were unable to locate anyone.
510 Frawley Road:
A caller stated that they saw a light on inside a vehicle that was behind the church. Police responded to the location and located two (2) occupants in the back seat of a car. They were advised to go elsewhere and talk.
6514 Ringgold Road:
Jeffery Russell was arrested due to an alias capias warrant from ERPD for disorderly conduct.  He was transported to the Hamilton County Jail. 
6519 Ringgold Road:
Police responded to the Super 8 regarding a noise complaint near room 260. Once on scene, police were unable to locate a source of the noise issue.
4600 Maryland Drive:
A caller advised that a person was going door to door offering floor cleaning services. The caller advised that the person was in a white work van and believed them to be suspicious. Police were unable to locate the person in question.
725 Pyron Lane:
The caller found a kitten that was covered in fleas and appeared to be sick. East Ridge Animal Services was contacted. They responded to the scene and took the kitten.
5736 Ringgold Road:
An alarm was activated at O'Reilley's Auto Parts. The business was checked, and everything appeared to be secure.
3482 Ringgold Road:
Jacob Edwards was arrested for schedule VI drugs and paraphernalia.