The following information was provided from East Ridge Police Department "pass along" reports.
June 17 Day Shift
400 Shadow Parkway:
Garrett Pendley was arrested on an East Ridge warrant for petition to revoke for possession of heroin. The Hamilton County Sheriff's Office transported him to the jail.
2100 E. 17th Street:
Jayda Mayhue was arrested on an East Ridge Alias Capias warrant for driving on a suspended license. She was transported to the Hamilton County jail by the Chattanooga Police Department.
941 Spring Creek Road:
Officers responded to Parkridge East Hospital on a hold-up alarm. Upon arrival, everything was found to be okay.
601 Walnut Street:
While in custody at the Hamilton County Jail, Jason Ansley was served with East Ridge warrants for unlawful possession of a weapon and theft of property.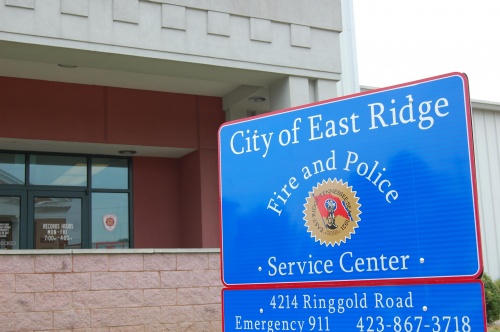 638 Camp Jordan Parkway:
Officers were sent to the Bass Pro Shops at the request of the TBI after a customer was flagged during a firearm purchase as a possible mental health consumer. The customer, who appeared to be of sound mind, explained he had made threats to harm himself during a bad break up approximately thirty-five years ago. The customer was denied the purchase per the TBI. He will be speaking with his primary care doctor in an effort to have the flag removed.
619 Layfield Road:
A man called to report seeing two (2) male subjects carrying a trash pump yesterday while he was kayaking. He said he yelled at them and they dropped the trash pump and left. The man then collected the item, a Honda trash pump. The item is valued at approximately $1,400. The man turned the item over to police for secure storage.
604 Bacon Trail:
A woman reported that an unknown suspect threw a red brick through the front driver side window of her Kia Forte sometime after 7:00 am. She said she is having ongoing issues with a neighbor in the complex, but there is no indication of who is responsible for the vandalism. No items were missing from the car.
508 Donaldson Road:
A caller reported that a male subject wearing a blue polo shirt and carrying a skateboard knocked on her door multiple times today. Officers located the subject, who had a permit to sell educational items in East Ridge.
1645 Key West Avenue:
Police responded to a report of harassing phone calls after a woman advised she was receiving calls from her husband, Daniel Guerra. She advised the calls occurred after Mr. Guerra was incarcerated at the Hamilton County Jail for a domestic assault against her. Conditions of release are in place against Daniel Guerra. Charges are pending, currently, because Mr. Guerra now has an ICE hold against him.
Night Shift
1536 Rugby Place:
The resident called to report a burglary of her home. The victim advised that she returned from a doctor appointment to find a sandwich made that neither she nor her grandson made. There was a Windex bottle that was out of place, as well as a towel on a bed that didn't belong to her. She said that her son came home while she was gone and told her that two (2) shotguns, 30 credit cards, a Blu-ray player, and a monitor for the camera system were missing. She advised that she had left the side door unlocked while she was gone to the doctor.
3508 Ringgold Road:
Two (2) male subjects entered the Walgreen's store around 5:30 pm and left about an hour later. They left with $320.48 of items. They failed to pay for the items. They were seen leaving the property in a newer model blue Chrysler 200.
1801 Tombras Avenue:
A resident reported that the fence in his front yard was damaged while he was at work. The fence post had a dent approximately one (1) foot from the ground with what appeared to be black paint transfer.
5301 Ringgold Road:
The Walgreen's pharmacy reported that two (2) fake prescriptions for Oxymorphone had been filled at the location. Suspect information and video surveillance footage were collected from the store.
1506 Prater Road:
A female juvenile was arrested for possession of drug paraphernalia and criminal impersonation during a traffic stop.
June 13– Day Shift
1523 Keeble Street:
A caller reported that his storage unit (#340) had been accessed by someone who removed several of his belongings. The caller advised he had given a key to the unit to his ex-wife and she may have accessed the unit without notifying him. The caller advised that he will check with her and go from there.
5725 Ringgold Road:
A tenant of this property reported that the "Strange Justice" vehicle was still on the property with the occupants asleep inside. Police contacted the occupants of the car, who advised that their battery was dead,and they just needed a boost so they could leave. The subjects were assisted, and they left the property without further issue.
6401 Ringgold Road:
A woman reported that an unknown man in a newer model black Lexus SUV entered her white Dodge Grand Caravan. The victim advised that the subject stole a large brown fake leather bag that contained her checkbook, first aid kit and several other items. The suspect was observed driving toward the N. Smith Street exit at the McDonald's Restaurant.
1520 Waterhouse Street:
Police responded to the location regarding a suspicious vehicle. The occupant of the vehicle was a contractor waiting for the homeowner at 1518 Waterhouse Street.
6700 Ringgold Road:
Nathan Coker was taken into custody on a Catoosa County, GA warrant and transported to the Hamilton County Jail.
730 Germantown Circle:
Sonia Erwin and her sister, Jennifer Lewis, were both arrested for domestic assault following an argument over car keys. It was determined that both were mutual combatants.
3636 Ringgold Road:
Mark Revels was criminally trespassed from this location after employees discovered him asleep in a closet on the back side of the building. Mr. Revels left the area after it was determined he had no warrants.
1121 Wakulla Drive:
The resident reported the back window on his Ford F-150 had been broken out. He stated it was unknown if someone had broken it out or if it broke due to previous damage to the glass.
June 13 – Night Shift
1523 Keeble Street:
Officers encountered Stephanie Laws (Villers) in front of unit 175 at Hide-Away Storage. The unit was open, and she advised it belonged to her friend. Stephanie advised she thought she had left her cell phone in the unit when she was inside it earlier in the day. Stephanie gave consent for officers to search her bag and officers located three (3) empty syringes, an unopened bag of syringes, and a counterfeit $20 bill. She said she is a methamphetamine user and had used earlier in the day. Officers did not locate anything in Stephanie's bag that looked like it came from the storage unit. Officers closed the storage unit and advised Stephanie to leave the area and that she should not be in the unit without the owner present. Officers confiscated the syringes and the counterfeit $20 bill.
4145 Ringgold Road:
A person approached an off-duty officer stating that there was a suspicious man walking around his FedEx delivery truck. Police were unable to locate the person.
5343 Rose Street:
A caller advised that there was a man sitting in a white van that appeared to be intoxicated. Police were unable to locate the person.
5311 Marion Avenue:
A caller advised that she could hear what sounded like an animal in pain. Officers spoke with the reporting party, who stated the noise stopped before police arrived. Police searched the area but could not locate anything.
900 Belvoir Avenue:
Molly Thompson was arrested for reckless driving, possession of paraphernalia and possession of schedule 1 controlled substance. She was observed driving a black 2004 Chevrolet Malibu following at an unsafe distance behind another vehicle and traveling on the wrong side of the road. Upon consent being given to officers, the vehicle was searched, and 1.2 grams of methamphetamine was located, as well as paraphernalia.
1501 Tombras Avenue:
One of the doors was left open at the old McBrien school after the ball teams had completed practicing.
6708 Ringgold Road:
Carla Lewis, a homeless woman, was criminally trespassed from the Circle K after she refused to leave the business property. Management at Circle K advised that there had been several problems with Ms. Lewis in the past few months. As a result, she was asked to leave when she was found outside the business communicating with customers. Police responded to the scene and explained the criminal trespass stipulations to Ms. Lewis. She was then instructed to leave the property.
June 14 – Day Shift
231 Edwina Court:
The resident stated that his window on the back of his apartment was broken and his PlayStation 4 was stolen. The victim advised that he suspects his son of breaking into his home and stealing the item.
6515 Ringgold Road:
Police responded to the Phantom Fireworks property due to a call about a suspicious person. Daniel Lucas, who is homeless, was arrested for trespass. The owner of the property advised that they want all homeless persons trespassed from the property.
6727 Ringgold Road:
Dispatch advised that the manager of Wendy's reported that a woman was refusing to leave the dining establishment. Upon arrival, officers spoke to the manager. He said that an apparent homeless woman went into the women's restroom, disrobed, and began to bath herself. The manager said he wished for the woman to be trespassed from the restaurant. Officers encountered the woman, Carla Lewis, at 6701 Ringgold Road and explained to her that she was no longer allowed to enter Wendy's or she would be arrested for trespassing.
June 14 – Night Shift
6513 Ringgold Road:
A complainant advised that a man wearing all black and having neck tattoos stole his iPhone XR. The victim advised that he confronted the suspect in front of Super 8 and the suspect showed him that he had a firearm on him but did not threaten him with it.
6011 Wentworth Avenue:
A female at this location was found unresponsive. She was given two (2) doses of Narcan and transported by EMS to the hospital.
5400 Oakdale Avenue:
Demarcus Bumpass was arrested for possession of 13 grams of marijuana and unlawful possession of a firearm.
623 Camp Jordan Parkway:
Police were dispatched to the Hampton Inn regarding a black SUV on the back of the lot. There was a man "slumped over" in the driver seat of the car. Police contacted the man in the car, who is a guest at the hotel and was in his car checking his phone.
6514 Ringgold Road:
Police were dispatched to the Mapco regarding an intoxicated driver. The vehicle was gone upon arrival of police.
6510 Ringgold Road:
Police were called to this location by Subway employees. The employees advised that there was a man in the parking lot screaming and yelling because he was upset about the food prices. Police encountered Shane Zamora, who was ultimately taken into custody for public intoxication after officers determined he was a danger to himself and others.
June 15 – Day Shift
1523 Keeble Street:
Officers responded to this location regarding a woman jumping the fence to the property. Contact was made with Spencer Rogers and Anthony Mullis in storage unit #315. The manager confirmed the storage unit was leased to Mr. Rogers but requested that Mr. Mullis be trespassed from the location. Officers informed Mr. Mullis that he was trespassed from the location and he left the property. Mr. Rogers was taken to the Hamilton County Jail due to outstanding warrants out of General Sessions Court.
6700 Ringgold Road:
Police responded to the Quality Inn regarding a vandalism call. The driver side window on a 2019 Nissan Armada was cracked. The mirror was also broken, as well as there being rock debris on the hood of the car.
6515 Ringgold Road:
Police located Ladon Scott and Cheryl Swinger at this location. The owner of the building advised that she would like for anyone found on the property to be criminally trespassed. Both subjects were trespassed from the above address.
601 Walnut Street:
Reuben Simpson was transported by the Chattanooga Police Department to the Hamilton County Jail and served with an East Ridge warrant for failure to appear.
6721 Ringgold Road:
Police were dispatched to a disorder that was possibly involving a firearm. Upon arrival to the scene, officers attempted to conduct a Terry Frisk of Brandon Butchkoski. As officers attempted to conduct the pat down of Mr. Butchkoski, he attempted to pull away from officers. A pocketknife was observed in his front pocket. A second attempt to pat down the subject resulted in another attempt by the subject to pull away and not comply. After being taken to the ground Mr. Butchkoski tucked his hands underneath his body and refused multiple commands to place his hands behind his back. After he resisted multiple attempts to gain control of his hands, a Taser was deployed and officers were able to safely gain control of the subject, who was then placed into custody for resisting stop, halt, frisk, and possession of methamphetamine.
June 15 – Night Shift
1645 Key West Avenue:
The resident advised police that her husband, Daniel Guerra, who no longer lives at this address came and damaged the property. She advised that he threw a chair into the window of the residence and onto the back window of a Volkswagen Jetta. She said he made entry into the home and took the keys and fled the scene in a 2012 Toyota Tacoma.
100 I-75 North:
Officers were dispatched to a crash at his location, but it was determined that the crash occurred in Georgia.
6710 Ringgold Road:
Police assisted East Ridge Fire Department personnel and EMS on a medical call at the Best Western.
6712 Ringgold Road:
An alarm was activated at the Public Storage. The area was checked and it appeared to be secure.
1313 Frederick Drive:
Police were called out to this location regarding a mini excavator that had been left in the roadway by WWTA. The equipment was being used to block a hole in the pavement. Police placed cones around the equipment to minimize risk of an accident.
3600 Bennett Road:
Officers located a gold Cadillac abandoned in the middle of Bennett Road. Dispatch contacted the registered owner, who advised that the car broke down, so he walked away. The owner advised that he was not planning on returning for the car. Police had the vehicle towed by East Ridge Auto Electric.
June 16 – Day Shift
1307 Swope Drive:
The resident stated that someone had gone into his garages/sheds and stole some items. The victim stated that it happened between June 13th and June 16th. The victim reported that a Cobalt impact wrench, Craftsman Drill, and numerous other items were missing. He said that he will make an itemized list with the brand, descriptions, and receipts or serial numbers he has available and turn that information over to the police department. There were o indications of forced entry having occurred. The victim said he doesn't lock up any of his storage areas.
1645 Key West Avenue:
Daniel Guerra was served with an East Ridge warrant at 4326 Dupont Street. He was transported to the Hamilton County Jail.
June 16 – Night Shift
1523 Keeble Street:
Charlotte Middleton was arrested for domestic assault following a disorder that occurred inside the Hide-Away Storage property.
3311 Gleason Circle:
Police were behind a white Honda Prelude and observed a meth pipe being thrown from the passenger side window. Police identified the occupants as Terry Cuzzort and Brittni Simmons. Police located eight (8) Oxycodone pills in Ms. Simmons' possession. Both Mr. Cuzzort and Ms. Simmons were arrested and transported to the Hamilton County Jail.
404 South Moore Road:
A call was received about an intoxicated person. Upon arrival to the scene, officers observed a man involved in a physical altercation with a suitcase. Police were able to convince Christopher Breedlove that it was in his best interest to return to his mother's home, which was right down the road. A short time later, police discovered Mr. Breedlove in the middle of Anderson Avenue while half-dressed and smacking himself in the face. Police again spoke with Mr. Breedlove. After a brief struggle, Mr. Breedlove was taken into custody and charged with public intoxication.
1600 Tombras Avenue:
Two (2) black Labradors were struck by a vehicle that was being driven south on Tombras Avenue. The dogs crossed into the path of the moving vehicle.
5500 Clemons Road:
Michael Harris was walking west on Clemons Road after being seen on Key West Avenue and possibly looking into cars. Mr. Harris was checked for warrants and was found to have a non-extraditable warrant out of Georgia.