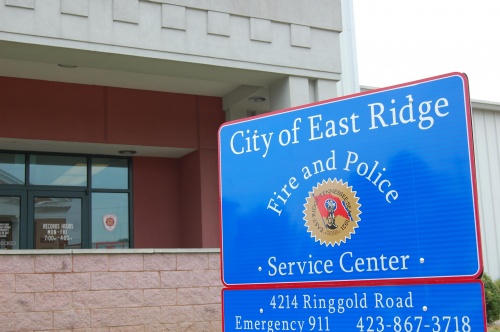 The following information was compiled from ERPD "pass along" reports.
May 06 – Day Shift
5408 Ringgold Road (found property):
The store manager found an iPhone lying on a store shelf. The phone was placed in Property and Evidence. (22-006350)
1315 San Hsi Drive (auto burglary):
The complainant called police after finding his vehicle had been entered sometime after 3:00 a.m. this morning. The unknown suspect stole cash, credit cards and tools. (22-006361)
4214 Ringgold Road (warrant service):
Breana Siler was arrested on active East Ridge warrants after being detained by Chattanooga Housing police. (22-006396)
*********************************************************************
May 06 – Night Shift
4214 Ringgold Rd (Stolen Vehicle Recovery 22-006410):
Chattanooga police recovered a Nissan Rogue reported stolen out of East Ridge on 4/21/2022.
4400 block Lanoir Circle (Drug Overdose 22-006422):
Police responded to CPR in progress at this location and discovered a male suffering from an apparent drug overdose. Police administered Narcan and he regained consciousness. He was transported to the hospital by EMS.
6516 Ringgold Road (Criminal Trespass 22-006402):
Angel McCaghren and Patrick Faulk were both criminally trespassed from this location following a disorder.
6701 Ringgold Road (Burglary 22-006427):
Police were dispatched to this location in response to a glass break and motion alarm. Upon arrival Police observed the front door had been shattered by a rock thrown through it. After checking security footage, photographs of the suspects were obtained and distributed to all police. On call CID was notified of the incident.
1410 Mack Smith Road (Disorder No Number):
Security called Police about a disorder. All parties involved had left the area before any Police arrival.
4348 Ringgold Rd (Suspicious Persons 22-006399, 22-006399-A):
Food Lion management requested police to run off a transient couple who had overstayed their welcome. Police made contact with Troy Godwin and a female party. The female provided a false name and date of birth and Godwin supported her erroneous claims. The parties were free to leave after police could not ascertain the female party's ID. She was later found to be Heather Scrivens with a possible warrant out of Catoosa for Forgery. Warrants will be taken on Scrivens for Criminal Impersonation and Godwin for False Reports.
6401 Ringgold Road (Arrest 22-006397):
Police were dispatched to the parking lot of the McDonalds regarding a possible intoxicated male. Upon arrival, police met with Zachary Shaw. Following an investigation Shaw was arrested for DUI and possession of a drug paraphernalia.
4321 Ringgold Road (Arrest 22-006417):
Following a crash investigation, Myles Kilgore was taken into custody on active Catoosa County warrants.
631 Camp Jordan Parkway (Disorder 22-006424):
Police were dispatched to Jonathan's regarding a disorder in the parking lot. Upon arrival, some parties were gone on arrival (GOA). Police stayed on scene until the last party involved left the area. No further police action taken.
1410 Mack Smith Road (Suspicious activity 22-006426):
Police were dispatched to the Budgetel regarding a female caller. The female stated someone was knocking on her door. She stated she has been receiving threats the past few days and just wanted police to check the area. Police checked the area, nothing was located.
*********************************************************************
May 07 – Day Shift
417 Mack Smith Road (found property):
The front desk clerk of the East Ridge Retirement Center turned over four debit cards located in the parking lot. The items were placed in Property and Evidence. (22-006447)
1032 Greenslake Road (theft):
The complainant's Nissan Titan, trailer and lawn equipment were stolen from the roadway. (22-006445)
4120 Ringgold Road (animal call):
A juvenile racoon fell out of the porch ceiling at this address. TWRA and ERAS advised relocating the animal to a nearby wood line. (22-006435)
4214 Ringgold Road (warrant service):
Samuel Shirley was arrested at Silverdale on an active FTA warrant through East Ridge. (22-006446)
*********************************************************************
May 07 – Night Shift
1015 S Seminole Dr (Consensual Encounter/Arrest 22-006460):
Police observed a red motorcycle with no license plate parked at the Express Mart on S Seminole Dr. Police made a consensual encounter with the rider inside of the Express Mart. The rider initially provided police with a false name and social security number. Police were given consent to search the rider's backpack where an ID was located. Travis Espy was found to have multiple felony warrants out of Tennessee and Georgia. During the search of the backpack police located methamphetamine along with baggies, a small amount of currency and a digital scale with meth residue. While speaking with Espy he advised his girlfriend was inside the store and asked if she could buy him a cigarette prior to leaving for the jail. Police made contact with Alesia Henley who attempted to run back into the store when police asked for her information. Henley was found to have approximately 10 warrants for narcotics, paraphernalia, and firearms out of multiple agencies in Tennessee. After both parties were taken into custody police advised dispatch of the VIN to the motorcycle, which was found to be stolen out of Sevierville, TN.
5830 Ringgold Rd (suspicious 22-006466):
Reporting party called in concerned over a homeless party walking around the cars in the parking lot. He was sent on his way.
1410 Mack Smith Road (22-006458 Disorder):
Police responded to this location in reference to a large disorder involving multiple juveniles. Most parties involved were located and identified and a report was completed. Management made the decision to evict all parties involved.
323 Camp Jordan Parkway (22-006467 PI Arrest):
Adiel Vasquez was taken into custody for Public Intoxication and sexual battery at this location after inappropriately engaging a juvenile while heavily intoxicated.
6721 Ringgold Rd (Attempt Burglary 22-006456):
Police took a report of an attempted burglary at the Family Dollar after staff discovered damage to the front door. Security camera footage showed the same male who burglarized the Sunrise Market the previous night attempting to burglarize the Family Dollar. Report on file.
6404 Ringgold Rd (Assault/Theft 22-006475):
Police responded to a reported theft and assault at Burger King. The victim, a Burger King employee, reported that a male ran up to the drive through window and took food from her hands while she attempted to hand it to a customer, thereby causing injury to her wrist. Police were unable to locate the suspect. Report on file.
3657 Ringgold Road (Consensual Encounter/Arrest 22-006472):
Police made a consensual encounter with two parties, Kristin Johnson and Terry Vandergriff, at the Cascades inside of room 73. After obtaining both parties information Vandegriff was found to have an active warrant out of Soddy Daisy. Vandergriff was taken into custody and transported to Silverdale without incident.