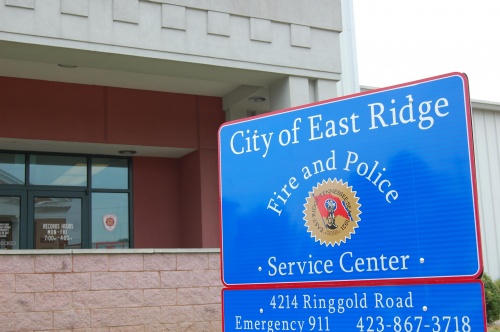 The following information was compiled from East Ridge Police Department "pass along" reports.
May 28 Day Shift
1516 Springvale Road:
Police responded to a burglary at this location.  The resident advised police that on May 22nd his friend helped him move some items.  The resident said that when he arrived at his property today, he realized that his friend had left the shed unlocked.  The resident said two (2) items had been stolen.  He advised that a drywall taping gun and 12ft. stilts had been taken.  The resident estimated the cost of the drywall gun to be $1,500.00 and the value of the stilts to be around $150.00. 
Night Shift
5800 Ringgold Road:
A red 2014 Corvette was driven south/eastbound on Ringgold Road and turned into the path of a silver 2002 Acura that was being driven south/eastbound on Ringgold Road. The Acura rolled onto left side and then its top.
1500 Waterhouse Street:
Officers attempted to stop the driver of a black motorcycle in the 1500 block of Waterhouse Street. The driver of the motorcycle fled from police.
3133 Franklin Place:
Police responded back to this residence on another call, rape of a child, involving the same suspect and a six (6) year-old girl. Officers were able to obtain video evidence of the previous incidents.
8 Franklin Place:
A call was received regarding an overdose.  Prior to the arrival of EMS and police, a woman on scene administered Narcan to the overdose victim and revived them.  The person that overdosed refused transport to a hospital. 
May 23 – Day Shift
500 South Moore Road:
Police responded to this location regarding property damage. Several street signs and a mailbox had been knocked down. It is believed that the suspect vehicle is a 2002 dark blue Kia Sportage.
6642 Ringgold Road:
Police discovered the presence of marijuana during a crash investigation. Charles Lowery was issued a misdemeanor citation for simple possession of marijuana.
4320 Bennett Road:
A previously reported missing juvenile was located in front of East Ridge High School. The juvenile was removed from NCIC files as a missing juvenile. The juvenile was turned over to her foster-mother.
705 State Line Road:A call was received from Darius Benn, who advised police that his vehicle had been burgled and a handgun was stolen.  Mr. Benn said he went to his vehicle around 6:30 am and started the car to warm it up.  He said he also took his SCCY 9mm and placed it in the center console of his Ford Fusion and left it unlocked and running.  He said he arrived at work and went to move his gun to the trunk and noticed that it was missing.  A short time later, Mr. Benn advised that he and his sister located the handgun in the backyard of his residence.  Officers returned to the residence and verified that Mr. Benn did have possession of the handgun. 
4340 Ringgold Road:
Police responded to Advance America, suite 160, regarding a disturbing phone call received at the business.  Police spoke with the manager who said an employee answered a phone call and a female caller asked to speak with the manager.  The manager advised that she picked up the phone to talk with caller and the female caller advised that she was going to kill someone and rob someone.  The manager said that the caller told her that Advance America called her first.  The manager said that the female said, "9-1-1" over the phone before hanging up. 
1100 Spring Creek Road:
Officers were dispatched to the area of Spring Creek Road and Ringgold Road regarding a found child.  Upon arrival, police located a crying child.  The juvenile advised that her parents forgot to pick her up from school since it was a half day.  The juvenile decided to walk home from school but quickly realized she lived too far away to walk.  Police then transported the child back to Spring Creek Elementary School.  Office staff were able to contact the child's father and he came to pick the child up from the school. 
May 23 – Night Shift
522 Benson Drive:
Police responded after a caller advised that a man approached him and asked to use his water hose. When the caller denied the man access the man became agitated but eventually complied when asked to leave.
100 I-75:
Police responded to this location after TDOT called in and said there was a man walking down the interstate with a rifle. Police encountered the man, who was in possession of a homemade spear and methamphetamine that he attempted to destroy.
1402 Dover Lane:
David Holcomb was arrested and charged with domestic assault due to an incident involving his sister..  Mr. Holcomb admitted to breaking down the door to his sister's bedroom to enter the room.  The sister was in extreme fear due to Mr. Holcomb having assaulted her in the past. 
941 Spring Creek Road:
Police were dispatched to Parkridge East Hospital after a man was causing problems in the emergency room after his brother's baby passed away. Hospital staff advised that the man could remain at the hospital as long as he would remain calm.
May 24 – Day Shift
3623 Fountain Avenue:
Dominique Brown was issued a criminal trespass warning for the Sweet Bay Apartments after a verbal altercation occurred with the maintenance supervisor. The caller, who stated that Mr. Brown is not a resident of the property and was walking his dog on the property without a leash. The caller advised that he told Mr. Brown he could not do that, and Mr. Brown advised him that he could and would return every day. He said that Mr. Brown threatened to fight him. Mr. Brown claimed he had a residence in Chattanooga, but frequently visits his girlfriend at her home across the street at 3622 Fountain Avenue.
3617 Helen Lane:
A neighbor of this residence noticed that the front door was open, and the resident was not at home. Police responded and cleared the home. The door was apparently not shut completely when the homeowner left.
1402 – A Dover Lane:
A neighbor noticed a woman on the walkway near the rear door to the residence. The woman appeared to be unconscious. EMS was called to the scene and transported the woman to the hospital.
137 Cecil lane:
A dog suffering from separation anxiety broke through the front window of the residence was injured by the broken glass. Police were able to contact the homeowner and they responded to the scene. The dog was taken to get medical attention.
5401 Ringgold Road:
Marcus Armour and Willie Greer were arrested for criminal simulation after attempting to pass fraudulent checks at First Tennessee Bank.
4214 Ringgold Road:
Tony Mastin turned himself in to police for an East Ridge warrant. He was taken into custody and transported to the Hamilton County Jail.
May 24 – Night Shift
5700 Roper Street:
An anonymous caller reported hearing a child crying in apartment D8 and believed the child was abandoned. Police were unable to get anyone to the door of the apartment and did not hear a child crying. Officers asked surrounding neighbors if they heard a child crying in the apartment and they all said they had not.
Ringgold Road / Mack Smith Road:
A caller advised that while crossing the road, a man that was driving a late 90s model Jeep exited his vehicle and chased the caller across Ringgold Road into the Dunkin' Donuts parking lot. The suspect was gone prior to police arrival.
6510 Ringgold Road:
An alarm was activated at the Subway Restaurant. Police checked the business and it was secure.
6805 Martha Avenue:
A caller advised there was a gold Lexus in their driveway. The caller said that three (3) teen-aged males were walking toward the vehicle but ran away when they noticed the caller outside. The caller was advised that they could have the vehicle towed off their property if they chose to do so.
3602 Phelps Street:
Juan Pedro-Pascual was arrested for domestic assault after making threats against his girlfriend.  Mr. Pascual was arrested on an East Ridge warrant for false reports. 
May 25 – Day Shift
5900 block Saint James Avenue:
Police responded to an unknown 911 call in the area. Nothing was located and this was the only call received.
915 South Seminole Drive:
Police responded, along with East Ridge Fire Department personnel and EMS, regarding a person lying face down by the dumpster. The person was found to be okay and went back into his apartment.
3957 Ringgold Road:
Police responded to Choo-Choo BBQ on an alarm. The building was checked and appeared to be secure.
6708 Ringgold Road:
Police responded to the Circle K in reference to a panhandler on the property. Officers encountered Michael Martin, Larry Evett, and Jamie Evett. Field interviews were completed on the trio, who were then instructed to move along.
May 25 – Night Shift
5338 Ringgold Road:
A man advised that he witnessed a man with dreadlocks who was wearing a black, white, and red striped jacket and red shorts break into his truck.  The man held the suspect at gunpoint while calling 911 but stated that the suspect fled on foot southbound on McBrien Road as police were arriving.  Officers were unable to locate the suspect. 
1318 San Hsi:
Jorge Dimas-Bran was arrested for domestic assault after punching his uncle in the face during an argument. 
1321 Coleman Circle:
A resident reported that someone broke into his Nissan Altima at his residence.  The resident did not find anything missing at the time but stated that the vehicle door was open along with the glove box.  A neighbor witnessed the incident and described the suspect as a tall, thin male wearing blue jeans and a gray shirt. 
831 Darryl LaDean Brooks reported that someone took Dawn Swafford's Nissan sedan from his property while he was at work. Mr. Brooks said that someone entered his home while he was away but did not take any of his belongings. Ms. Swafford is not allowed on the property due to her conditions of release for a domestic assault charge. Mr. Brooks did not know who came to the residence and took Ms. Swafford's vehicle and there were no witnesses to the incident. Mr. Brooks said that Ms. Swafford still has a key to the residence.
4016 Wonder Drive:
A juvenile was shot in his right arm by a subject that fled on a blue and white motorcycle. The subject was wearing a white shirt and a black helmet. The juvenile was transported to T.C. Thompson's Children's Hospital. The suspect then failed to stop for police on Ringgold Road near Kingwood Drive. The motorcycle driver fled into Chattanooga.
948 Spring Creek Road:
A man was found in his vehicle, unconscious, outside the Shell gas station. An off-duty fireman began CPR until police arrived. The man was transported to the hospital where he was later pronounced deceased.
4145 Ringgold Road:
Timothy Hudak came home from the bar intoxicated and threatened to kill his girlfriend and their roommate.  Both feared Mr. Hudak was going to use his firearm against them.  Police found a holster in the living room and a firearm belonging to Mr. Hudak upstairs lying on his bed.  Mr. Hudak stated that he did nothing wrong.  He was charged with two (2) counts of aggravated assault. 
1410 Mack Smith Road:
A caller advised that a man pointed a gun and threatened to kill them after an argument. The caller told police that the suspect asked the female subject that was with him if she was having a boy or a girl. The caller stated that she was not pregnant and that is what started the argument. Police contacted the suspect, who was not in possession of a firearm and stated that he was not trying to be rude when asking the question, but the caller became angry. All subjects involved were advised to go their separate ways.
6504 Ringgold Road:
Police responded after an alarm was activated. The business was checked and found to be secure.
May 26 – Day Shift
3800 block Fountain Avenue:
A vehicle containing five (5) dogs was proceeding eastbound when a dog jumped onto the driver's lap, which caused the driver to run off the road and strike a utility pole. In addition to the utility pole being struck, the driver ran over two (2) mailboxes and finally crashed head on into another utility pole. Both poles were damaged to the point of requiring replacement. EPB crews responded.
3803 Daniel Drive:
The resident's 2013 Dodge Journey was entered overnight between 1:00 am and 10:50 am, resulting in the theft of the resident's loose change. 
6642 Ringgold Road:
Zachary Griffith was arrested for possession of a counterfeit controlled substance. He possessed a plastic bag that contained 53 grams of bath salts that he said he was selling as methamphetamine.
6700 Ringgold Road:
Police responded with East Ridge Fire Department personnel to an uncontrolled/unattended fire beneath the bridge. The fire was extinguished.
601 Walnut Street:
Jorge Antonio Dimas Bran was arrested at the Hamilton County Jail on an East Ridge warrant for domestic assault.
3612 Helen Lane:
The resident's VW Jetta was entered today between 2:00 am and 1:00 pm, resulting in the theft of his gray backpack and a Smith and Wesson M&P Shield 9mm handgun. 
May 26 – Night Shift
4150 Ringgold Road:
Dewey Baldwin was arrested for theft of property after stealing $244.01 worth of groceries from Walmart.
1900 Tombras Avenue:
Robert Baldwin was arrested on a Collegedale warrant after being stopped with his father, Dewey Baldwin, the theft suspect from Walmart.
May 27 – Day Shift1
1621 Prater Road:
Police spoke with a woman who reported her 2003 Toyota Sequoia stolen in Walker County, Georgia this morning.  She said her brother told her he knew where it might be located.  The woman said they found the vehicle at a storage building in Georgia and followed the two (2) suspects into Tennessee.  The woman said she blocked the suspects in at 1621 Prater Road.  The suspects left the scene prior to police arriving and went across the state line into Georgia. 
4222 – B Ealy Road:
The resident called and advised that someone tried to break into his truck.  The resident advised that the incident was captured on video and he allowed police to review the footage.  The video showed that around 3:08 am, two (2) males wearing blue jeans and light-colored shirts were walking west on Ealy Road just beyond the residence.  The two (2) suspects then returned to the driveway and one of the men walked down the side of the vehicle and noticed the camera.  He then backed up and walked down the driver side of the car while covering his face.  The suspect stood near the driver door for a short time.  Both subjects then walked away from the car.  The suspects were talking to each other during the incident, but it could not be determined what was being said. The resident said that after reviewing the camera footage he went out to his car and noticed the cover for the door lock was broken but no items were missing from his car. 
May 27 – Night Shift
4338 Ringgold Road:
Police responded to the Food Lion parking lot after a passerby advised they saw an unconscious female in the passenger seat of the vehicle. Police contacted Samantha Justice, who was asleep while waiting for her boyfriend to return. Police noticed several syringes in the car. Ms. Justice denied ownership of the items.
4338 Ringgold Road:
Police spoke with the manager of Food Lion about the possibility of obtaining video surveillance footage of a burglary suspect out of Catoosa County, Georgia. Management at Food Lion was able to capture the suspect on video and Catoosa County was notified.
3133 Bimini Place:
A call was received about a possible sexual assault of the resident's four (4) year old grandson by a 14 year old that the resident also babysits.