The following information was compiled from ERPD "pass along" reports.
April 30 – Day Shift
22-006021- 5339 Marion Avenue- DUI Arrest/Traffic Crash-
Police responded on a crash with unknown injuries. Prior to arrival dispatch advised a red Dodge Challenger had struck the residence at 5339 Marion Avenue and the vehicle was still on the front porch. It also caused damage to other vehicles and property in the area. On scene the driver was noticeably intoxicated. After field sobriety testing,  he was arrested and identified as Wilson Perez. The vehicle was removed from the scene by East Ridge Auto. Perez was transported to Silverdale Detention Facility. He was charged with underage dui, driving on suspended, vandalism under $1,000, leaving the scene w/ damage, and vandalism over $1,000.
22-006029- 1410 Mack Smith Road #1103- Disorder-
Police initially responded to a robbery of person call at this address. On scene police spoke with a woman who advised a male and female entered her room armed with a firearm and made her boyfriend leave this location in a pickup truck and go to an ATM to withdraw money. Police then spoke to the boyfriend who stated a belligerent female had entered the room and she and his girlfriend were involved in an argument over $20 that she owed the female. The boyfriend stated that he did not see a firearm displayed and voluntarily rode to the store to give the suspect $25 to not have any further conflict. Police reviewed video footage from the motel camera system which confirmed the man's statement to police. However, while still on scene and speaking with the girlfriend, she stated she had told multiple motel employees that she was robbed, and they had not called 911. In addition to this statement police asked members of the motel staff if they were aware of the possible robbery to which one stated that he was too busy to help. Another at the front desk told her that she would not call 911 on her behalf, but that the girlfriend could if she wished. Police decided not to seek charges against the girlfriend due to the entirety of the situation. Police will be referring this report to East Ridge City Codes due to the continuance of calls for service at this location.
22-006019- 7609 Standifer Gap Road- Warrant Service-
Keller Galvez-Mazariego was served an East Ridge warrant at Silverdale.
*********************************************************************                                      
April 30 – Night Shift
5611 Ringgold Rd/ aggravated assault (22-006056)-
Police responded to a shots fired call at Home Plate. Upon arrival, it was discovered that shots had not been fired, but a gun had been brandished. After investigating, police determined Eugene Coleman was the offender. Coleman fled the scene before police arrived. Warrants for aggravated assault and unlawful carry will be taken.
22-006043 / 323 Camp Jordan Pkwy / Arrest-
A juvenile male was taken into custody at the Thrillville fair for two counts of unlawful possession of a firearm and evading arrest after security was advised he was trying to throw said firearms over the carnival fence.
6519 Ringgold Road / Narcotics violation: 
Management at this location called in about a suspicious vehicle parked in the rear of the establishment. Officers made contact with the vehicle, and one of the occupants was found to have cocaine and marijuana on his person. The man was released on a misdemeanor citation (22-006060)
1410 Mack Smith Rd. / Agg Assault (22-006053):
Security notified police that during their shift, a black SUV, possibly a Chevy Equinox, went past the security station without checking in. Security confronted the individuals inside the fence. The encounter led to the driver brandishing a pistol at security. Two females occupied the vehicle. The vehicle fled the scene prior to officer's arrival.
800 W Shadowlawn DR/Stolen vehicle recovery/drugs(22-044621)
ERPD located a stolen Jeep parked halfway in the road. Police detained Ronald Nichols the driver of the vehicle. CPD responded and took the suspect in custody several bags of suspected methamphetamine were also located In the vehicle.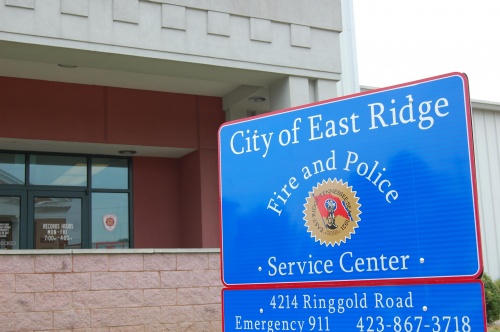 6708 Ringgold Road/Drugs(22-006042)
During a traffic stop at this location, Janet Rose was arrested for possession of meth for resale. Rose was in possession of two separate bags of meth weighing 1.7 grams.
5300 Haisten Ct/Warrant Service(22-006058)
Sconda Teems was arrested on an East Ridge warrant and a violation of probation warrant out of GA.
********************************************************************
May 01 – Day Shift
22-006070- 7609 Standifer Gap Road- Warrant Service-
Terence Watkins was served several East Ridge warrants at Silverdale.
22-006072- 903 Altamaha Street- Found Property-
The caller advised he found possible drug paraphernalia on the roadside at this address. On scene police located the item and determined it was just a broken soda bottle. It was disposed of.
No number assigned- 1410 Mack Smith Road- Disorder-
Security at the motel advised the two females in the black Equinox were on their way back to the motel. On scene police waited on the suspects to arrive but they never did.
22-006075- 5500 block of Ringgold Road- Suspicious Person-
The caller advised a male wearing one shoe dancing around acting erratic. On scene police encountered the man. He was checked for warrants and sent on his way.
22-006085- 1502 McDonald Road- Fire-
Police responded with ERFD on a possible fire. On scene police stood by while ERFD handled the call.
22-006087- Esterbrook Drive @ Tombras Avenue- Warrant Service-
Dalton Drawdy was served with an East Ridge warrant. He was transported to Silverdale.
*********************************************************************
May 01 – Night Shift
20-006099 – I75 NB on-ramp / Arrest:
Christie Piper was taken into custody at this location following a traffic stop on active warrants out of Bradley County. Piper was turned over to Bradley County Deputies at the Exxon gas station at Exit 11.
6200 Ringgold Road / unconscious person:
Jacob Martin was arrested for DUI and open container after he was observed passed out inside his vehicle in the Taco Bell line. (22-006094)
3242 Wilcox Blvd/ Warrant service (22-006056)-
Police arrested Eugene Coleman on East Ridge warrants for aggravated assault and unlawful possession of a firearm. The charges stem from the altercation at Home Plate Saturday night,
Ringgold Rd at Keeble St/ public intoxication (22-006118)-
Police arrested David Frix after he was found to be under the influence while running in the street.