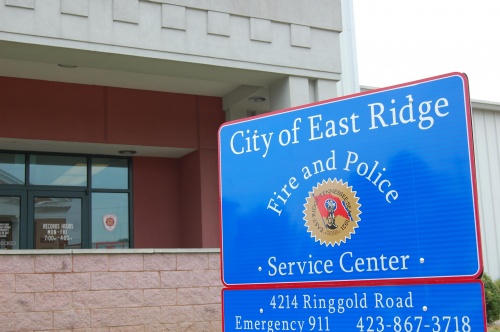 The following information was compiled from East Ridge Police Department "pass along" reports.
November 07 Day Shift
5300 blk of Clemons Road- Abandoned Auto-
The caller advised a gray Mazda with no registration tag had been parked in the street for approximately four days. The vehicle was not listed as stolen and it was not a traffic hazard. It was stickered for 48-hour removal.
5346 Ringgold Road (Kimberly Motel)- AOA/Arrest-
Police were assisting East Ridge City Codes Enforcement with a code violation investigation at room 9. The occupant opened the door and gave officers permission to enter the room. While stepping out of the room the occupant advised a male was hiding under the bed. When officers entered the room, they located a white male hiding under an air mattress. The individual was detained and asked for his information. The man identified himself as Jimmy Taylor and gave a date of birth. He also stated his driver's license was issued in Georgia. His information was checked with dispatch, but nothing was located. The man was given several opportunities to advise officers of his identity, but he refused. A check of several different sources found him to be Alfred Chastain with the same date of birth. A check of Chastain's information found him to be wanted by the Hamilton County Sheriff's Office. Chastain was arrested and charged with criminal impersonation.
1410 North Mack Smith Road (Budgetel)- Disorder-
The caller advised of a disorder between her and her friend's child's father, Michael Mabala. He was found to have a nonextraditable warrant out of Georgia. The disorder was verbal.
Tombras Avenue @ Lazard Street- Fight-
A passerby advised of two male children fighting in the intersection with several other children watching. Upon police arrival all the children made a mad dash for the high/middle school property. Officers were able to locate one of the juvenile subjects in the front yard of the middle school. Officers located a parent to pick up the child.
1022 Le Clercq Drive- Shots Fired-
The caller advised he heard a small caliber gun shot. Police responded and checked the area but located nothing.
November 07 – Night Shift
6116 Ringgold Rd. / Narcotics:
Charles Heath was taken into custody following a traffic stop at this location and charged with possession of methamphetamine and possession of schedule IV narcotics.
1421 Choate Road / Theft over $1000:
Police responded to Chattanooga Roofing Contractors to investigate a theft complaint.  Police spoke with the business owner who stated that between 10/31/2019 and 11/05/2019, an unknown suspect entered her business warehouse and stole 32 tools valued at $,3000.  There were no signs of forced entry.  The owner was able to provide a list of stolen items with serial numbers to police.
1417 St Thomas Street (Motel 6) / Fight:
Police responded to the Motel 6 to investigate a fight. Upon arrival, police spoke with the victim who was uncooperative, didn't want to provide information, and refused to press charges. The suspect left prior to police arrival. No further action required.
5300 Blk of Ringgold Rd / Consensual encounter:
Police made contact with Joshua Mckay in the Family Dollar store parking-lot. After doing a warrants check it was found that Mr. Mckay had multiple warrants out of Bradley Co. and Catoosa Co, Ga. Mr. Mckay was transported to the Bradley Co. line where Bradley Co. Sheriff's Office took custody of Mr. Mckay.
*********************************************************************
November 08 – Day Shift
5340 Ringgold Road (auto burglary):
The reporting party reported that his vehicle was burglarized sometime over the last couple of days. A bank bag containing $462.00 in cash and four loaded Glock magazines were stolen.
1500 Waterhouse Street (evading):
Police attempted a traffic stop on a gold Jeep Cherokee (TN 9G21M2) which fled at a high rate of speed south on Mack Smith Road. The vehicle was occupied by a white male driver and white female passenger. The tag came back to a blue Nissan.
*********************************************************************
November 08– Night Shift
1608 Heather Street (Suspicious Activity):
The complainant reported that there was a family that was attempting to sell soap to him and his neighbors.  The man advised that the family asked him very personal questions that he thought to be odd. The man advised he wanted police to be aware of the situation.  He described the family to be a Hispanic male and female in their thirties.  They had a juvenile with them approximately thirteen years of age.  They were driving a white early 2000s Toyota Camry.
4340 Ringgold Rd. (deceptive practice):
Police were dispatched to the Food Lion regarding a female customer who had attempted to use a counterfeit $100 bill to purchase a $25 gift card. The customer left with the counterfeit money.
3744 A Anderson Avenue 
Responded to a Burglary In Progress with gunfire. CPD Officers, having heard the gunfire, also responded. +30 bullets were fired at this residence from the street. The B side has many (+20) bullets holes. Bullets penetrated 2 other residences 3744B and 3736. 2 persons were in each residence at the time of the shooting. Shell casing were found in the roadway and appear to be from a handgun. There were no injuries. The victims do not have any suspect information. On call CID responded to process the scene.
*********************************************************************
November 09 – Day Shift
4214 Ringgold Road (warrant service):
Bobby Smith was arrested on two outstanding East Ridge PTR (fraudulent use of credit card) warrants.
4214 Ringgold Road (warrant service):
Jerry Hallman was arrested on an outstanding East Ridge warrant for domestic assault.
6721 Ringgold Road (theft):
An employee of Family Dollar, stated a couple entered the store, left without purchasing anything and set off the alarm upon leaving. The employee does not know what was taken. The female suspect was described as wearing excessive amounts of bright makeup and not having front teeth.
950 Spring Creek Road Apartment 126 (auto burglary):
The resident stated her car was burglarized between 2200 hours last night and this afternoon. The victim's wallet, containing cash and various credit cards, was taken. No suspect information is available.
3615 Phelps Street (harassment):
The resident at this address requested extra patrol in the area due to continuous harassment by neighbors. She declined to file an official report for fear of retaliation.
**************************************************************
November 09 – Night Shift
4330 Ringgold Rd (Alarm):
Police responded to an alarm at the East Ridge High School. Upon arrival, police located a front door that was unsecure and police entered the building to check on it. Several classroom and admin doors in the school were found to be open, but nothing appeared abnormal. In addition, no one was located inside the building. A key holder responded to the location and secured the building.
3777 Edwards Terrace (DUI):
Brenton Austin was arrested for DUI, left of center, and failure to yield to emergency vehicles following a traffic stop at this location.
6800 Ringgold Rd (DUI):
A driver was arrested for DUI, speeding and underage consumption following a traffic stop at this location.
*********************************************************************
November 10 – Day Shift
3584 Bennett Road (fight):
Police responded to this address, after neighbors saw two shirtless males engaged in a fist fight. On arrival police made contact with Willie Gholston. Mr. Gholston was observed with multiple lacerations to his face and torso, however claimed it was mutual fight with his old friend "OG" to settle an unspecified beef. OG was gone prior to police arrival.
4222 Ringgold Road (sleeping person):

Police were notified of a possibly unconscious male in a car parked at Speedway. It was determined the man was asleep.
1410 Mack Smith Road (911 call):
Police responded to the Budgetel in reference to an unknown 911 call. Police could not locate the caller.
6500 block Ringgold Road (fight):
A roadside fight was BOLO'd, but the parties were gone when police checked the area. A video of the "fight" is now circulating on social media.
**************************************************************
November 10 – Night Shift
6513 Ringgold Rd (Disorder):
Waffle House employees reported that an intoxicated white male ordered food, then became belligerent with the staff due to the quality of the meal. The on-duty manager directed the male to leave the business. After a short verbal disorder, the male suspect complied with the request and left on foot. Police searched the area for the white male suspect, but he was not located.
6100 Ringgold Rd (Traffic Stop):
John Arnett was issued a citation in lieu of arrest for driving on a suspended license. Police stopped Mr. Arnett's vehicle due to a light law violation.
6105 Ringgold Rd. (disorder):
Police were dispatched to Popeyes Chicken regarding a disorder. Upon police arrival contact was made with the manager. The manager stated a w/m was inside the restaurant yelling and cussing because it was taking too long to get the infamous chicken sandwich. The manager refunded the money and ask the customer to leave, at which time he kept yelling and cussing. Other customers asked the male to stop cussing because kids where in the area, but he refused. The male party was GOA.
6700 Ringgold Rd (DUI):
Zachary Lynch was arrested for DUI after being stopped for his vehicle being on fire.