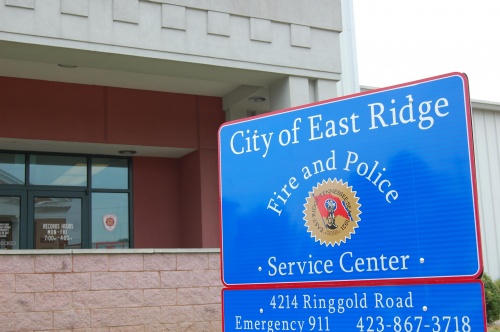 The following information was compiled from ERPD "pass along" reports.
Nov. 5 Day Shift
1508 Keeble Street (criminal trespass):
The resident was in his backyard this afternoon when he noticed someone had disabled the cutoff switch which activates the security lights outside the house. The power was cut off sometime between yesterday afternoon and earlier today. Nothing else on the property had been disturbed.
1410 N. Mack Smith Road (disorder):
Neville Allen, the security officer, stated an unknown black male arrived on the property and attempted to gain entry without a visitor's pass. Prior to driving off he told Allen the matter wasn't over and he would be back.
4320 Bennett Road (suicidal threats):
A high school student was transported to T.C. Thompson's for making suicidal threats at school.
5346 Ringgold Road (criminal trespass):
Josha Cairns, property manager of Kimberly Apartments, reported a male and female had entered Unit 5 without permission.  Prior to police arrival both parties fled.  The female, later identified as Sconda Teems, was arrested for criminal trespass and evading arrest.  It is believed the male party was David E. 
1415 Reeves Avenue (theft):
The resident reported cash, jewelry and medications had been stolen after an employee with a local cleaning service, cleaned his house a short while ago.     
*********************************************************************
Night Shift
4348 Ringgold Rd (Sonic):
Hold up alarm at this location. Upon arrival it was determined an employee accidentally hit the button.
3616 Missionaire Ave (Disorder):
Possible disorder up the street from this address. RP heard people yelling. Nothing Located upon police arrival
1236 John Ross Road (Domestic Assault):
Police were called to this residence by a neighbor.  Dispatch advised that someone was standing outside calling for help.  Police made contact with a man at the residence who was bleeding from the face.  The man said he was assaulted by his girlfriend, Crystal Renshaw. Crystal had already fled the scene prior to police arrival.  Crystal Renshaw's sister, Melissa Renshaw, was also on scene.  Melissa had an active warrant for DUI through sessions.  Melissa Renshaw was transported to 601.  Warrants for Domestic Assault are being sought on Crystal Renshaw. 
3 Sheridan Road (Robbery of a Person/Delayed):
The complainant reported that her juvenile son had been robbed at gun point on 11/04/19.  The juvenile advised he was robbed at gunpoint by other juveniles at 25 Sheridan Road.  There were several juveniles involved.  The juvenile stated all that was taken was a video game. CID was notified of the incident. 
1420 Mack Smith Rd. (suspicious vehicle):
Police got out with a black pickup truck with two occupants, sitting in the parking lot of the East Ridge Retirement Center. The driver, Joshua Hale, had two active warrants out of Hamilton County. Upon a search incident to arrest, police discovered 5 used syringes, a spoon with possible drug residue, scales with possible drug residue on it. Mr. Hale was charged with possession of drug paraphernalia along with the County warrants.