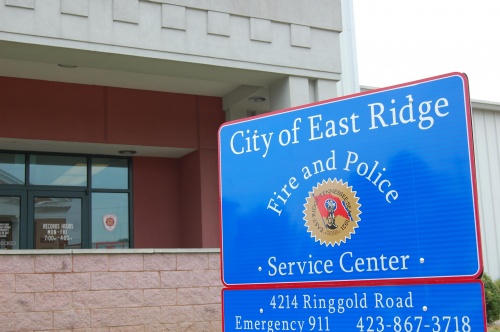 The following information was compiled from ERPD "pass along reports."
Oct. 20 Day Shift
21-015263- 3661 Whitehead Avenue- Animal Attack/Shots Fired-
On scene police met with the reporting party who reported that he shot an aggressive dog with his 9mm handgun.  The man stated that he worked for a tree service and came to the location to bid for the removal of an oak tree at the residence. The reporting party stated that he parked his vehicle on the street in front of the residence and walked over to the oak tree. He stated that a medium sized, black dog followed him into the yard and became aggressive as he walked toward the oak tree. He stated the dog appeared to be increasingly aggressive which made him fear for his life or serious bodily harm. The man stated that he pulled out his Glock 9mm pistol and fired one round at the animal's head. The available evidence at the scene supported the man's account of the incident. Two representatives from the East Ridge Animal Control Services (ACS) responded to the scene and took control of the injured animal.  ACS was able to determine that dog belonged to a neighbor who lived down the street.  ACS contacted dog's owner and discussed the situation.  ACS then transported the animal to the East Ridge Animal Hospital where the animal was treated.
21-015268- State Line Road @ D Street- Suspicious Vehicle-
The caller advised of a suspicious black car in the area. He advised it looked wrecked. On scene no wrecked vehicle were located.
21-015270- 321 Cedar Glen Circle- AOA-
Police responded with fire on a natural gas leak. On scene police assisted fire with evacuating the area.
21-015272- 4300 blk of Lazard Street- Suspicious Person/Arrest-
Christopher Brown was arrested on public intoxication charges following a suspicious person call.
21-015273- Ringgold Road @ Sunnyfield Lane- Traffic Stop/Arrest-
Demetrisu Witcher was arrested on drug charges following a traffic stop. 
*********************************************************************
 Night Shift
21-015279 – 6510 Ringgold Rd / Search Warrant: 
Police conducted a search warrant at this location after information was received regarding narcotic activity. The warrant resulted in Charles Appleberry being charged with Possession of Methamphetamine, Possession of Drug Paraphernalia, and Felon in Possession of a Firearm.
21-015280 – 3121 Bimini Place / Theft from a motor vehicle: 
The complainant reported that he noticed his Glock 22, .40 cal, pistol was taken from the center console of his Ford Expedition between the last time he saw it on October 18th and 2000 hours on October 19th.  The firearm was entered into NCIC.  No signs of forced entry and no suspect information available.
21-015289 – 600 block Marlboro Avenue / Arrest-Drugs: 
Jasper Kroll was arrested for domestic assault against his boyfriend, possession of schedule II, Possession of drug paraphernalia and disorderly conduct.