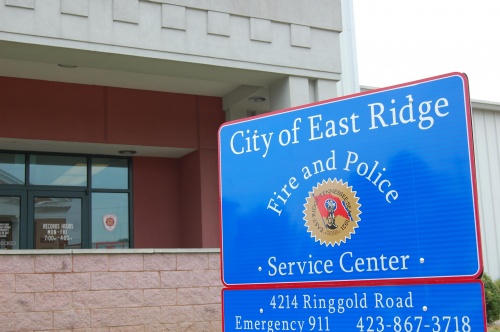 The following information was compiled from East Ridge Police Department "pass along reports."
Sept. 9 Day Shift
Donaldson Road @ Gleason Road- Traffic Stop/Evading-
Police attempted a traffic stop on a maroon Buick (4M36F2 TN). The vehicle failed to stop. The vehicle was registered to a Brandon Harris of 104 North Saint Marks Avenue in Chattanooga. Officers checked that address, but the suspect vehicle was not on scene. Warrants are pending on positive identification of the suspect.
Ringgold Road @ South Seminole Drive- Assist Fire-
The caller advised of a white truck pulling a trailer that was on fire. The caller followed the truck for several minutes and finally lost sight of him around Patton Drive @ Greenslake Road. Police and Fire responded and checked the area but didn't locate the truck.
3727 Fountain Avenue (The Belvoir)- Robbery from Person-
The victim advised he was robbed at gunpoint by a black male in a pink hoody while at the complex attempting to purchase a cell phone. Upon completion of the robbery the victim fled the area and called police from a location in Chattanooga. This incident is still under investigation.
3452 Ringgold Road (Qik n Ez)- Delayed Assault-
The caller advised the night clerk was assaulted just before closing last night by a black male. Per the caller the assault occurred due to the store not having a certain product. There is no other information on the suspect.
4173 East Ridge Drive- Noise Complaint-
The caller advised of noise coming from the back yard of 4027 Ealy Road. Upon arrival police did not detect any noises out of the ordinary in the area.
*********************************************************************
 Night Shift
Old Ringgold Road / S Germantown Road:
Kristin McGee was arrested on an East Ridge warrant for driving on suspended following a traffic stop.
4300 Ringgold Road/Drug Arrest:
Eddie Robinson was arrested for marijuana for resale, Adderall for resale, felon in possession of a firearm at this location.
3300 Ringgold Road / Traffic / Arrest:
Police conducted a traffic stop at this location which resulted in Joshua Timmons being taken into custody for driving on revoked for DUI.
AOA / Pursuit:
Hamilton County had a pursuit which went in and back out of Georgia. East Ridge Police were able to get ahead of the pursuit and attempted to utilize spike to end it safely but were unable to due to the vehicle staying on the interstate. Hamilton County ended the pursuit in a residential area in East Brainerd.
6721 Ringgold Rd (Family Dollar) Criminal Simulation –
An unknown white male attempted to pass a counterfeit $100 bill at the Family Dollar. No suspect information at this time.
600 S. Moore Road/Misdemeanor Citation:
Shajana F. Tiaisia Townsend was issued a misdemeanor citation for driving while license suspended.
6300 Ringgold Road/Assist other Agency:
Terry R. Woodward was transported to Hamilton County Jail on a Hamilton County warrant.
5306 Dupont Street / Suspicious Activity:
Police located two white males at this location which was supposed to be a vacant house.  Police could not locate the owner of the house. The two suspects were released and told not to return without the owner.