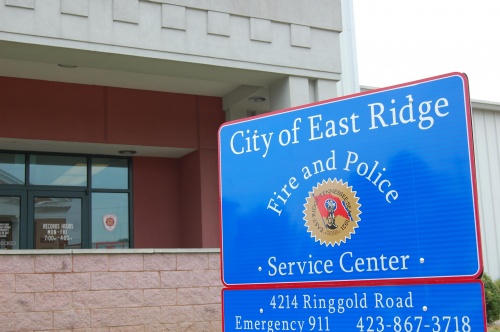 The following information was compiled from East Ridge Police Department "pass along" reports.
Day Shift
3713 Ringgold Rd- Subway:
Check the Well-being/Suspicious Persons – Police responded to this location after an employee called to report a heavyset, white female asleep on the bench. Contact was made with a man and a woman, who advised that they were awaiting someone to transport them to Brainerd. Upon the request of the Subway staff, they were advised to move on to another location. The parties complied and left the area.
727 Belvoir Ave:
Mental Health Consumer – Police responded to this location to intervene after a subject began having a manic episode and punching walls. The subject was later located walking down the street as officers arrived and advised that he wished to go to Parkridge Hospital for assistance. The subject was transported to Parkridge Hospital without incident. 
1020 McBrien Rd:
Theft from Vehicle – The resident reported that someone stole his TN license plate 1M23F3 from his 1992 white GMC Safari van at a unknown time. The plate was entered into NCIC.
6728 Ringgold Rd:
Camping World – Alarm – Police responded to an alarm at this business, only to find that it was employees arriving for work.
1501 Tombras Ave:
Pioneer Frontier – Juvenile Problem/Fight – Police made contact with multiple juveniles after it was reported that approximately 30 parties were observed in a possible fight. Police collected, documented and trespassed multiple juveniles from the property.
6513 Ringgold Rd:
Waffle House – Theft – Management discovered 87 dollars missing from drawer. They reviewed the security video and recorded an employee, April Baldwin, AKA April Jordan, steal the money from the register at around 9 PM last night. Staff attempted to contact her, but were unable to do so. Waffle House wishes to prosecute.
3400 Lisa Dr:
Child Abuse – Police spoke to Marilyn Baldwin with CPS, who claimed that her office received a child sexual assault report. The reporter advised that her 12-year old son was sexually assault by a 16-17-year old juvenile in the apartments located at 3400 Lisa Drive, unknown apartment, after leaving his home in Chattanooga without permission.
*********************************************************************
Night Shift
3607 Ida Bell Lane / Traffic Stop / Foot pursuit :
Police attempted to conduct a traffic stop for a speeding violation when the driver pulled into the driveway at this address and fled on foot into the woods. He was not located. Officers recognized the driver as Mitchell Culpepper, who has been trespassed from this location and also has a revoked license. Warrants are being sought for evading, driving on revoked, and criminal trespass.
I24 Westbound, mm182.6/ Traffic Crash:
Two Honda Civics were involved in a rear end collision in the left lane of the west bound lanes. Traffic flow slowed due to rush hour causing traffic to come to a complete stop. Vehicle 1 failed to slowed down quick enough striking the rear end of vehicle 2 to her front. EMS checked out both drivers but they refused transport. Vehicle 1 was towed from scene by Broome's. Vehicle 2 drove from the scene.
4214 Ringgold Road/ Warrant Service:
Police served an Alias/Capias Warrant for Petition to Revoke for Possession of Meth. Terry Wayne Mathis was in custody at the Hamilton County Jail.
4222 Ringgold Road / Fight:
Police responded to a possible fight at the Speedway.  Officers made contact with Dearius M. and Paul S..  The altercation started due to Dearius cutting in front of Paul In the parking lot.  According to video, Dearius attempted to attack Paul in the parking lot.  Paul stated that no physical contact was ever made during the situation and he did not wish to press charges.  Dearius was trespassed from Speedway.  All parties went their separate ways. 
4150 Ringgold Road / Theft:
Police were called to Walmart regarding two suspicious male parties being in the bathroom and possibly stealing items.  Officers located the parties inside of a pickup truck in the parking lot.  The parties in the truck were Dustin Long and Andrew Watkins.  Police located an acne removal kit inside the vehicle.  Video footage from inside the store showed Long taking the item off the shelf and never putting it back. Walmart advised that the item was never paid for.  Walmart refused to prosecute Long for theft regardless of the video showing him clearly taking the item.  Walmart requested for both parties to be trespassed. Long and Watkins were released and sent on their way. 
4214 Ringgold Road:
ER warrant #135617 was served on Dwight Land who was in custody at the Hamilton County Jail.
173 Cecil Lane / Auto Theft:
Police were dispatched to this address regarding an auto theft.  The victim advised that she was changing a battery in her vehicle.  The victim stated that she left the vehicle running while she went back in residence to use the bathroom at approximately 0430 hours.  The victim stated that when she returned a minute later, the vehicle was gone. The vehicle is a 2005 Infiniti G35 Sedan Blue in color TN tag #9M12F5.  There is a visor on the sunroof.  There is not suspect information at this time.  The vehicle was entered into NCIC.  NIC V081419743. 
Prigmore Rd @ Clemons Rd / Arrest:
William Burke was arrested for public intoxication and possession of legend drugs after police observed him asleep while sitting in the middle of the road.