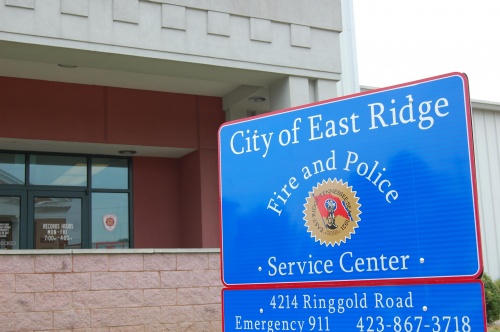 The following information was compiled from East Ridge Police Department "pass along" reports.
Sept. 3 Day Shift
6 Ridgeside Road:
Auto Theft- Upon arrival police spoke to Anne Manning. She advised around 2000 hours last night she parked her black 2008 Ford Sport Track (TN # 8G35P7/ VIN# 1FMEU33E58UA44918) with the window down. Manning said she noticed the vehicle missing this morning around 0800. Manning stated she did have a spare key to the vehicle inside the console. There are no suspects. The vehicle was entered in NCIC.
3222 Gleason Drive (Ridgeview Point Apartments):
Alarm- Upon arrival police spoke with employees and found the alarm was accidental.
18 Sheridan Road:
Suspicious Items- The caller advised while working in the yard he unearthed a bag of bones. CID responded and determined the bones to be from a dog.
116 Hilldale Drive:
Vehicle Burglary- On this date witnesses observed an auto burglary to a work truck in Ridgeside. Several calls came in about a group of male juveniles walking through the neighborhood. One witness, a work supervisor for WD Scott Landscaping, observed the same group walk past his work trucks. The trucks were parked in front of 116 Hillsdale. A few moments later, from across the street, he saw two of the juveniles walk back, step up on the running boards of his larger work truck, and start rummaging in the interior through open windows. When he yelled at them and started returning to his vehicle, the thieves ran. Officers drove through the neighborhood, but never located the subjects. The supervisor checked his truck and discovered the suspects had stolen the truck key along with all the access keys for the business and clients. He alerted the owner who responded to the scene. The suspects are described as black males in their mid-teens. One subject was tall, with short black hair, red pants and a white shirt. The other suspect was average build, wearing dark pants and shirt, with slightly longer hair. Officers did not locate any security cameras at the time that may have captured the theft.
Ringgold Road @ Maxwell Road:
Evading- While on patrol police observed a motorcycle traveling west at a high rate of speed on Ringgold Road at Maxwell. Police attempted a traffic stop on the vehicle at the intersection of Ringgold and McBrien where traffic was stopped for a red light, but the motorcycle failed to stop for police. The tag was GA WX1042. The driver was a white male with tattoos on his left arm. His passenger was a white female wearing pink shorts and had a tattoo on her upper thigh. In accordance with department policy police did not initiate any form of pursuit and allowed the motorcyclist to escape and flee at a high rate of speed in the direction of Chattanooga. Dispatch advised the tag was not on file, but it was linked to a Pathfinder SUV in GA.
3620 Wimberly Lane- Disorder:
The caller advised her juvenile son vandalized the residence and left. Police located the juvenile and transported him to JDU on domestic assault charges.
4222 Ringgold Road (Speedway):
Disorder- The store clerk called to report a verbal disorder with a customer. The customer was gone on police arrival.
4222 Ringgold Road (Speedway):
The store clerk called to report three black juveniles stealing unknown items from the business. Police were able to locate the juveniles and a responsible adult. They were advised not to return to the business.
1505 Tombras Avenue (Pioneer Park):
Possible Fight- The caller advised of several juveniles, approximately twenty, in the area of the park attempting to fight with one juvenile. Upon police arrival all juveniles in the area ran away from officers in several different directions.
3335 Ringgold Road #204:
Property Damage- Upon arrival police spoke to maintenance supervisor. He said sometime between Friday around 1500 hours and this morning around 0900 the front window to the office was broken. The window appeared to have a hole in it as if something was shot or thrown through it, but no evidence was located inside the office. Mr. Cole stated he didn't know how much it would cost to fix the window and there are no cameras in the building. No suspect information. 
*********************************************************************
Night Shift
60 Frawley Rd / Agg Domestic:
Police responded to this address for an aggravated domestic. A man heard arguing going on at his neighbors, he went over there and saw Destin Cash straddling his mother and strangling her. Mr. Cash left prior to police arrival. Warrants were taken out.
4214 Ringgold Rd / Warrant Service:
Mark Headrick was arrested on ERPD warrant for alias capias- possession of controlled substance.
1611 Springvale Rd (Suspicious Person/Arrest):
Greggory Perry was arrested for simple possession and tampering with evidence after police who were patrolling the area observed two parties with flashlights in the wood line. When officers pulled into the parking lot the parties turned their lights off and ran into the woods and down to the creek. Greggory was in possession of 1.5 grams of marijuana which he attempted to throw into the creek.
5611 Ringgold Rd. / Suspicious Activity:
Police observed a black male wearing all black clothing who appeared to be hiding behind bushes next to the Home Plate Bar. When contacted the male party had no explanation for his presence at this time of night. Police conducted a consensual search of the individual who refused to identify himself and discovered a mask in his back pocket. After identifying the male party he was allowed to leave. Field Interview on file.