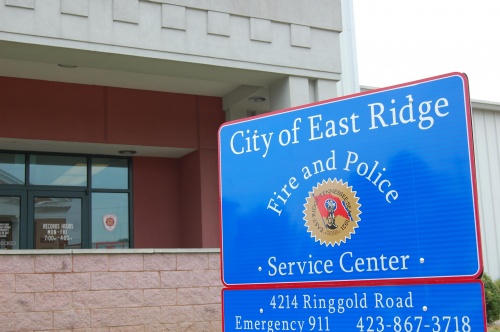 _ Eileen Lane: Police were called to the area on Sunday morning in regard to a shots fired call. According to a police report, an officer spoke with a witness who said that at 6:45 a.m. the family dog began barking fiercely at one of the windows on the south side of his home. The man got out of bed and looked out the slightly opened window and heard voices. He then heard footsteps that sounded as if someone was running down the driveway next door. The man told police that when he looked out the front door of his home he saw a white sedan sitting in the roadway and he heard a man's voice yell "let's go." The man said the car turned right onto Gleason toward Germantown Road. 
According to the report, the witness told police that he heard a car turn onto the road at 7 a.m. The man went to the door to check it out and he saw a white sedan pull down the road to the end of the cul-de-sac and turned back toward Gleason. The car stopped at the stop sign and sat for a couple of minutes, he related to officers.  As the witness continued to monitor the car, he said an arm appeared from the vehicle and fired six or seven shots. The vehicle then turned right on Gleason and sped toward Germantown Road.
The report states that police checked the area and located six .22 cal. long rifle shells in the roadway at the stop sign of Eileen Lane and Gleason Drive. Police found no evidence of any structures being hit by the gunfire. Investigators were called to the scene to process evidence and take photos, the report states. No known suspects at this time.
_ 2281 Camp Jordan Pkwy: Police located a 2001 Nissan Xterra at the rear of the Motel 6 earlier last week. According to a police report, the vehicle was spray painted black and displayed no registration plates. The VIN on the vehicle came back as stolen out of Chattanooga on Jan. 18, the report states. Police spoke with motel management who directed them to the room of the man who checked in and said he was driving a black Nissan vehicle. According to the report, the man who rented the room was not there and his girlfriend said he drove a yellow Dodge truck. Another man in the room was questioned and provided no helpful information concerning the stolen Xterra.
The stolen vehicle was towed to an impound lot. An inventory of the vehicle  turned up ammunition and a Glock 21 Gen 4 case with a magazine. However, the firearm was not located. The report notes that police discovered a possible bullet hole in the passenger side door of the vehicle.