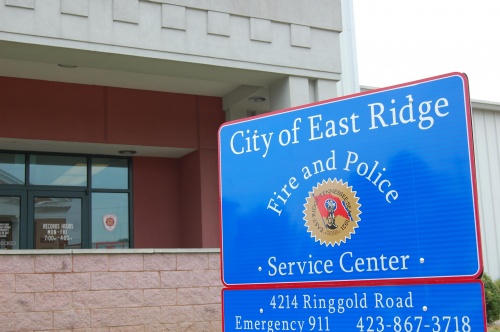 The following information is from East Ridge Police Department "pass along" reports.
May 21–Day Shift
5301 Ringgold Road:
The manager of Walgreen's reported that a female carrying an oversized purse entered the store and stole multiple cans of aerosol deodorant before leaving in a mid-2000s blue/gray Nissan Altima.  The suspect is a female Caucasian in her 30s or 40s with medium length dark colored hair.  She was wearing a long white t-shirt, dark colored tight pants with a colored print.  She had dark colored sandals on and was carrying an oversized white and black horizontal striped purse. 
1305 McBrien Road:
A woman reported that she left her brown clutch-style Coach wallet at Jack's Restaurant on May 20th.  Ms. Sutton said she contacted the restaurant about the wallet and was told that the wallet had not been turned in to them. 
913 Stateline Road:
East Ridge Fire Department personnel reported a wrecked and abandoned 2001 Nissan Pathfinder in the rear driveway of East Ridge High School. The car was said to have no license plate. The vehicle appeared to have struck a fire hydrant near the Home Place Apartments on Stateline Road and become inoperable. A maintenance employee with East Ridge High School reported that the vehicle had been parked there since the morning of May 20th.
1347 St. Thomas Street:
The resident reported that his black Roadmaster bicycle was stolen sometime during the night. 
730 Germantown Circle:
Police responded to the apartment complex on a report of a man passed out and partially hanging out of a car window.  Upon arrival, police located the man inside an apartment.  He said he was tired from working in the sun all day.  He was transported to the hospital. 
Mission Oaks Subdivision:
Officers received several calls regarding suspicious people going door to door. Employees of a company named QME, an affiliate of Atlanta Gas Company, are painting gas meters throughout the neighborhood and will be doing so for the next week.
May 21 – Night Shift
4500 Bennett Road:
Jennifer Rodriguez was arrested on three (3) warrants through Hamilton County.
1517 Tombras Avenue:
Shawn McPhail was arrested on three (3) East Ridge warrants.
1600 Truman Avenue:
Christopher Camacho was arrested for driving on a suspended license.
5337 Dupont Street:
An anonymous person called to report having heard two (2) successive gunshots near this address. Police checked the area but were unable to identify/locate the source of the noise heard.