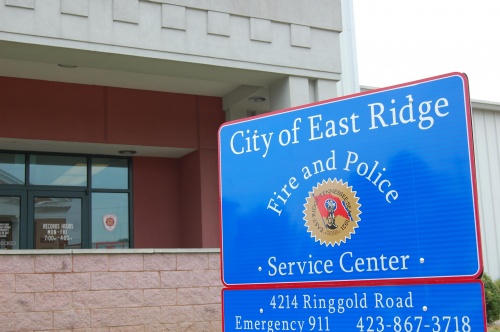 A man who changed lanes improperly and was following too close was arrested Tuesday evening on an assault charge stemming from an April 2017 incident.
According to a police report, an officer stopped a 2008 Ford Crown Victoria in the 6100 block of Ringgold Road at 6:45 p.m. When the officer activated his blue lights, the driver failed to immediately stop. When the officer made contact with the driver, Christopher O'Brian Miller, he discovered that the man's drivers license was suspended for not paying traffic citations. According to the report, when Miller was searched after being taken into custody the officer found a plastic baggie containing 1.1 grams of methamphetamine in his coat pocket. 
It was also discovered that Miller had an active warrant for Aggravated Domestic Assault which allegedly occurred last spring.
According to an affidavit of complaint, at 3 p.m. on April 3, 2017, police were dispatched to a Daniel Drive address where a man claimed that he had been assaulted by his boyfriend, who he would not name. The victim told police that he was beaten up and thrown into a ditch. The victim told police that the couple were driving and got into an argument. He stopped the car and both men got out of the vehicle. The confrontation turned physical and the victim said his assailant threw him in a ditch. The victim said that he believed he broke his ankle.
Emergency medical personnel arrived and confirmed that the victim's ankle was in fact broken, and the victim was taken to Parkridge East for medical treatment. The report states that police were able to determine that the victim's boyfriend was Miller. Police then spoke with Miller about the incident, but he was uncooperative. Warrants were then sworn out on Miller in connection with the incident.
Miller, 35, of a McBrien Road address, was booked into the Hamilton County Jail early Wednesday. He is charged with Possession of a Controlled Substance, Driving on a Suspended License and Domestic Aggravated Assault. He is due to appear in municipal court on Feb. 6.
_ South Mission Oaks Dr.: Police were dispatched to the area on Tuesday regarding a suspicious person. According to an affidavit of complaint, a person called saying that a bearded white man wearing a blue shirt was going through yards in the neighborhood. When an officer arrived, he spoke with a person walking a dog who said that he saw a man run behind a house. The officer checked the residence, which is under construction, and found a rear sliding glass door was open. The report states that officers announced their presence and called for the person to come out.
Kyle Coburn responded to the officers telling them where he was located inside the house and that he was on his knees and his hands were on his head. The report states that the officers found Coburn on the back side of the house on his knees. The report states that police called the property manager who said that she did not know Coburn and he did not have permission to be inside the property. 
Coburn, 26, of an Ooltewah address, was arrested on a charge of Burglary of a Residence