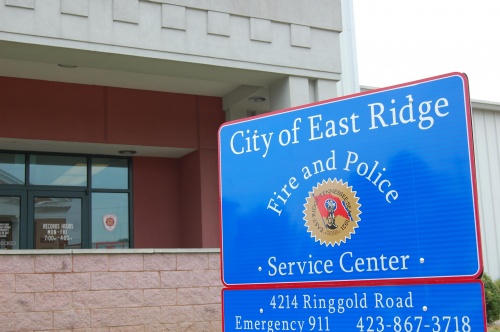 The following information was compiled from ERPD "pass along reports."
April 21 Day Shift
Warrant Service-
Shenika Moore was arrested on an East Ridge warrant for driving on revoked.  
21-005462- 3100 blk of Ringgold Road (Tunnel)- Check Hazard-
The caller advised of two eighteen wheelers stuck at/in the west bound tunnel. On arrival officers closed Ringgold Road @ South Seminole Drive until the trucks could be moved. Citations were issued.
21-005465- 4008 Sherlin Drive- Vandalism-
The caller advised sometime during the night an unknown suspect shot the rear window on his 2016 Jeep Patriot. He advised it appeared to be from a pellet gun. There is currently no other information.
21-005466- 4338 Ringgold Road (Food Lion)- Suspicious Person/Disorder-
The manager advised an unknown Hispanic male in a camouflage jacket had entered his store and spit on the floor. He advised when confronted the male started causing a disorder. When told to leave the male complied. While en route to Food Lion police located the subject at the intersection of Tombras Avenue @ Ringgold Road. He was identified as Gabrieal Medrano. He was issued a criminal trespass warning at the store manager's request.
21-005472- 6519 Ringgold Road- Disorder-
Tyrone Jones was taken into custody on an aggravated robbery warrant through sessions following a disorder with his now ex-girlfriend. 
*********************************************************************
 Night Shift
21-005478 – 4214 Ringgold Road / Warrant Arrest:
John N. Dodd was arrested on an Alias/Capias warrant for Driving on a Suspended License.
4214 Ringgold Road – Warrant Service – 21-005495 –
Seth Lankford was served an outstanding arrest warrant for Petition to Revoke – Assault on Police.
4214 Ringgold Road – Warrant Service – 19-005119 –
Michael Atchley was served an outstanding arrest warrant for Harassment.
1409 Mana Ln . – Harassment / Deceptive Practice – 21-005480 –
The complainant reported receiving a scam call telling him that he had an outstanding arrest warrant in Texas for drug possession and that his social security number had been leaked. The man wished to confirm this was not the case and report the suspicious call. Police instructed him to keep an eye on any fraudulent accounts opened with his name/social security number.
5418 Ringgold Road – Theft of Services – 21-005484 –
The owner of Apollo car wash reported an unknown male using his dumpster without permission. The complainant told police it costs him approximately $100 extra each week to have the dumpster emptied when the male dumps trash. The male is described as a W/M, late 50s-early 60s, grey hair, driving a white pickup truck or Home Depot rental truck, and always comes on Wednesday at various times. He was most recently seen on security camera footage on 4/21/21 @ 1200 hours. The complainant would like the male trespassed if contacted.
6700 Ringgold Road/Driving on revoked (DUI)(21-005500)
Paul Suggs was arrested during a traffic stop at this location for driving on revoked.
21-005501 800 S Germantown Road / Traffic Stop / AOA:
Sylla Foulematao was taken into custody for a valid warrant for misuse of evidence through Hamilton County Sessions Court and transported to the Hamilton County Jail with no issue following a traffic stop.
5080 S. Terrace / Recovered Stolen Auto 21-005510:
Officers located an abandoned 2017 Kawasaki street bike behind the theater. Upon running the vehicle's information with dispatch, it was found the bike was stolen out of Chattanooga. The vehicle was towed for safekeeping after the owner was not able to be reached.