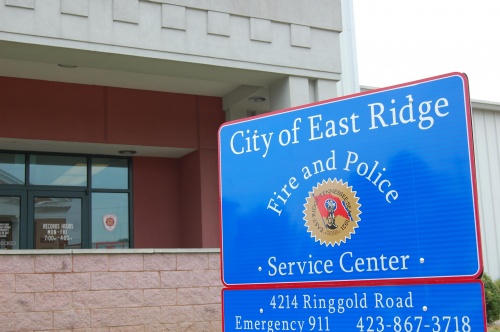 The following information is courtesy of the East Ridge Police Department and compiled from its "pass along reports."
August 26 – Day Shift
21-012305- 3400 Bennett Road- Stolen Auto Recovery-
Police conducted a traffic stop on a stolen Volkswagen Jetta at this location. After contacting the registered owner she advised the vehicle did confirm as stolen, but she was not willing to prosecute the suspect. Police completed a report and returned the vehicle to the owner.
21-012306- 6302 Ringgold Road (Arby's)- Disorder-
The caller advised of a homeless female in the restaurant with a dog. Once on scene police checked the business but the female had already left.
*********************************************************************
August 26 – Night Shift
21-012355 4222 Ringgold Road / Suspicious Vehicle / Arrest:
Nitnapha Somsanith was arrested for Public Intoxication following a suspicious vehicle call at this location. He was transported to the Hamilton County Jail with no issue.
5721 State Line Road / Vehicle Burglary-Attempted: 
Reporting Party called about a male subject attempting to open the doors on his vehicles.  The suspect was wearing a gray shirt with a green logo on the back, tan shorts, and flip-flops.  A check of the area did not locate him.  21-012337
6708 Ringgold Road / Found Property: 
A black backpack was found at Circle K.  The pack was placed in Property/Evidence.
5 Hillcrest Drive, Rossville, GA / Recovered Stolen Auto: 
Walker County Sheriff's Department found a 2014 Toyota Sienna in a ditch at this location.  The vehicle was reported stolen out of East Ridge on August 17, 2021.  21-011802
21-012318- 482 McBrien Rd/ Misc.-
Police were dispatched to the At Home store in regards to a cell phone being taped onto a vehicle. Police arrived and met with the reporting party. He advised police that he found the cell phone, and due to the nature of the characteristics of the vehicle, he got concerned that someone was trying to track a young female's vehicle. Police located the cell phone under the back of the car on the ground. The cell phone was powered on and had black duct tape on it that looked as though the phone was taped to the bottom of the vehicle. Police attempted to contact the owner of the vehicle, however, was unsuccessful. Police took the cell phone, powered it down, and entered into property and evidence. Report on file.
21-012327- 6510 Ringgold Road/ Animal Bite-
Police were dispatched to the Super 8 motel in regards to a female being bitten by a dog. Upon arrival, police met with the woman. She advised she was approaching a homeless female at the Wally's to ask if she had eaten dinner yet when the dog charged her and bit her in the thigh. EMS checked the subject and cleaned the bite wound. She denied any emergency room medical attention—report on file. 
*********************************************************************
August 27 – Day Shift
3705 Connelly Lane (domestic disorder):
A female subject walked from this address to a neighboring house to tell them she was pushed out of her boyfriend's car. The female wandered down the street and asked a couple to call her a ride. Police spoke with both individuals involved. Based on statements from both the man and woman, it appears to be a mutual combat disorder which took place in Georgia. (21-012374)
6303 Ringgold Road (suspicious activity):
The manager of Mod Wash requested extra patrol in the area while the business is closed due to several instances of unknown parties accessing the property after hours. (21-012366)
*********************************************************************
August 27 – Night Shift
3407 Beechwood Lane – (21-012377) – Burglary –
The property owner reports his duplex has been ransacked and stripped of copper and wiring.  A large storage building was also stolen.  The interior was dusted for probative evidence.
3220B Navajo Drive (21-012382) – Assault –
Jessie Roberts was observed, by ERPD, assaulting a female subject.  Roberts fled and was tased.  Roberts was arrested Domestic Assault and evading.
4200 US41 (21-012387) – Stolen Vehicle –
A traffic stop on a reported stolen vehicle led to the arrest of Jeremiah Lewis for theft and driving offenses
941 Spring Creek Road  – Assist Other –
While monitoring CPD's Charlie Channel an officer, upon hearing of a shooting in the area, remained in the area of Parkridge Hospital.  A gray BMW was observed entering the parking area.  The driver assisted a shooting victim into the ER.  ERPD Officers secured the vehicle with crime scene tape and contacted CPD to process the scene. 
August 28 – Day Shift
3400 Gail Drive (stolen vehicle recovery):
ERPD assisted LMPD with recovering a stolen 2021 Lincoln Navigator. GPS on the vehicle pinged its location at 3400 Gail Drive. The vehicle was recovered and a firearm was also taken from the vehicle. No suspects were found. (21-012408)
5003 Fike Drive (auto burglary):
This morning the reporting party found that his unlocked car had been rummaged through, although nothing was missing. This is the second occurrence in ten days. (21-012402)
4328 Oakdale Avenue (auto burglary):
This morning the resident found his unlocked truck had been gone through overnight. A Pelican case and fixed blade Case knife were stolen. (21-012409)
503 S. Lovell Avenue (auto burglary):
This morning the resident found has unlocked vehicle had been entered overnight and an expensive pair of sunglasses were stolen. (21-012414)
*********************************************************************                                         
August 28 – Night Shift
3133 Bimini Place (Disorder/Arrest 21-012425):
Police responded to unknown 911 call. A female juvenile was located by police demonstrating disruptive and assaultive behavior. She was taken into custody and transported to JDU for domestic violence charges.
633 Camp Jordan Pkwy (Unwanted Party 21-012425):
Police responded to reports of a one-man band panhandling in the area of Dairy Queen. Contact was made with the man. He was checked for warrants and advised panhandling was not permitted in East Ridge. He was sent on his way.
5408 Ringgold Rd (Arrest 21-012427):
Brian K Watson was taken into custody after officers located him semi-conscious due to his level of intoxication. He was transported to Silverdale for booking.
406 Alice Dr (Fight/Arrest 21-012430):
Officers responded to an alcohol infused physical fight between a father and his adult son. Police arrived and located Kelvin Taylor sitting in the yard while his father was standing several feet away bleeding from his nose and head. The younger Taylor was deemed to be the primary aggressor. He was taken into custody for Domestic Assault. Once Taylor was in custody, he became resistive and aggressive toward officers. He refused to sit in the patrol vehicle had had to be pulled across the backseat and drive stunned with a Taser to gain compliance. Taylor was refused admission to Silverdale until he was medically cleared for a cut on his leg. Police once again had to deploy a Taser at Parkridge North to gain compliance over Taylor. He was cleared by hospital staff transported without further incident.
6600 Ringgold Rd (Pedestrian Struck 21-012433):
A man stated he was struck by a white truck traveling west on Ringgold Rd at the I75 overpass. He was treated for minor injuries at the seen by EMS. The man was in possession of the sideview mirror of the vehicle that struck him.
631 Camp Jordan Pkwy (Alcohol Compliance Check 21-012435):
Officers conducted a compliance check of Jonathan's Bar area. No violations for underage sales or overserving were observed.
5611 Ringgold Rd (Alcohol Compliance Check 21-012436):
Officers conducted a compliance check of Home Plate Bar and Grill. No violations for underage sales or overserving were observed.
4321 Ringgold Rd (Alcohol Compliance Check 21-012438):
Officers conducted a compliance check of Ridge Bar and Grill. No violations for underage sales or overserving were observed.
3715 Ringgold Rd (DUI Arrest 21-012442):
Fernando Castillo was taken into custody for DUI and open container violation after he was observed by police in the Food City parking lot. He should be noted he was wearing the green armband of night distributed at Level Up.
3801 Ringgold Rd (Arrest 21-12444):
Blanco De la Toro Soto was taken into custody for disorderly conduct following a large disorder outside of Level Up Bar. It should be noted she was wearing the green armband security was providing patrons for the event.
3801 Ringgold Rd (Arrests 21-012445):
Two male parties were taken into custody for disorderly conduct after officers observed a disorder between approximately 40 parties in the parking lot adjacent to Level Up. They were also wearing armbands presented to patrons by Level Up security.
100 I75N (DUI 21-012447):
Tyler Fields was taken into custody for DUI, possession of a firearm while intoxicated and open container violation. He was also cited for numerous traffic violations.