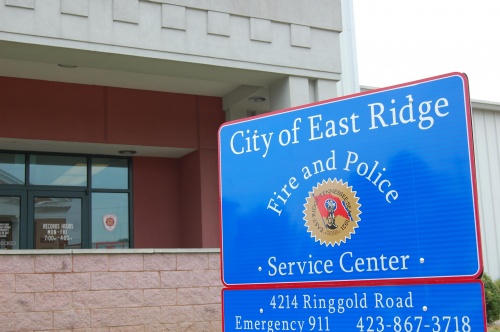 The dog of a woman who was allegedly attacked by her ex-husband came to her defense during a domestic disorder call on Monday.
According to an affidavit of complaint, officers were called to the disorder on Merida Street. Upon arriving, an officer spoke with an Animal Services employee and city fire department staff, who said that a domestic disorder occurred between a woman and her ex-husband, Gilbert "Mark" Chavez. The officer spoke with the victim who explained that she had gotten into a "heated" verbal argument with Chavez over where the keys to Chavez's motorcycle were. 
She told police that Chavez became "enraged" and he swung a lamp at her head, but missed because the woman "ducked out of the way." The woman told officers that her dog then bit Chavez in an attempt to defend her. The affidavit goes on to say that the woman was in fear of Chavez, who still resides with her at the Merida address. 
Chavez was taken to Erlanger Medical Center for treatment of his injuries. Officers served Chavez with a warrant at the hospital, charging him with Domestic Assault.
_ Police arrested a Ringgold, Ga. man on drug charges after officers stopped the car he was riding in because of a license plate issue. According to an affidavit of complaint, police stopped a 1994 Chevy pickup in the 3600 block of Ringgold Road after determining the license plate was registered to another vehicle. The driver of the truck told officers that he didn't have a drivers license and the vehicle did not belong to him. Officers then spoke with the passenger, later identified as Kevin Patrick Cross, 29, of an Indian Springs Road address. When officers performed a record check on the parties, it was discovered they both had warrants from separate law enforcement agencies pending against them. When Cross was placed into custody, officers noticed a backpack in the passenger's floorboard where Cross had been sitting. Neither man said they owned the backpack. The report states that inside the backpack officers found syringes, a digital scale, plastic bags commonly used to hold drugs, a plastic bag with 1.8 grams of what is believed to be methamphetamine and another larger bag containing 10 grams of suspected methamphetamine. Cross was arrested on charges of Possession of Schedule II for Resale, Possession of Schedule IV drugs and Possession of Drug Paraphernalia. He was jailed on a $14,000 bond and is scheduled to appear in East Ridge Municipal Court on Feb. 23.