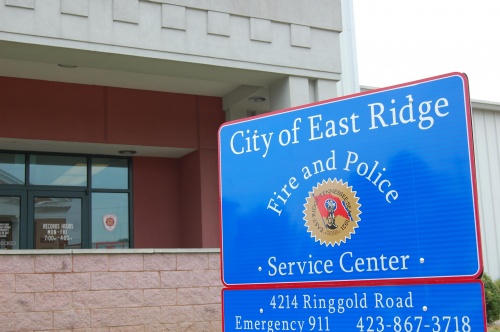 EDITOR'S NOTE: The East Ridge Police Department is no longer providing names of people arrested in its daily police briefs. A department official cited a new state law that in part states: The affidavit of complaint must contain instructions informing the defendant that if the defendant's charge is dismissed, a no true bill is returned by a grand jury, the defendant is arrested and released without being charged with an offense, or the court enters a nolle prosequi in the defendant's case, the defendant is entitled, upon petition by the defendant to the court having jurisdiction over the action, to the removal and destruction of all public records relating to the case without cost to the defendant.
Not providing names of those arrested in "police briefs" that the department makes public potentially makes the task of redaction more expedient.
In an effort to provide more information to the public in a timely manner, East Ridge News Online will post arrest reports on a daily basis.
According to booking reports from the Hamilton County Jail, the following people were arrested by the East Ridge Police Department from Jan. 16-18. An arrest does not mean that a person has been convicted of a crime. All persons arrested are presumed innocent until proven guilty in a court of law.
Jan. 16, 2023
BOSTON, MARTEZ MARIO
2006 MILNE ST CHATTANOOGA, 374064225
Age at Arrest: 34 years old
Arresting Agency: East Ridge
FAILURE TO APPEAR
BRAVO GUILLEN, LUIS
2016 WHEELER CHATTANOOGA, 37407
Age at Arrest: 27 years old
Arresting Agency: East Ridge
DRIVING ON REVOKED, SUSPENDED OR CANCELLED LICENSE
RECKLESS DRIVING
DRIVING UNDER THE INFLUENCE 3RD
MOORE, ANGELA LAVETTE
25 S GERMANTOWN ROAD CHATTANOOGA, 37408
Age at Arrest: 58 years old
Arresting Agency: East Ridge
DRIVING UNDER THE INFLUENCE
RECKLESS DRIVING
Jan. 17, 2023
TARPLEY, EARLY
601 WASHINGTON STREET ROSSVILLE, 30741
Age at Arrest: 34 years old
Arresting Agency: East Ridge
POSSESSION OF CONTROLLED SUBSTANCE (ALIAS CAPIAS)
FUGITIVE (CATOOSA CO, GA)
Jan. 18, 2023
CASSELL, DANIEL R
8630 GLENAIRE DR CHATTANOOGA, 37416
Age at Arrest: 27 years old
Arresting Agency: East Ridge
POSSESSION OF FENTANYL FOR RESALE
POSSESSION OF METH FOR RESALE
POSSESSION OF A FIREARM WHILE IN THE COMMISSION OF
DEWS, LADARRIUS M
3127 DEE ROAD CHATTANOOGA, 37406
Age at Arrest: 20 years old
Arresting Agency: East Ridge
FUGITIVE (ARREST FOR CRIME IN ANOTHER STATE)
EDWARDS, JUSTIN DANIEL
185 FAIRBURN ROAD SW UNIT 4 ATLANTA, 30331
Age at Arrest: 35 years old
Arresting Agency: East Ridge
FUGITIVE (ARREST FOR CRIME IN ANOTHER STATE)
PEREZ FELIPE, MONICA LUCIANA
1612 PRIGMORE RD APT B EAST RIDGE, 37341
Age at Arrest: 24 years old
Arresting Agency: East Ridge
DOMESTIC ASSAULT
CLINTON, EVAN WADE
4248 KENTON DRIVE EAST RIDGE, 37412
Age at Arrest: 31 years old
Arresting Agency: East Ridge
SCHEDULE II
POSSESSION OF DRUG PARAPHERNALIA
GARCIA, EDUARLIN DANIEL
13655 GRAGSTON CIRCLE #655 TAMPA, 33613
Age at Arrest: 24 years old
Arresting Agency: East Ridge
Booked for Previous Charges or Other Reason(s)
MANG, CUONG KIM
7584 PFIZER DRIVE OOLTEWAH, 37363
Age at Arrest: 32 years old
Arresting Agency: East Ridge
UNLAWFUL CARRYING OR POSSESSING WEAPON
FIREARM USE IN ASSOCIATION WITH DANGEROUS FELONIES
AGGRAVATED ASSAULT
KIDNAPPING