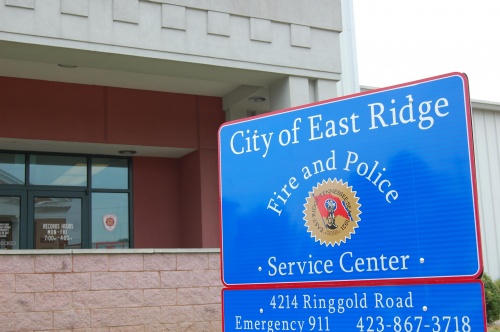 The following information was compiled from "pass along" reports provided by the administration of the East Ridge Police Department.
June 13 Day Shift
3316 Castle Avenue (found property):
An employee of Blue Cross Blue Shield found a purse after one of their events this past weekend.  BCBS contacted ERPD and asked if they could assist in locating the owner. Police went to this address and located the owner's mother who relayed the information. (22-008295)
3100 Ringgold Road (blocked tunnel):
ERPD was contacted about a large RV blocking the tunnel and trying to back out. The RV was already gone when police arrived. (22-008299)
3100 Ringgold Road (tunnel):
A tractor trailer became stuck at the intersection of Poindexter and Donaldson.  Police stood by for traffic control while the driver had the truck backed out thru Summit and Hutcheson. (22-008302)
Kingwood Circle and Kingwood Drive (animal call):
A landscape worker was on the receiving end of an un-provoked dog bite while unloading his equipment. The owner of the dog, who lived nearby, showed up looking for the dog which had escaped his yard earlier. The victim refused EMS. ERAS arrived and confirmed the dog was up to date on all vaccinations. The dog returned to its yard moments later. (22-008314)
3100 Ringgold Road (blocked tunnel):
A tractor trailer needed assistance turning around after almost going into the tunnel. Officers stopped traffic to allow the driver to turn around. (22-008315)
*********************************************************************
Night Shift
6519 Ringgold Rd (Kidnapping/ Robbery 22-008330)
Police responded to a call at the Super 8 regarding a male party who was held against his will in his vehicle by three juvenile females and two juvenile males brandishing a firearm. The juveniles stole his vehicle and were later found in Chattanooga. Charges are pending.
730 Germantown Circle (Carjacking 22-008324):
A man reported being assaulted by two males with a handgun and his 2016 Maroon Jeep Grand Cherokee stolen during the assault. He was transported by EMS to Parkridge East for injuries received during the incident and his vehicle was entered in to NCIC as stolen.
6775 Dharma Loop (Theft 22-008319):
Police took a report of a stolen piece of construction equipment. J&A Construction reported a yellow 2005 Caterpillar "Padfoot Compactor" stolen sometime between Friday 6/10 and Monday 6/13. Report on file.
4312 Easterbrook Rd (vandalism 22-008333):
Reporting party called in stating someone shot paintballs at their house and vehicles. No suspect information. Report on file.
4214 Ringgold Rd (warrant service 22-008337):
Keandre Jones was arrested on an East Ridge arrest warrant for vandalism.
6200 Ringgold Road (arrest 22-008335):
Following a traffic stop at this location, Akello Miller was taken into custody on two East Ridge warrants.
3800 block Altamira Drive (citizen assist 22-008318):
Police were dispatched to this area regarding a female subject. She had walked away from her group home. She has a court order for her to remain at the home. Police located her in the 1400 block of John Ross Road. She was given a ride back to her home and instructed by police to stay there. No further police action taken.
4214 Ringgold Road (Warrant Service 22-008323):
Kenneth Pulliam was served with two outstanding warrants for Forfeiture Capias – Resisting Arrest and Forfeiture Capias – Driving While Suspended while in custody at Silverdale Detention Center.