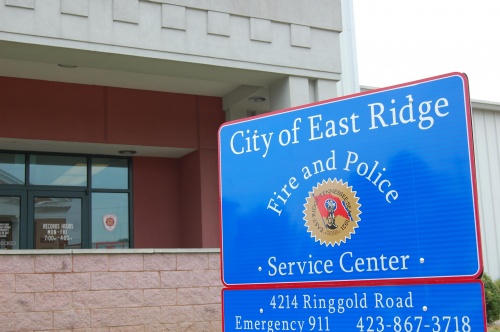 The following information was compiled from "pass along" reports provided by the East Ridge Police Department.
June 6 _ Night Shift 
1300 block San His Dr/Domestic Disorder: 
Police responded to this residence regarding a domestic disorder. Upon arrival police spoke with a woman who advised a male subject was suffering from dementia and having frequent more violent episodes. At the scene police then spoke with a man who advised his dad hit him with a belt. Both the woman and the son told police they would like for the man to be taken to the hospital for evaluation for his medication. He was brought to Parkridge East voluntarily by police without incident.  22-007996
100 I-75 SB/BOLO/DUI: 
Police received a bolo of a black Chevrolet Impala failing to maintain its lane of travel. Police located the vehicle on I-75 SB in Catoosa County. Catoosa county took the driver Kayla Cantrell into custody for DUI.  22-08003
5401 Ringgold Road / Public Intoxication: 
Police observed David Fricks at this location pacing up and down the sidewalk and yelling. He was found to be under the influence of a narcotic and was taken into custody for public intoxication.  22-008010
6514 Ringgold Road / Assist other Agency-Warrant Service: 
Richard L. Ledford was transported to Silverdale on Session warrants after a traffic stop.  22-008013
6500 Slater Road/Warrant Service: 
Mary Nichols was arrested for a Hamilton County warrant at this location after a consensual encounter.  22-008014
*********************************************************************
June 7 Day Shift
22-008017- 1410 Mack Smith Road #2220- AOA Warrant Service-
Matthew Rogers was detained on Collegedale warrants and transported to Silverdale following a threats call.
*********************************************************************
Night Shift – June 07
400 S Moore Road/Evading:
Police attempted to stop a black sedan with an unreadable temp tag out of Georgia. The vehicle was occupied 4-5 times with a male driver. The vehicle sped off at a high rate of speed 24 EB police did not pursue.
941 Spring Creek Rd/ Assault: 
Police responded to Park Ridge East in reference to an assault. After investigating this complaint was deemed unfounded.  22-008045
5000 block Fike Dr/Well-Being Check: 
Police were called to check on a man at this residence. Upon arrival, police observed a male laying down in the kitchen floor. Police made entry into the residence and located the man severely intoxicated on the floor. He was transported by EMS.  22-008048
4214 Ringgold Road/Warrant Service: 
Jason Collar was arrested at East Ridge City Court on three warrants. Collar was transported to Silverdale.  22-000756
100 Interstate 75 NB / Broken Down Auto: 
A motorist at the welcome center request police assistance with a jump start.  The motorist was assisted.  22-008054