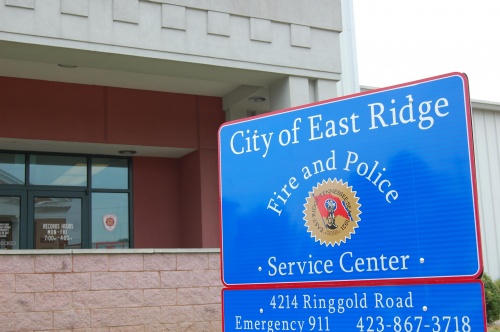 A call to police about someone throwing an empty beer can out of a car has led to two men being taken to jail.
According to a police report, on Wednesday a "Be on the lookout" was issued to ERPD in regard to a silver Mazda Tribute traveling on South Seminole Drive where an occupant had tossed an empty beer can from the vehicle. A witness had given dispatch a description of the car and a partial tag number.
Police located the car in a parking lot on South Seminole Drive with a black male standing next to the driver's door, which was open. According to the report, the driver was identified as Zachery James Lewis, 20, of a Geneal Lane address in Chattanooga. As an officer was talking with Lewis, she saw in plain view a red, semi-automatic handgun underneath the driver's seat. The report states that the gun _ a loaded Cobra .380 _ was removed for officer's safety. 
While the gun was being removed from the car, officers discerned an odor of marijuana coming from the car. Police asked Lewis, and his passenger, Camarrius Rice, a 19-year old Citco Avenue resident, to exit the car. When police searched the vehicle, they found a second firearm _ a fully-loaded Jiminez .380 with hollow point rounds in the locked glove compartment. The report states that officers also found a marijuana grinder with pot residue in the driver's floorboard along with some rolling papers.
The report states that Lewis was out on bond for possession of narcotics and drug paraphernalia. He was placed into custody and "charged accordingly." Rice was also taken into custody on an outstanding warrant from Hamilton County Sessions Court.
According to Hamilton County Jail booking reports, Lewis was charged by ERPD with Possession of a Firearm with the Intent to go Armed and Possession of Drug Paraphernalia. Rice was jailed by Hamilton County for violating his probation on a disorderly conduct charge.
_ 5700 block Ringgold Road: On Thursday a police officer initiated a traffic stop on a Toyota Camry driving without head lights on Ringgold Road. According to a police report, the driver said that she did not have driver's license and that her name was Keylon Lanier. Police ran the name with a date of birth and discovered that Keylon Lanier was wanted out of Gordon County, Georgia. The report states that before the officer could get the woman in handcuffs, she ran through an empty lot east and then turned back to the west toward the parking lot of the Dollar General Store. 
The report states that when officers caught up with the woman they deployed a Taser and took her to the ground. The suspect was handcuffed and placed in the back of a patrol car. The report states that the suspect was "belligerent" and kicked the patrol car's window several times. The suspect, later identified as Daysha Joyner, 19, of a Sheridan Avenue address in Chattanooga, was taken to Parkridge East to have the Taser probe removed and to be examined by medical personnel. 
Joyner was charged with Criminal Impersonation and Evading Arrest.