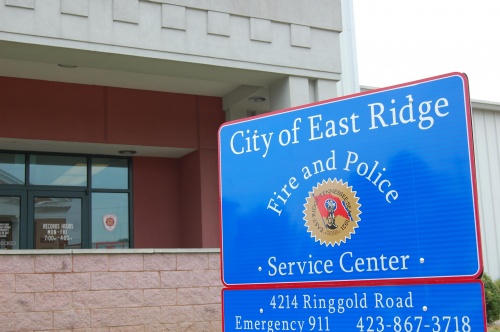 The following information was compiled from ERPD "pass along" reports.
May 08 – Day Shift
1410 Mack Smith Road (violation of conditions of release):
Police came into contact with a male subject at the Budgetel Inn after police were notified about a woman yelling for help. The woman has an active order of protection against the man who was arrested and taken to jail. (22-006492)
5410 Ringgold Road (aggravated assault):
The complainant contacted police and told them he was approached by an old acquaintance named "Aaron" at the Valero gas station. Aaron brandished a gun from inside a car and threatened to kill the complainant for inappropriately touching his sister 25 years ago. No other information is available on the identity of Aaron. The complainant told police Aaron also threatened to kill him ten years ago. (22-006510)
*********************************************************************                                        
May 08 – Night Shift
1500 block Karwill Lane (Arrest 22-006516):
Crystal Griffin was taken into custody for aggravated assault on police x3, aggravated assault x2, aggravated child abuse/neglect x4, public intoxication, resisting stop halt frisk. Griffin was transported to Parkridge East via police, then to Silverdale. CPS responded to the scene for three of the four children. The fourth was transported to TC Thompson by Hamilton County EMS for injuries sustained by Griffin.
1410 Mack Smith Road (Child Abuse 22-006513):
Police were dispatched to this location in reference to a child at the front desk asking for food and being locked out of his room. Contact was made with the parent, and it was determined the 12-year-old juvenile left with permission of his guardian at the time and accidentally locked himself out of the room. No signs of abuse were observed.
1410 Mack Smith Road (Theft 22-006521):
Police responded to this location in reference to the theft of a motor vehicle. On scene the complainant had no proof of vehicle ownership or information on the vehicle itself. She was advised to call back when she obtains more information.
1410 Mack Smith Road (Disorder – No Number):
While on scene investigating a report of child abuse, Police overheard a disorder nearby between a male and female. It was determined to be verbal only and the parties separated.
6519 Ringgold Road (Arrest 22-006527):
Michael Martin was taken into custody for Public Intoxication at this location after management called about him yelling and waving a stick in the parking lot.
1369 Ridgefield Cir (Domestic Assault 22-006517):
Michael Weems was arrested for Domestic Assault following a call at this address.
1410 Mack Smith Road (Abandoned Child 22-006522):
A woman left her 8-year-old son in the care of her neighbors: A female subject, who appeared to be impaired, and a man, who is a violent sex offender. The woman was warned against utilizing such persons for babysitters. Report on file. A voice mail was left with Hamilton County SO inquiring about a possible violation of the man's sex offender registry.
1300 block Greenslake Rd (Evading 22-006526):
Chattanooga Police chased a vehicle through the city. East Ridge briefly got behind the vehicle but when it appeared not to stop it was allowed to safely flee. Chattanooga was able to take the driver into custody on I-75N. He was identified as Shawn Jarrett. Warrants will be taken on this party.
6514 Ringgold Rd (Child Found 22-006528):
Police responded to the Mapco in reference to a child requesting assistance. Police made contact with the child who ran away from her mother's friend's house. Police were unable to locate the child's mother or make contact with her. CPS was notified to take custody of the child for placement.
********************************************************************
May 09 – Night Shift
22-006532- 4216 Ealy Road- Harassment/Arrest-
On scene police spoke with the juvenile victim and his mother. They advised the juvenile suspect was attempting to fight the juvenile victim. This will be a carryover incident originating from a fight that occurred the evening of 5-8-22 at the Thrillville Fair. OCN 22-006519. The juvenile suspect was located and arrested. He was charged with harassment and transported to the Hamilton County Juvenile Detention Center with no issue.
22-006536- 323 Camp Jordan Parkway- Vehicle Burglary-
Police were flagged down by a woman at 490 Camp Jordan Parkway. She advised sometime between 1930 hours and 2200 hours on 5-8-22 and unknown suspect entered her unlocked vehicle and took her wallet. She advised her vehicle was parked in overflow parking for the Thrillville Fair.  She advised the only thing missing is the wallet and its contents.
22-006545- 1224 Laredo Avenue- Mental Health Consumer-
The caller advised a male with a backpack riding a bicycle had stopped in front of his residence.  The male advised he was headed to Texas and then left. On scene the male was not located.
May 09 – Night Shift
4300 block Oakdale Ave (Mentally Disturbed 22-006560):
Police were dispatched to this address regarding a call for multiple parties shot. Upon arrival, police spoke with a male subject, who is a mental health consumer suffering from Sundowner's Syndrome. Upon walking through the residence, police observed multiple firearms with a large amount of ammunition and deplorable living conditions. EMS responded to the scene and transported the man to Parkridge East for Evaluation after being unable to answer simple questions by the Medics on the scene. Police were given a court order to seize the firearms in the man's possession. In total, police seized nine firearms, 15 magazines of different calibers, and ammunition.
3920 Ringgold Rd/ Aggravated Robbery: 
Units were dispatched to the Dollar General in reference to an armed robbery. Once on-scene it was ascertained that the robbery had happened approximately ten to fifteen minutes prior. Surveillance video showed that the suspect (Black male, approximately 6'0-6'2, thin build, wearing blue jeans, a brown Carhartt hooded jacket, black sneakers with white soles, and a black face covering/balaclava) entered the business on foot and ordered both employees into the office at gunpoint. The suspect then took approximately $900 in cash and told the employees to stay in the office for five minutes or he would shoot them. The suspect was last seen running out of the establishment west towards Ringgold Road. Detective E. Massengale and K9 Officer Rhudy were both on scene to provide assistance. (22-006563)