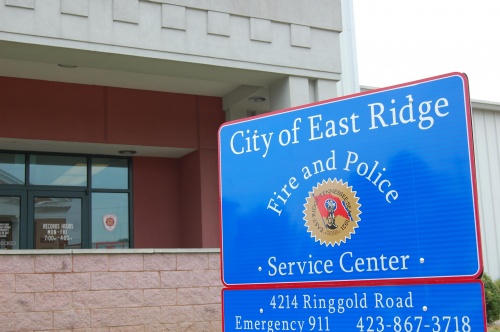 The identity of the man who was shot and killed by a customer during a robbery at the Kangaroo Express on June 30 has been released.
Officials said the man was Anthoney Leburne Edmonds, 54, of a Norcross Road address in Chattanooga. East Ridge officials originally withheld the man's name until next of kin could be notified. However, as of Thursday, there has been no response from Edmonds' relatives, officials said.
Police officials said Edmonds had a criminal history. Officials did not elaborate on the types of crimes Edmonds had been charged with or convicted of in the past.
East Ridge News Online obtained a copy of the Field Offense Report. East Ridge News Online will not identify the customer who thwarted Edmonds' attempt at robbing the store out of consideration of possible retribution against the man.
What follows is the initial incident report filed by East Ridge police. The customer who shot the robber will be referred to as "X."
On 6-30-2016 at approximately 0147 hours, officers responded to 40 11 Ringgold Road, the Marathon Fuel Station, in regards to a party being shot.
While en route to the call, officers were advised that a black male had entered the store, committed a robbery of the business, and fled to the parking lot where another subject shot him. Upon arrival, officers observed the unknown black male, later identified as Anthony Edmonds, laying on his back, unresponsive in the parking lot.
ERFD arrived on scene along with EMS and immediately began treating Mr. Edmonds. Standing near Mr. Edmonds was X, who claimed to be the shooter. He stated that he had arrived at the convenience store and upon exiting his vehicle, observed Mr. Edmonds forcing the store clerk out of the front door of the business, while stating that (Edmonds) had a gun and he would kill her. 
It was at this time that X retrieved his handgun from his vehicle. As he was turning from his vehicle, he states he was assaulted by Mr. Edmonds, who struck him with a cigarette rack that (Edmonds) had taken from the store. X states that Mr. Edmonds then stepped back and began reaching for something. X stated he believed that Mr. Edmonds was attempting to draw the firearm that he claimed to have, so (X) fired his weapon at Mr. Edmonds. 
Mr. Edmonds was struck and fell just a few steps from where he was shot, where he was found when police arrived. 
Officers made contact with the store clerk, who was visibly upset. She stated that Mr. Edmonds, who was previously  unknown to the clerk, entered the store and pulled a mask down over his face. He then began chasing the clerk around the store. He was able to gain control over the clerk and he withdrew a meat cleaver that he had concealed somewhere on his person. He then forced the clerk behind the counter and demanded that she open the register. She complied and Mr. Edmonds hastily removed the cash and coins that he could carry.
He then forced the clerk to another register, which she opened and he removed an unknown amount of money. After taking all the money he could carry, he grabbed a rack of Newport cigarettes and began forcing the clerk out of the store. It was then that Mr. Edmonds encountered X.
Mr. Edmonds was transported to Parkridge East hospital, where he was later pronounced dead.
Detective Johnson and Detective Wade responded to the scene for evidence collection. Statements were taken from all know witnesses and victims.