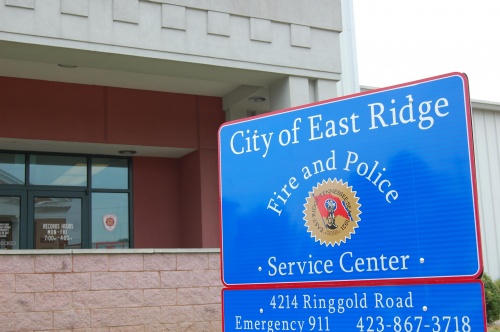 The following information was compiled from "pass along reports" provided by the administration of the East Ridge Police Department.
November 06 – Day Shift
707 Haven Hill Drive /DUI 21-016053:
Joseph Reckentwald was arrested for DUI subsequent to a crash
4405 Louis Ave/ Stolen Tag 21-016055:
The complainant contacted police to report the theft of her car tag, GA RWI 7662. It was taken between the hour of 6:30 PM and today at 7 AM from her 2020 Nissan Versa. Tag was entered into NCIC.
*********************************************************************                                    
November 06 – Night Shift
Tombras Ave/Bennett Rd (Arrest 21-016082):
A Hispanic male party identifying himself as Esteban Zacaria Andres was arrested for Public Intoxication as he was found stumbling along the roadway to an unknown destination. After he was booked at Hamilton County Jail he was discovered to be Pedro Nolasco-Pascual of 1412 Mana Lane who had federal warrants to deport him. An additional charge of Criminal Impersonation will be pursued.
1400 block Mack Smith (Mental Health 21-016083):
A man called police stating he had been in a disorder with his boyfriend and thought he might have overdosed on cocaine. He was transported to Joe Johnson Mental Health at his request.
4338 Ringgold Rd (Disorder/21-016089):
The complainant called in stating a male subject pulled a gun on him in the parking lot of Food Lion. Suspect left in a late 90s model silver Toyota Camry.
6303 Ringgold Rd (Criminal Trespass 21-016093):
Dustin White was criminally trespassed from the MOD Carwash after he was observed on the business property after hours.
4100 Ringgold Rd (AOA Warrant 21-16095):
Ricky Miller was detained on Hamilton County warrants and transported to Silverdale.
4214 Ringgold Rd (Warrant Arrest 21-016097):
Christopher Davis was arrested on East Ridge warrants at Silverdale.
6404 Ringgold Rd (DUI Arrest 21-16100):
Travis Lee was taken into custody for DUI after he was found unconscious in the driver's seat of his vehicle. Lee was in the drive-thru line at Burger King.
4214 Ringgold Rd (Warrant Arrest 21-016102):
Javonne Simms was arrested on East Ridge warrants at Silverdale.
4222 Ringgold Rd ( Warrant Arrest 21-016103):
Joseph Horton was taken into custody on East Ridge warrants at the Speedway after an officer recognized him.
1601 Sunray (Suspicious Person 21-16107):
Police received complaints of a male subject in the area of Sunray and Saint James screaming and throwing his shoes. Officers made contact with an intoxicated Dennis Arslavonic. Arslavonic was transported to Silverdale but corrections personnel refused to hold him based on staffing issues and his level of intoxication. Arslavonic was transported to Parkridge East Hospital for evaluation. Warrants were taken for public intoxication.
600 Camp Jordan Pkwy (DUI Arrest 21-016110):
Jillian Stratton was taken into custody for DUI after pulling onto Camp Jordan Pkwy and nearly striking a patrol car.
6500 Ringgold Rd (DUI Arrest 21-016111):
Jose Orellana was taken into custody for DUI and open container law violation during a traffic stop.
********************************************************************
November 07 – Day Shift
5312 Lazard Street (vandalism):
The resident reported damage to the outside pane of the front window to his residence. He advised that sometime before today an unknown projectile produced a small hole in his window. Above the hole was written either the number (8) or letter (B). There is no suspect information. (21-016120).
1665 Waterhouse Street (miscellaneous):
A child called and advised finding an Epi-pen in the street near this location. Police located the item, which was not an Epi-pen but a used syringe. It was disposed of in the appropriate manner. (21-016141)
500 block Notre Dame Avenue (deceptive practice):
The complainant contacted police after she discovered all the money in her checking account was missing. She contacted the bank and was told someone used her Visa debit card number to pay for over $400 in parking tickets in Brooklyn, NY. (21-016135)
1300 block Sewanee Drive (well-being check):
The resident, who is elderly, contacted police after going three days without water service at his residence. He stated there was a mix up between his bank and the water company, and his water was disconnected. He was unable to contact anyone from the water company over the weekend. He denied needing any medical attention, and police supplied him with fresh water. Codes Enforcement was made aware of the situation. (21-016115)
*********************************************************************
November 07 – Night Shift
4214 Ringgold Rd (Warrant Arrest 21-016147):
Ronald Philpott was arrested on East Ridge warrants at Silverdale.
3918 Ringgold Rd (DUI Arrest 21-016153):
Taylor Dollmont was arrested for DUI following a traffic stop.
4214 Ringgold Road (Warrant Service 17-007452): '
Garret Sturdeivant was arrested on an East Ridge warrant for Forfeiture Capias (Vandalism).
5417 Weaver St (Suspicious Person 21-016155):
Police were called to this location on reports of a male subject wearing a backpack, hiding in bushes. The male was not located.
809 S Germantown (Attempted Burglary 21-016160):
Two males attempted to open the front door of this address. The two fled the scene in a darker colored sedan.
3600 block Helen Ln (Domestic Assault 21-016167):
Police arrested Bautista Ramirez Domingo for assaulting his wife at this address.
6721 Ringgold Road (Theft 21-016148):
Family Dollar staff reported shoplifting of a space heater. Security camera footage showed two female suspects leaving the store with the heater.
6710 Ringgold Road (Unconscious Person 21-016159):
Police responded to an unconscious person at the Best Western. A female subject was found suffering from a possible Percocet overdose. Narcan was administered and she regained consciousness prior to being transported to Parkridge Hospital by EMS.
341 Camp Jordan Rd (Drug Overdose 21-016164):
Police responded to a reported drug overdose at this location. Police made contact with a male subject who had already been given a dose of Narcan by a friend. He advised he used what he believed to be methamphetamine via injection. Police recovered an empty syringe and a loaded syringe from under the mattress where he was seated. He admitted that the syringes were his. He was issued a misdemeanor citation in lieu of arrest for possession of drug paraphernalia.