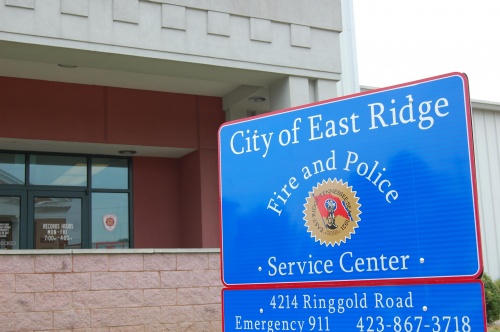 The following information is courtesy of the East Ridge Police Department.
Day Shift November 18, 2022
22-015894- 6600 BLK Ringgold Rd- Agg Assault- The complainant stated Inez Lawrence drew a revolver, extended her arm towards her stating "I'll kill you " multiple times and finally stated "I'll shoot you in your face". Warrants were sought to arrest Inez Lawrence for Aggravate Assault.
20-015895- 900 BLK Spring Creek Road- Suspicious Person- Police were dispatched to the above address in regards to a male party looking into cars and digging through a dumpster. Police made contact with a transient who advised he was looking for antibiotics in the dumpster. He was checked for warrants and instructed to move along.
22-015879 – 3600 Fountain Ave – Miscellaneous – The complainant reported that her ex-boyfriend took her Christmas tree and family made ornaments when he moved out of the residence a few months earlier. She wanted this documented due to her discovering multiple items missing from her residence since his departure.
22-015891 – 4320 Bennett Rd – Suspicious Persons – The School Security Officer reported two unknown juveniles were found on the property. On scene, police discovered the juveniles were students of Tyner High School, who had left their school and came to ERHS to visit other students. Originally, the parties provided police with incorrect names, however, their identities were later determined, and their parents were contacted to pick them up. Both parties were issued criminal trespasses.
Night Shift November 18-19, 2022
22-015904 – 300 BLK Camp Jordan Pkwy – Theft from Vehicle – Police responded to this location regarding a Theft from a Vehicle. On scene, Police made contact with the victim who advised her purse was stolen from her vehicle. It was determined the victim's card was later used at a Shell Gas Station in East Ridge and again at an ATM in Fort Oglethorpe.
Day Shift November 19, 2021
21-003437, 22-015943- 3412 Bennett Rd- Warrant Service- Caleb Pendergrass was taken into custody on an East Ridge arrest warrant for Domestic Assault following a traffic stop. He was additionally charged with Possession of Drug Paraphernalia.
22-015925- 6514 Ringgold Rd- Criminal Trespass- Jason Dale Mincey (aka Dupree) was arrested for Criminal Trespass
22-015932 – 1600 BLK John Ross Rd – Miscellaneous – The reporting party advised he found a four inch piece of bone after it fell out of tree. The complainant advised his wife watches criminal investigation television shows and recommended he call police. It's believed this was from a bird's nest in said tree.
22-015937 – 3600 BLK Altamira Dr – Suspicious Person – A caller reported a homeless-looking male party wearing a vest and pulling a wagon knocked on her door and then walked away. Police checked the area but no one was located.
Night Shift November 19-20, 2022
22-015952 – 1300 BLK Blocker Lane – Residential Fire – Police responded to the listed address for a residential fire. Homeowner was cooking in his kitchen when the fire began. Police assisted fire.
22-015962 – 200 75N – Arrest – Andrea Bishop was arrested for possession of marijuana (28 grams) and possession of a stolen handgun following a traffic stop at this location.
22-015948 – 619 Camp Jordan Pkwy – Fight – Police were called here regarding multiple males fighting in the parking lot. After investigating police arrested Keith Beachy for public intoxication and disorderly conduct.
22-015956 – 916 S Crest Rd. – Suspicious Activity / Warrant Service – Police were dispatched to this location regarding suspicious activity in a unit that was not to be occupied. Once on scene, Police made contact with Christopher Medvecky and two other parties who advised they were remodeling the property for a company. According to the homeowner, none of the parties were to be on the property after 5:00 pm. All parties were removed from the property including their belongings which consisted of personal items and toiletries, pillows, and blankets which indicated they may have been squatting in the residence. Medvecky was determined to have an active warrant out of Sumner County and was transported to the Hamilton County Jail.
22-015961 6500 BLK Ringgold Road – Fight – Police were dispatched to a fight between approximately 10-15 people inside the restaurant including an employee. Upon arrival, it was determined the primary aggressors had fled the scene. No one remaining on scene wished to prosecute for an assault.
Day Shift November 20, 2022
22-015976- 5401 Ringgold Road- BOLO/DUI Arrest- Police received a BOLO for a possible intoxicated driver in a gray Ford F-150 swerving all over the road. Police located the vehicle and initiated a traffic stop, making contact with driver Ronald Bryant. He was found to be impaired and was arrested for DUI.
22-015980 – 3600 BLK Ringgold Rd – Assist A Citizen – Police responded to this location for a party requesting assistance seeking shelter for the evening. Police spoke with the party through a translator who asked to be taken to jail to avoid being in the cold. Police asked dispatch to contact the Chattanooga Rescue Mission, who advised they had room for him. The party was then transported to the Mission.
22-015985 – 4214 Ringgold Rd – Found Property – Police located a piece of wrapped plastic containing approximately 0.6 grams of suspected cocaine in the parking lot of the police department.
Night Shift November 20-21, 2022
22-015994 4100 Bennett Road – Arrest – Danny Gilbert was taken into custody following a traffic stop at this location for Probation Violation – Aggravated Assault warrant out of Sequatchie County. He was also in possession of Fentanyl, and Possession of Methamphetamine.
22-015991 – 1100 BLK Sewanee Dr – Assist – Police assisted East Ridge Firefighters at this location. An intoxicated female started a fire and the fire was deemed illegal. ERFD extinguished the fire.
22-015997 – 6510 Ringgold Rd – Arrest – Police were on scene working a separate call at the Stay Inn Express when they observed Julius Del-Valle drop a backpack and walk the opposite direction. Police searched the unattended found property and located narcotics. He was located about a short while later at the Mapco. At the time of Del-Valle's arrest he was also in possession of multiple social security cards and identification cards that did not belong to him.
22-015998 – 3100 Ringgold Rd – DUI – Trini Abercrombie was taken into custody for DUI, speeding, and light law violation during a traffic stop at this location.