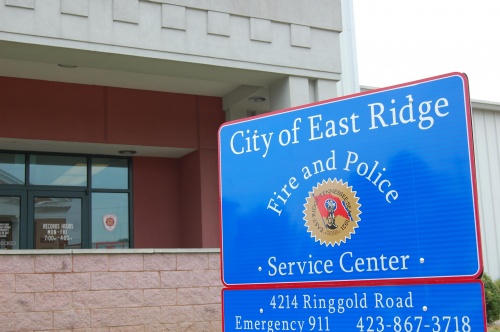 The following information was compiled from ERPD "pass along reports."
April 24 – Day Shift
5910 Ringgold Road (burglary):
Police responded to East Ridge Bicycle Shop for an audible alarm in a storage shed behind the business. During the initial contact all doors were secure. However, a short time later, officers discovered a small cut away portion of the door frame behind some flashing, enabling access to the lock mechanism. The owner arrived and secured the structure. It's unknown at this time if anything was taken. (22-005706)
6401 Ringgold Road (welfare check):
Customers contacted police after speaking with a blind homeless woman. The woman had been staying at various places trying to find a safe place to panhandle. Police in Georgia brought her to East Ridge and dropped her off at McDonald's. The woman asked officers to take her to Food City on 23rd Street so she could find an affordable room and have access to Chattanooga's bus system. (22-005712)
*********************************************************************                                         
April 24 – Night Shift
3452 Ringgold Rd. (Narcotics 22-005728):
Michael Chad Clark was taken into custody for Possession of Meth For Resale (5.7 grams) and Driving While in Possession of Meth following a traffic stop.
4214 US41 (Warrant Service 22-005734):
Clark Zechariah was arrest on outstanding East Ridge warrant(s)
4350 Ringgold Rd. (Theft 22-005724):
Officers responded to a theft at the Discovery Outlet after security personnel observed a male take a tool off the shelf and leave the store. Upon reviewing security camera footage the suspect was observed to be a male with glasses and tattoos on both arms. The suspect was observed to leave the Discovery Outlet with another male and female. The suspect vehicle is a Nissan Rogue with TN registration 12A-J50 and was last seen heading south on McBrien.
4214 Ringgold Rd. (Warrant Service 22-005729):
Patricia Patillo was taken into custody for an outstanding East Ridge Warrant for Alias Capias – Driving On Suspended.
4214 Ringgold Rd. (Warrant Service 22-005734):
Dana Evans was taken into custody for an outstanding warrant for Forfeiture Capias  – Criminal Trespass.
********************************************************************
April 25 – Day Shift
22-005765- Tombras Avenue @ Greenbriar Road- Assault-
The caller advised her 14-year-old daughter and her friend were attacked by several juveniles and a parent at this location. On scene police spoke to the juvenile victims and their parents. This case is still being investigated.
22-005749- 3100 blk of Ringgold Road- Suspicious Person-
The caller advised a male was sleeping at the west bound tunnel. On scene police spoke with the male and advised him to move along.
22-005751- 941 Spring Creek Road- Disorder-
The caller advised a male in the ER is attempting to fight with security. On scene police spoke with the male and advised him to stay in his room.
22-005752- 6725 Ringgold Road- Suspicious Person-
The caller advised two females in a black truck were making a mess behind the business and dumpster diving. While en route one female left the property. On scene police advised the remaining female to leave the property.
22-005753- 4401 Ringgold Road- Shoplifting-
The caller advised a suspect in a green hoody took vaping products and ran out of the business. While en route officers observed the suspect at Advanced Auto. Police attempted contact but the suspect fled toward Food Lion. The suspect was apprehended after a short foot chase and identified as a known juvenile female. Attachments for underage drinking and evading were also located. She was taken into custody and charged with the theft and for evading. She was transported to JDU without incident.
22-005755- 1471 Mack Smith Road- Suspicious Person-
The caller advised of a female loitering behind the building. On scene police spoke with the female and identified her as Jillian Phillips. She was found to have a nonextraditable warrant through Walker County. She was advised to move along.
22-005756- 1483 Mack Smith Road- Suspicious Person-
Police were dispatched back to the area regarding Jillian Phillips bothering people. On scene she requested a ride to Chattanooga. Her request was granted.
22-005762- 1450 Mack Smith Road- Overdose-
The caller advised a female was lying on the roadside and appeared to be having a seizure. On scene EMS handled the call. The patient was transported to a hospital.
22-005770- 3400 Frawley Street- Suspicious Person-
The caller advised he observed a male walking through his neighbor's back yard. On scene police checked the neighborhood but did not locate the male.
22-005771- 6514 Ringgold Road- Panhandler-
The caller advised a male and female were in the lot begging customers for money. On scene the couple had already left the property.
*********************************************************************
April 25 – Night Shift
4300 Ringgold Road / Arrest-Traffic: 
Quentin Demetrious Spear of Atlanta, GA was arrested for Driving While License Suspended (for DUI).  22-005789
1201 S Seminole Drive / Driving on revoked(DUI): 
Timothy Nicholson was arrested for driving on revoked (DUI) at this location during a traffic stop. 22-005794
6600 Ringgold Road / Arrest-Drugs and Stolen Firearm Recovery: 
Eric Hubbard was arrested during a traffic stop at this location. Mr. Hubbard is a convicted felon in possession of a firearm and the firearm was reported stolen out of Rossville GA. Mr. Hubbard was in possession of 3.5 ounces of marijuana and 10 THC cartridges with $1,150 in cash.  22-005796
4214 Ringgold Road / Arrest-Warrant: 
Jamaal Levar Pointer was arrested on a failure to appear warrant.  Pointer was transported to Silverdale by Chattanooga Police Department.  22-005799
6708 Ringgold Rd/Warrant Service / AOA: 
Officers initiated a consensual encounter with a suspicious vehicle at this location. An occupant, Tyler Ownby, was found to have active warrants out of sessions. Ownby was transported to Silverdale. 22-005800
*********************************************************************
April 26 – Day Shift
22-005811- 22-005815- 4908 Maryland Drive / 5305 Connell Street- Domestic Assault/Aggravated Assault-
Billy Wilson has warrants pending for his arrest following two separate incidents today, one for domestic and the other for aggravated assault. At 4908 Maryland Drive he assaulted his girlfriend and at 5305 Connell Street he attempted to stab Charles Robertson. Wilson has not yet been located and was last seen wearing a lime green sweatshirt and riding a bicycle with ape hanger handlebars.
22-005798- 6514 Ringgold Road-Arrest-
Police responded to the Mapco regarding a male passed out over a moped at pumping station number 5. On scene police contacted Travis Roden. A hypodermic needle was located following a consent search of Roden's person. Roden was detained while a further search was conducted. Upon running the VIN of the moped it was found to be stolen out of Red Bank. The owner of the moped was notified, and the moped was cleared from NCIC. The moped was towed by East Ridge Auto. Roden was taken into custody after being cleared by EMS for public intoxication and theft of property over $1,000. 
22-005803- 1410 Mack Smith Road- Disorder-
The caller advised she was assaulted by her husband before he left the room. On scene police attempted to locate the suspect based off of the description given by dispatch. Once at the room, police met with the female complainant. She advised her husband arrived at the motel room this morning and was acting weird.  She suspects he may have been intoxicated on methamphetamine. When she asked him to leave the room, he became increasingly hostile and violent. He pushed her to the floor where he then climbed on top of her and began striking her with closed fist. He then stood up and began stomping on her chest. She then began to scream for help which was heard by hotel staff who called 911. He fled the area on foot prior to police arrival and was not located. Warrants are pending for his arrest. 
*********************************************************************
April 26 – Night Shift
4150 Ringgold Road / Assault & Theft:
Police responded to the Walmart on Ringgold Road regarding a delayed assault. Walmart staffed observed two females attempting to shoplift items from the store when employees attempted to stop the theft. While speaking with the loss prevention officer one of the females was observed on security camera footage spitting on two employees. The Walmart manager advised both employees wished to prosecute for the assault along with the theft and have both females banned from the store.  22-005824
3212 Blackhawk Trail / Auto Theft:  
Police were once again called regarding the assault suspect. The complainant, along with other individuals in the residence, advised the suspect made entry into the residence after police left the scene approximately one hour earlier. After leaving the residence, he was observed to steal the complainant's Ford F150 pickup truck. Police advised dispatch to call Sequatchie County to attempt to locate the vehicle at 463 Pickett Road due to receiving information on his direction of travel. Sequatchie County Deputies were able to locate the stolen truck. The suspect fled police on foot after observing deputies pulling into the driveway of the residence. Warrants are pending for the incident. 22-005831
1410 Mack Smith / Aggravated Assault x2, Simple Assault x1, Hit and run x2: 
Carlos Dickey was involved in a verbal disorder at this location with a woman. Things escalated and Dickey physically assaulted the woman. Security members at Budgetel attempted to intervene and Dickey got into his vehicle to flee. Dickey rammed the security golf cart (with the security guard still inside) and ran into a pedestrian in the parking lot pinning her against another vehicle. Dickey fled the area in a 2002 Green GMC Yukon bearing TN registration 234BCHD. Units checked the area for Dickey with negative results. Warrants were obtained for Dickey. 22-005829
5301 Ringgold Road / Arrest-Drugs: 
Police observed a suspicious vehicle backed in at the Walgreens. Police made contact with two individuals in the vehicle while the driver was inside the store. Police observed a meth pipe in plain view and a search of the vehicle yielded 13.2 grams of methamphetamine and 2.5 grams of heroin. Jolene Bendzak De Marco accepted ownership of the narcotics. The driver was identified as Andre Collier who fled out the back of Walgreens. Collier has several felony warrants for Aggravated Rape, Felony drug and gun charges.   22-005837
4214 Ringgold Road / Arrest-Warrant: 
Cedrick Antonio Williams was arrested on a Forfeiture Capias warrant for Failure to Appear; and two Alias Capias warrants for Controlled Substance Schedule II and Driving on Revoked, Suspended.  22-005839
7020 E. Brainerd Road / Arrest-Warrant: 
Terrence Lajuan Blanks was arrested on an Alias Capias warrant for Driving on Revoked and transported to Silverdale by a deputy with Hamilton County Sheriff's Office.  22-005840
6519 Ringgold Road / Arrest-Drugs and Stolen Firearm Recovery: 
A consensual encounter was initiated with a suspicious vehicle at this location. One of the occupants, Ashjae Lewis-Smith, was found to have marijuana and a Jimenez Firearms .22 pistol (verified as stolen out of Dalton, Georgia) in her possession. (22-005841)