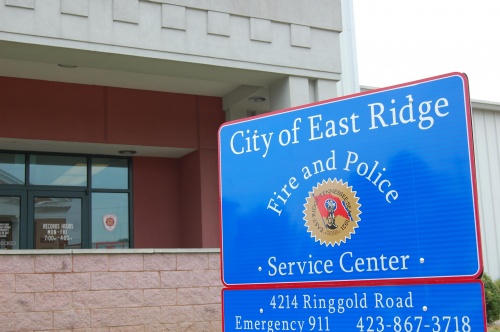 The following information was provided from East Ridge Police Department "pass along" reports.
Aug. 19 Day Shift
5300 Greenbriar Road:
Abandoned Vehicle- A 1999 Chevy Suburban that had been stickered on 8-15 was towed by Broome's.
6501 Ringgold Road (BB&T Bank):
Alarm- Upon arrival police spoke with employees. The alarm was accidental.
4152 Ringgold Road (Bo-Jangles):
Suspicious Persons/Arrest- The caller advised of two parties sitting in the back seat of a vehicle parked on the lot. Upon arrival officers contacted two subjects, a white male and female. The female provided a state ID and was identified as Yolanda Holt. The male gave the name Anthony Foskey. Officers were contacted by another officer who was familiar with Foskey and his brother, Aaron Foskey. Foskey was questioned about his identity several times, hesitating, but claiming he was Anthony Foskey. Another officer arrived who identified the subject as Aaron Foskey. The subject then admitted he was Aaron Foskey and said he was afraid he had warrants. A warrant check revealed that he did indeed have several felony warrants through the county. Aaron Foskey was arrested and charged with Criminal Impersonation. He was transported to 601.
3211 Ardian Trail- Vehicle Burglary:
Upon arrival police spoke to the complainant. He advised sometime during the nighttime hours someone entered his wife's unlocked 2015 gray Nissan Rogue. The complainant advised approximately $300 in cash and $350 in gift cards were taken from the vehicle. A black LG android cellphone was located near the scene. It is unknown if the cellphone belongs to the suspect or if it's from another burglary. The cellphone was put in property. Officers checked the neighborhood for possible cameras that captured the incident. A ring style doorbell was located at 1058 Wynnwood Drive, but police were unable to contact the residents. A ring style doorbell was also located at 3223 Ardian Trail. Upon contacting the residents, the camera was found to be malfunctioning. The individuals at this residence were also victims of vehicle burglary.
941 Spring Creek Road (Parkridge East):
Harassing Phone Calls – The caller advised she was being harassed by her ex boyfriend's mother. Upon further investigation it was found the reported incident occurred at her residence in Red Bank.
1441 North Smith Street (Holliday Inn Express):
Theft- The caller advised an employee had her wallet stolen. Upon arrival police were advised the victim had located her wallet.
3223 Ardian Trail- Vehicle Burglary:
The reporting party advised sometime during the nighttime hours his Ford F250 and Ford Explorer had been entered by an unknown suspect. He advised nothing appeared to be missing.
3629 Ringgold Road (Food City)- Shoplifter:
Toni Nelson was issued a misdemeanor citation after being caught by management attempting to steal product from the store.
3542 Shelby Circle- Vehicle Burglary:
Candace Shipley advised some time during the nighttime hours her unlocked vehicle was entered by an unknown suspect. She advised the car had been ransacked but nothing was missing.
Warrant Service:
David Collins was served two East Ridge warrants following a traffic stop. He was transported to 601.
4150 Ringgold Road (Walmart)- Fight:
The caller advised of approximately seven to eight juveniles fighting in front of the business. Upon arrival the fight had broken up and several of the juveniles had left the scene. Officers located some of them and a parent, but due to several conflicting statements no primary aggressor could be determined.
1323 Frederick Drive- Suspicious Activity:
Upon arrival police spoke to the complainant. He advised while checking his security video he observed a light-colored pickup truck stop in front of his residence. He advised the driver exited the vehicle and ran through his yard to his truck parked in the driveway. The unknown male pulled on the door handle to open the door, but it was locked. The male then ran to the neighbor's driveway and pulled the door handles on three vehicles with no success. He then ran back to his truck and left the area traveling north on Frederick. This may be the suspect in the multiple burglaries reported today.
*********************************************************************
Night Shift
6514 Ringgold Road / Vandalism:
On 08/20/2019 at 0316 hours, Police responded to 6514 Ringgold Road at the Mapco on a Vandalism complaint.  Upon arrival, police spoke with the complainant whom stated that between 0200 hours and 0312 hours, someone cracked the windshield of her 2011 Chrysler 200. 
4214 Ringgold Rd / Auto Burglary:
A woman came by the police station to report her car had been broken into the previous night at 1631 S. Clayton Avenue. Moore advised the only thing missing from the vehicle was a prescription of Adderall.
4300 Ringgold Rd. / Hit and Run:
A man reported that he accidentally struck a black motorcycle when it was attempting to cut between cars to avoid traffic. The man further advised the motorcycle fled south on McBrien Rd. at a high rate of speed before any information could be gathered.
4300 Bennett Rd. / Warrant Service:
Aaron Cunningham was taken into custody for felony warrants out of Catoosa County following a traffic stop at this location.
1400 S. Moore / Arrest:
Police conducted a traffic stop on Charles Foster who was operating a motor vehicle with a revoked license. Foster shows an extensive history of driving charges as well as failures to appear. Police took Foster into custody and charged him with driving on revoked.
1805 Glen Oaks Terrace / Burglary:
The complainant called to report that someone had entered the residence at this address and attempted to steal appliances.   The complainant stated that no one currently lives at the residence due to him getting it ready to sell.  The complainant stated that when he got to the residence on 08/19/19, he noticed that the back door was opened.  He stated that the refrigerator and stove were both moved out of the kitchen and into the dining area.  The refrigerator had the power cord fastened to the top as if it was going to be transported.  Fillers advised he believes that the suspects are two male parties that have been working on a neighbor's house.  CID was notified and responded. 
4214 Ringgold Road / Warrant Service:
East Ridge warrants were served on Forrest Willing while at 601 and a warrant was served on Desi Lawrence after he was brought to 405 by All Out Bonding,