The following information was compiled from East Ridge Police Department "pass along" reports.
August 27 Day Shift
4134 Ringgold Road:
An oversized tractor trailer struck and snapped a power pole adjacent to the exit of Jenkin's Buffet restaurant. The pole had to be replaced due to the damage.
4214 Ringgold Road:
A citizen brought a bogus check she received in the mail to the police department. Upon being informed it was a scam she tore up the check and declined making a report.
6721 Ringgold Road:
A cashier at Family Dollar, reported a black male wearing a black sleeveless shirt and red shorts attempted to pay for his items with a pair of counterfeit twenty dollar bills. The suspect left the scene prior to police arrival, and the evidence was placed into P&E.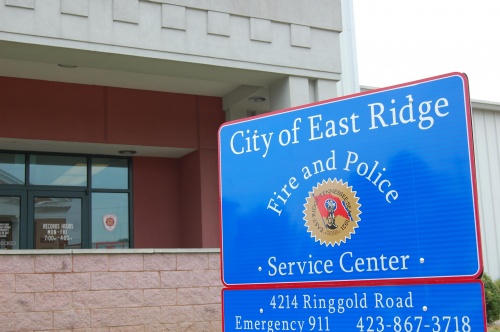 6519 Ringgold Road:
Police attempted to locate David White w/m for the Catoosa Co. Sheriff's Office. White, who has felony warrants through Catoosa for vandalism and terroristic threats, has been staying in Room 207 of the Super 8 Motel. White was not located, but his red Dodge Dakota was at the motel.
2158 Dugan Street:
Police assisted CPD Homicide in attempting to locate a person of interest at this location. No contact was made.
T.C. Thompson's Children's Hospital:
Police responded to this location in reference to the sexual assault of two children by another child. CPS and CID were notified.
*********************************************************************
Night Shift
3621 Wimberly Lane (Susp activity):
Reporting party called in stating they thought someone was on their roof. After investigation it was determined a tree branch fell on the roof.
3602 Phelps St (Burglary in Progress):
Reporting party called in stating they heard noises in their garage and believed someone was inside. Police did not locate anyone in the garage or in the area.
Ringgold Rd @ McBrien Rd (DUI):
Helen Harp was arrested for DUI and failure to maintain lane after she left the roadway and struck a utility pole at this location.
S. Terrace/Belvoir Ave (AOA):
CPD requested an East Ridge unit to help direct traffic due to a multiple vehicle crash with injuries.
5300 Connell Street. (Wires Down):
Police were dispatched to this location regarding possible wires down and transformers sparking. Upon arrival, ER Fire as well as police did not locate any wires down or any transformers sparking.
6200 Ringgold Rd, (suspicious person):
Police were dispatched to this area regarding a suspicious female, possibly a mental health consumer. Upon arrival female was GOA.
100 Dorroh Ln. (theft):
Police were dispatched to Apartment number 8. Reporting party advised his girlfriend had taken his car without his permission. Police arrived and verified the car was there and the reporting party had already left the area
6513 Ringgold Rd (Support Other):
East Ridge Police assisted Chattanooga PD in the arrest of a domestic assault suspect at the Waffle House on Ringgold Rd. Cody Horton was arrested without incident outside the restaurant. During the search subsequent to arrest, Horton was found to have suspected marijuana in his pocket. Horton was issued a citation in lieu of arrest for Simple Possession prior to his transport to the Hamilton County Jail for the charge of Domestic Assault.
6016 Ringgold Rd (Suspicious Activity):
Police responded to a woman yelling while walking down Prater Road.  Police located the female near Marco's Pizza The woman showed no indications that she wanted to hurt herself or anyone else.  Field interview completed