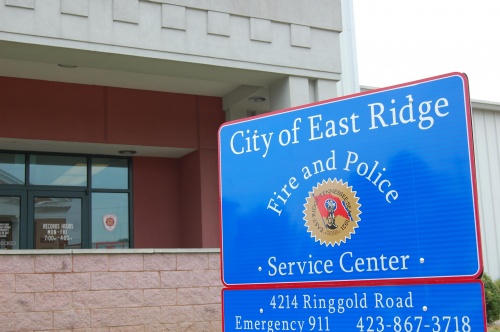 The following information is courtesy of the East Ridge Police Department and comes from its "pass along" reports.
Dec. 30 Day Shift
1706 Keeble Street (well-being check):
Police responded to an unconscious female locked inside her running car at this location. She appeared to have labored breathing, and EMS requested police force entry into vehicle. The female was identified and was transported to Parkridge East for medical evaluation.
4214 Ringgold Road (deceptive practice):
The complainant filed a report stating an unknown suspect fabricated checks using the routing number from his 1st Tennessee Bank account. The fake checks have been used throughout the area.
3508 Ringgold Road (found property):
A passerby flagged down police reporting seeing a handgun in the parking lot of Walgreen's. Police located a black Ruger LCP .380 in a nylon holster. The gun is not reported stolen and is in Property and Evidence.
6700 Ringgold Road (arrest):
James Eggemeyer was arrested for driving on revoked and possession of drug paraphernalia following a traffic stop. His passenger, Heather Butler, was arrested on an active Red Bank warrant.
*********************************************************************
Night Shift
5343 Greenbriar Rd (Vehicle Burglary):
An unknown suspect entered a 2014 Hyundai Elantra and stole a pair of Ray Ban sunglasses, an Eddie Bauer shoulder bag and $50 cash.
601 Walnut Street (Warrant):
Porsche Woods was arrested on a warrant for Alias Capias (Driving while revoked).
4150 Ringgold Rd. (theft):
Wal-Mart, security called to report a theft that had taken place the day before. Security turned over video of incident.
3200 Ringgold Rd. (evading):
A blue Nissan Rouge, with a temporary tag, failed to stop after police activated lights and siren. Police turned off his lights and siren and pulled over.
1200 S. Seminole Dr. (evading):
A dark blue Mercedes, with a temporary tag, fled after coming to a stop for a traffic stop. Police did not pursue.
6401 Ringgold Road (Deceptive Practice):
Police were called to McDonald's after an employee received a fake twenty dollar bill in the drive thru. The suspect fled the drive thru when the employee realized it was fake. The suspect was described as a black male party with yellow dreadlocks. He was driving a silver vehicle unknown make and model. The suspect fled the scene before receiving any food in exchange for the fake bill.