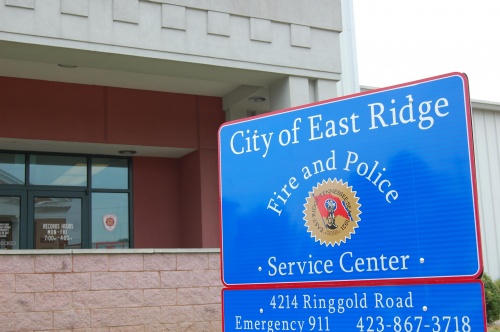 The following information is courtesy of the administration of the East Ridge Police Department compiled from department "pass along reports."
February 13 – Day Shift
3904 Ringgold Road (lost child):
A motorist contacted police after finding a very small child wandering onto Ringgold Road. The motorist retrieved the child and found the responsible adult inside Melody's. Police spoke with the child's family and patrons of the restaurant and confirmed the child had slipped outside by pushing open the door while the family was distracted. (21-001996)
3234 Westonia Drive (shots fired):A caller reported hearing six to seven shots in the immediate area, but nothing located. (21-002000)
*********************************************************************
February 13 – Night Shift
1500 block McBrien Rd (Arrest 21-002008):
David Higgins was taken into custody for assault and child neglect after kicking an 11-year-old male and locking him outside.
5510 Ringgold Rd (Arrest 21-002007):
Buddy Birchfield was taken into custody for driving while revoked, possession of methamphetamine and possession of drug paraphernalia during a traffic stop.
201 Eads St (Suspicious Activity 21-002011):
The reporting party wished to speak with police about the odor of marijuana coming from her apartment building. She stated she had spoken with property management several times but no action was being taken to remove the problem.
3600 Old Ringgold Rd (Arrest 21-002012):
Wilburn Buckner was taken into custody for driving while suspended and simple possession of marijuana during a traffic stop.
1410 Mack Smith (Intoxicated Party 21-002014):
While patrolling police observed an extremely intoxicated female who could not stand on her own. She was stumbling through the parking lot of the Budgetel. When officers made contact with her they observed trauma to her face, nose and mouth. She had multiple cuts and abrasions on her arms and legs. It was learned the unknown female had attempted to balance on a retaining wall and had fallen. She was transported by EMS for treatment.
6300 Ringgold Rd (Arrest 21-002015):
Hesdy Roblero Gonzalez was taken into custody for DUI during a traffic stop.
6700 Ringgold Rd (Disorder 21-002016):
Quality Inn Motel staff reported a disorder between approximately ten people on the second floor. The staff asked police to standby while they asked parties to leave.
6407 Ringgold Rd (Arrest 21-002022):
Jeffery Dyhle was taken into custody for trespassing after he was observed by police on the sidewalk of Portofino's. Dyhle had been given a trespass warning on Friday, February 12 after being told multiple times by officers to leave the property.
3800 Ringgold Rd (Arrests 21-002024):
Oliva Hercules and Miguel Cruz were taken into custody after leaving Level Up Arcade highly intoxicated.
3918 Ringgold Rd (Arrest 21-002026):
Marquise Jones was taken into custody for DUI and implied consent law during a traffic stop.
********************************************************************
 February 14 – Day Shift
941 Spring Creek Road (domestic disorder):
Jared McNabb and Kimberly Marler got into a heated argument in the emergency room which then spilled into the parking lot. Officers arrived and conducted a traffic stop on the couple as they tried to leave. McNabb was found to have active warrants through Hamilton County. McNabb's girlfriend was found in possession of drug paraphernalia and also taken into custody. (21-002038)
1200 block S. Seminole Drive (sex assault):
A male subject called police after his three-year-old child woke him claiming she had just been touched inappropriately by an unknown male. It appeared entry had been forced into the home through a rear door. CID responded to the scene, the child was transported to T.C. Thompson's and CPS was contacted. (21-002027)
1600 block Keeble Street (AOA):
Three juveniles attempted to start a bonfire and burned down a plastic Igloo doghouse. Police responded and assisted Fire with contacting the children's parents. (21-002041)
*********************************************************************
February 14 – Night Shift
 1500 block Prater Rd (Suicide Attempt 21-002054):
Police responded with EMS on a possible suicide attempt. The party was transported by EMS to Parkridge East for evaluation.
4214 Ringgold Rd (DUI 21-002053):
David Daugherty was taken into custody for DUI, implied consent and no proof of insurance after he pulled into the police department parking lot in what appeared to be a narcotic induced state of paranoia.
728 Frawley Rd (Domestic Assault 21-002056):
James Thomaston was taken into custody for aggravated domestic assault after he allegedly strangled his wife until she lost consciousness.
6514 Ringgold Rd (Suicide Threats 21-002058):
Police responded to the Mapco on reports of a male subject with a knife threatening to cut himself. Contact was made with the party and he was transported to Parkridge East for evaluation.
480 McBrien Rd (Suspicious Vehicle 21-002063):
Ashley Smith was issued a misdemeanor citation for simple possession of marijuana after she was found parked behind the At Home store at approximately 02:30 AM.