The following information was compiled from ERPD "pass along" reports.
January 09– Day Shift
1500 Prater Road (A.O.A):
Malcom Johnson was arrested on a Hamilton County warrant following a traffic stop at this location.
4214 Ringgold Road (warrant service):
Deaunte Robinson was arrested on an East Ridge warrant and was transported to the Hamilton County Jail.
619 Camp Jordan Parkway (harassment):
An employee with Buddy's BBQ reported that a female called in stating the restaurant sells meth and that one of the employees sold her family meth. Police attempted to call the number back but did not get an answer. The complainant stated he was also notified that the woman called corporate as well.
*********************************************************************
January 09 – Night Shift
3412 Gail Dr (Deceptive):
The complainant called in stating his identity was stolen out of Alpharetta Georgia. A report was done, and he was advised to contact Alpharetta PD.
2007 Mcbrien Rd (Domestic/Auto Theft):
Denis Arslanovic was arrested for domestic assault and Theft over $1000 after he allegedly assaulted his sister and stole his brother's vehicle.
3600 Ringgold Rd (DUI):
Lydia Reid was arrested for driving under the influence and open container following a traffic stop at this location.
1607 S Seminole Dr (Suspicious Activity):
Reporting party stated that someone had possibly struck her vehicle in her driveway. The RP also stated she had an on-going issue with her neighbor. Police checked the vehicles and the surrounding area, but no new damage was found.
601 Walnut Street (Warrant Service):
Early Tarpley was arrested at the Hamilton County Jail on a Failure to Appear arrest warrant from the City of East Ridge. The original charge for the FTA was Simple Assault.
729 Germantown Cir. (fire/leaves):
Police were dispatched to this location regarding a report of a brush fire. Upon arrival, it was determined a row of leaves had caught fire. Police used a fire extinguisher until fire arrived on scene to put out the fire.
3413 Beechwood Lane (Home invasion):
Reporting party stated four males came into his residence and pistol whipped him. CID was on scene as shift change occurred.
*********************************************************************
January 10 – Day Shift
3206 Gleason Drive- Wellbeing Check-
The caller requested police check on the mother and child living at this address. Upon arrival officers found the mother and child had moved from this address to an address in Chattanooga. CPD was notified.
4222 Ringgold Road (Speedway)- Theft-
The caller advised around 0100 hours this morning an unknown black female stole several lottery tickets while checking out. She left the scene in a gold sedan. There is video of the incident.
601 South Lovell Avenue- Suspicious People-
The caller advised she observed two juvenile looking males playing basketball in the cul-de-sac. Upon arrival officers encountered the male subjects. Both were found to have skipped school. The two were transported back to the high school and turned over to the SRO.
3402 Myra Avenue- Suspicious Vehicle-
The caller advised of a suspicious white van driving through the neighborhood. Upon police arrival the van had left the area.
4145 Ringgold Road # 125 (Lomenacque Apartments)- Warrant Service-
William Ervin was taken into custody on an East Ridge warrant. He was transported to 601.
183 I-24 East- Unconscious Person-
The caller advised of an unknown male unconscious on the side of the interstate. Upon arrival the male was found several yards off the side of the interstate. It was found the male was just resting.
6674 Ringgold Road (Rodeway/OYO)- Disorder/Warrant Service-
Upon arrival police detained Fernandes McClurkins and Joshua Lively on East Ridge warrants. Both were transported to 601.
4104 South Terrace- AOA-
Police responded to this address with Hamilton County fugitive on a warrant service. Upon arrival the wanted person was not located.
5345 Ringgold Road (Apartments Behind Signarama)- Trash Fire-
While on patrol police observed a male burning trash behind the business. Fire responded and extinguished the blaze. The male was advised not to burn trash.
5340 Ringgold Road (ABC Bonding)- Theft-
Upon arrival police spoke to the complainant. He stated he bought a Ruger 9mm handgun serial number: 860-97993) on 12/27/2019. He stated the day he bought the handgun, he placed it in his safe and hasn't touched it since. He stated on 1/9/20 around 1030 hours, he noticed the safe unlocked and when he opened it and grab the gun case, he noticed it was missing. The gun was entered in NCIC. There are no suspects.
*********************************************************************
January 10– Night Shift
3800 Block Ringgold Rd / Misdemeanor citation :
Corey Fletcher was given a citation for unlawful removal of registration following a traffic stop.
700 block S Germantown Rd / Arrest:
Erica King was arrested on three Hamilton County warrants along with Resting arrest, Retaliation for past actions, and Possession of Drug paraphernalia following a traffic stop.
1410 N Mack Smith Rd Room 2221 / assault:
Seth H. and Christian W. got into a fight over who paid for the room. Both parties denied EMS and prosecution. Christian left the room with his belongings to get another room at another hotel.
3221 Castle Avenue / Missing Endangered:
Robert Dees was reported missing from this address by his wife. She stated that this is unusual behavior for him and that he is in early stages of dementia. He has a heart condition as well which he had not taken his meds for. He is driving a 2011 Toyota Camry, silver in color, TN tag 991 YBX. Mr. Dees is 73 y.o., W/M, 5'9", 155#. He has red hair pulled back into a small pony tail and a grey beard. Last seen at 07:00 this morning. Police entered him into NCIC.
5408 Ringgold Rd. / Citation:
Ashli Ceraolo was issued a misdemeanor citation for simple possession following a traffic stop at this location.
1417 St. Thomas / Suspicious Vehicle:
Police observed a male party sitting in his vehicle alone in the parking lot of this location. When police checked the registration it resulted in a BOLO hit for a suicidal party, Whitaker. Whitaker was not the occupant of the vehicle and the male party inside stated not to know a Whitaker party. The male party was identified using a state issued identification and was released.
*********************************************************************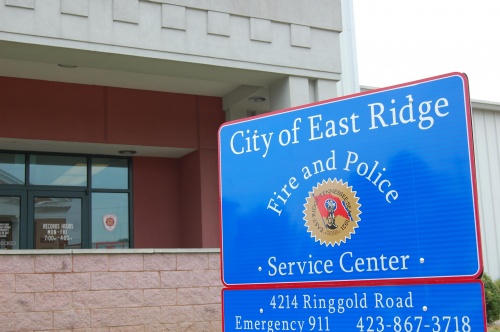 January 11 – Day Shift
1417 Saint Thomas Street (Motel 6)- AOA Warrant Service-
Steven Ray was detained on a HCSO FTA warrant following a traffic stop at the Motel. He was transported to 601.
1015 Hibbler Circle- Animal Call/AOA-
Animal control requested police assistance with a sick/injured coyote. Police responded and euthanized the animal. Animal control removed the body.
510 South Moore Road- Vandalism-
Upon arrival police spoke to the complainant. He advised sometime last night someone shot a pellet round through the rear window of his vehicle causing it to shatter. Police checked the neighborhood but were unable to locate any video that might have captured the incident. Currently there is no suspect information.
1410 Mack Smith Road (Budgetel room 4204)- Domestic Assault-
When police arrived on scene officers could hear arguing coming from room 4204. Officers knocked on the door and a black female answered who was identified as Reauna Boyd. Boyd stated she and her boyfriend got into an argument around 1200 hours over other men calling her phone. While talking to the boyfriend officers noticed a scratch on his neck and when asked, he stated Boyd scratched him during the argument. Boyd admitted to scratching him when she fell on the ground in the hallway. Boyd was arrested for domestic assault and transported to the Hamilton County Jail.
5500 blk of Oakdale Avenue- Suspicious Person/Field Interview-
While on patrol police observed a white female exiting the wood line in the 5500 block of Oakdale Ave. Police identified the female as Tana D. Tana stated she had recently moved back into the area and she was attempting "clean up the trash". She expressed an interest in seeking state grants to fund litter cleanup in East Ridge. She was cautioned about the appearance of trespassing and "dumpster diving " and sent on her way.
**************************************************************
January 11 – Night Shift
3519 Pinellas Ln/ Difficulty Breathing:
Police were called to this location for a CPR in progress. Once on scene it was discovered that the resident was awake and alert. He was taken to a local hospital.
1512 South Seminole Drive / Prowler:
The resident reported that while she was changing clothes in her bedroom that she noticed a green laser pointed at her mirror from outside. The laser was then pointed at her body. She did not see where the origin of the laser was coming from or who was pointing it. Police searched the area but did not locate anyone.
1123 McBrien Road / Joy Riding:
The resident reported that her juvenile son took her 2007 Infiniti G35 without permission. The vehicle was entered into NCIC. Around 0400 hours, the juvenile returned home with the vehicle but started a disorder. Police returned to the address, the juvenile fled the scene on foot but gave up after a short pursuit. Police took the juvenile into custody and transported him to JDU.
3918 Ringgold Rd. / Narcotics Arrest:
Police observed a male party sitting on the curb of this business drinking an alcoholic beverage. Police made contact with the party, identified him as Anthony James, and ultimately took him into custody for public intoxication as well as possession of schedule V.
182.5 I-24 West / MVC w/ Entrapment:
Vehicle traveling East in the West lanes struck another vehicle. One occupant did not survive the impact; the other was transported to Erlanger.
*********************************************************************
January 12 – Day Shift
Warrant Service-
Charles Hudson was served with an East Ridge warrant at 601.
Warrant Service-
Damon Payne was served with an East Ridge warrant at 601.
Warrant Service-
Tamara Peterson was served with an East Ridge warrant at 601.
1417 Saint Thomas Street- Traffic Stop/Arrest-
While on patrol officers observed a white Dodge truck in the 1400 block of St Thomas St. A registration check revealed the vehicle was unregistered. A traffic stop was initiated, and contact made with the white male driver. Upon speaking with the driver, he stated he did not have identification on his person but claimed his name was Jackie Neely. An information check revealed the name given by the male party was one of numerous aliases for Ronald E Neeley. Police used recent booking photos to confirm the subject's identity as Ronald Neeley. Neeley was found to have active warrants through Catoosa County Georgia for probation violations for driving while revoked for DUI. Neeley was taken into custody and transported to the Hamilton County Jail. He was charged with criminal impersonation and driving while revoked for DUI. The vehicle was towed by East Ridge Auto-Electric to their lot.
309 A Michelle Drive- Assist EMS/Traumatic Injury-
Police responded with Fire and EMS to a child with a hand injury. The child was transported to the hospital.
4150 Ringgold Road (Walmart)- Delayed Shoplifting-
Upon arrival police spoke to a Loss Prevention Officer. He advised at approximately 1015 hours, a black female came into the store and placed several items in her cart. He stated when she went to check out, she would only scan an item and then place it in a bag along with several other items she did not scan. The employee stated he reviewed the cameras and the total amount of merchandise stolen was approximately $98.62. The female paid for the few items she scanned using a gift card. The suspect is seen on camera leaving in a Grey Dodge Dakota. The employee stated this same female stole approximately $54.68 worth of merchandise on 1/5/2020.
1510 Garner Street- Shots Fired-
The caller advised she heard about twenty gunshots in the area. Upon arrival no shots were heard. However, while clearing the call police did hear suspected gunshots across the state line in Georgia. Catoosa County was notified.
3725 Fountain Avenue #73 (The Belvoir)- Vandalism-
Upon arrival police spoke to the complainant. She advised sometime between 1000 hours and 1500 hours, the rear window on her vehicle was broken out. She stated no items were missing from her vehicle. There are no suspects.
*********************************************************************
January 12 – Night Shift
3608 Gleason Dr/ Shots fired:
Police were called to this area due to the RP hear what she believed to be one single shot coming from the direction of S Germantown Rd. Police checked the area and nothing was located.
1645 Key West / Theft:
Police made contact with the complainant at this location who advised her daughter's purple and black "Harley Quinn" bike was stolen from her back yard. The complainant advised her motion detectors went off around 2000 on 1-11-20 but she did not observe anything out of the ordinary, the following day when the child wanted to ride her bike it could not be located.
6600 Ringgold Rd / Evading:
Police attempted a traffic stop on a white 2009 Volkswagen Jetta with TN registration UF9155. The vehicle never came to a stop and fled the area north on Interstate 75. Police pulled onto the shoulder and notified issued a BOLO on the vehicle. After speaking with another officer it was considered likely the occupants of the vehicle are responsible for car burglaries in the area.