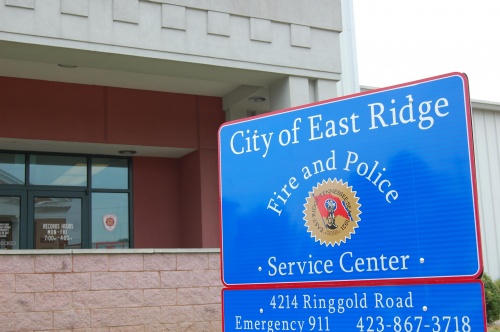 The following information is courtesy of the East Ridge Police Department.
Day Shift January 12, 2023
No number assigned- Ringgold Road @ Camp Jordan Parkway- Suspicious Activity- While on patrol police noticed a homeless person sleeping on the sidewalk. Police spoke with the male and identified him. He was checked for warrants and given a ride to the community kitchen.
23-000514- 6700 BLK Ringgold Road- Recovered Stolen Property- The caller advised a handgun was found on the parking lot. On scene the firearm was checked and found to have been reported stolen out of Chattanooga. It was removed from NCIC and put in property.
23-000515- 5300 BLK Ringgold Road- Unknown 911- Dispatch advised of a phase two 911 call around this location. On scene police checked the area with no emergencies located.
23-000522- 4100 BLK Ringgold Road- Shoplifting- A man was issued a misdemeanor citation for shoplifting following a theft of alcohol from the business.
Night Shift January 12-13, 2023
22-014773 – 4214 Ringgold Rd- Stolen License Plate Recovery- Chattanooga police recovered a license plate reported stolen out of East Ridge. The license plate was taken by Chattanooga police to their property room. Police were unable to contact the owner.
23-000530- 4200 BLK Greenbriar Road- Found Property- The caller advised she found a firearm lying next to her mailbox. Officers responded and recovered the Glock 19X handgun and turned it into East Ridge Property and Evidence.
23-000534- 3600 BLK Ringgold Road- Theft- Police responded after an employee advised a female suspect stole merchandise and fled from the store in a white van.
23-000537- Greenslake & State Line Road- Shots Fired- Police responded to this location after the reporting party advised they heard multiple shots in the area. Police checked the area however no shell casings were found.
23-000538- 5080 S Terrace- Missing Juvenile-Arrest- The reporting party called police to report his daughter missing when she did not exit the movie theater along with her brother. The female juvenile was located still inside the theater. The children's mother was found to be in possession of 6.5 grams of methamphetamine, 47 alprazolam pills, 12 clonazepam pills, and 2.6 grams of marijuana. Additionally, the family was found to be traveling in a Dodge Durango which was confirmed stolen out of Ohio. The female was taken into custody for Possession of Methamphetamine for Resale, Possession of Schedule IV for Resale, Simple Possession of Marijuana, Possession of Drug Paraphernalia, Public Intoxication, Theft of Property over $1,000, Felony Child Endangerment, and Child Endangerment. The remainder of the family were relocated to a local hotel for the night. A DCS referral was made.
23-000539- 6900 BLK Tiffany Lane- Disorder/ Assault- Police were dispatched to this address in reference to an assault. Upon arrival police discovered the suspect had damaged the victim's TVs and hit him with a chair. She fled before police arrived. Warrants are being taken.