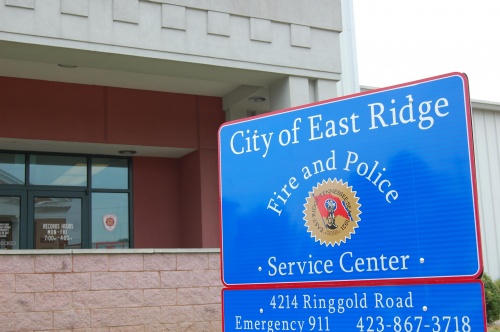 The following information is from East Ridge Police Department "pass along" reports.
May 14 – Day Shift
4214 Ringgold Road:
Patrick Daly turned himself in this morning and was transported to the Hamilton County Jail. Daly, 46, of an Altamaha Street address, was booked at the jail on charges of Aggravated Domestic Assault, Vandalism, and Reckless Endangerment.
941 Spring Creek Road:
Police received a call from a person claiming that a patient inside the ICU was being abusive toward hospital staff. The patient had calmed down prior to police arriving on scene.
909 McHann Drive:
A caller advised that they heard a plumbing company van in their neighbor's driveway. They requested that police respond to the scene to check out the plumber due to him acting strange. Officers responded to the scene and found the plumber working.
6708 Ringgold Road:
A call was received about an elderly man at the business that the caller described as being confused. Officers located the man and were able to establish contact with the man's wife so she could assist him in returning home.
915 South Seminole Drive:
Police responded to the Ridge Terrace Apartments after being advised of a dark colored vehicle that was occupied by three (3) men that were possibly smoking marijuana. Officers spoke to the three (3) men and did not observe any indications that criminal activity was occurring.
430 Frawley Road:
A caller advised police that an unknown suspect(s) took his weed trimmer from his shed.
430 Frawley Road:
Police spoke with a man who said that his Ryobi trimmer had been stolen from his attached garage. The man said that he last saw the trimmer around 8:00 pm on May 13th and noticed it missing around 3:00 pm on May 14th. There were no visible signs of forced entry to the door leading into the garage. The resident said he usually keeps the door locked.
May 14 – Night Shift
1410 Mack Smith Road:
Police responded to this location at the request of a man who stated that the staff would not allow him on the property due to an expired parking pass. Police were able to assist the man in acquiring a renewed parking pass via a supervisor at the establishment.
323 Camp Jordan Parkway:
Police were called to this location in reference to someone playing drums. Officers, upon arrival, discovered two (2) men that had chosen to use this location to erect their drum set for a practice session in preparation for an upcoming audition. Due to the acoustics in the park, the sound carried and disturbed neighboring residents. The drummers agreed to bring their practice session to a close and reschedule their activity for another time.
18000 I-24 West:
Police responded to a hit and run crash at this location.
3610 Altamira Drive:
A call was received regarding juveniles riding bicycles in the area while yelling and cursing. Police did not locate anyone in the area.
730 Germantown Circle:
Police responded to an apartment at Germantown Gardens regarding a report of an overdose.  A male had overdosed on heroin.  He was given Narcan and then transported to the hospital for other medical attention.  Melissa Woodham, his girlfriend, was taken into custody after discovering she had an active warrant through Hamilton County, TN.