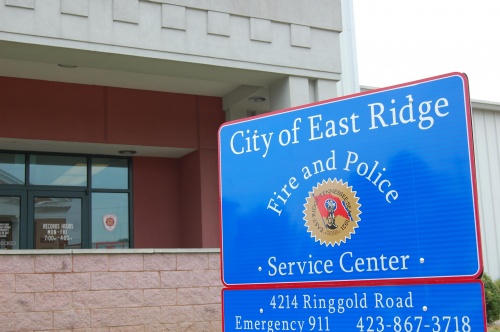 The following information was compiled from ERPD "pass along" reports.
May 26 – Day Shift
I-75 North (suspicious person):
Police were called about a woman walking along the interstate. Contact was made with Samantha Mosier who falsely claimed to be Madeline Brauer. Mosier was arrested for criminal impersonation. (22-007422)
803 Poindexter Avenue (aggravated burglary):
The resident arrived home to find a door kicked in and $1,000 stolen from a safe. The burglary occurred between 0830 and 1430 hours today. (22-007440)
Frawley Street at Alice Drive (AOA):
Collegedale Police chased a suspected stolen vehicle which crashed at this location. East Ridge officers assisted with locating items tossed from the vehicle by the suspect who was caught after running from the scene. (22-007442).
********************************************************************* 
May 26 – Night Shift
3657 Ringgold Rd (Narcotics/Stolen Auto Recovery 22-007474):
While patrolling Cascades, police located a gold Saturn sedan verified as stolen out of Knoxville. Contact was made with occupants of room # 61 Samuel Wiley and Ashlee Hobbs. During the investigation police located about 20 grams Meth, 15 grams suspected Fentanyl, Fentanyl patches, and various paraphernalia in the room. Neither party claimed ownership therefore both were charged accordingly. Wiley admitted possession of the Saturn, which also contained a stolen TN tag off another vehicle. Hobbs also had Hamilton County warrants.
941 Spring Creek Rd (Mental Health 22-007465):
A woman was brought by her mother to Parkridge East for a mental health evaluation, but she ran off. Police got out with her and convinced her to seek medical assistance. Police transported her back to the hospital where medical staff admitted her under a CON.
5343 Bennett Rd (Theft from Vehicle 22-007464):
Residents from this address heard activity in their yard and noticed their trailer had been moved. Upon further inspection, they reported an ID, Debit Card, $150 in cash, and a cell phone were taken from a vehicle on the property.
4300 Ringgold Road (Arrest 22-007467):
Following a traffic stop, Luis A. Luevano-Rodriguez was taken into custody for DUI and possession of cocaine.
*********************************************************************
May 27 – Day Shift
3715 Ringgold Rd (Susp Activity)-
Officers responded to the area in reference to parties possibly using narcotics on the lot. Police were unable to locate anyone on the lot using narcotics.
1410 Mack Smith-
(Mental health consumer) A male subject was placed into protective custody after making threats of wanting to harm himself and transported to Parkridge East for further evaluation.
3600 block Shirl Jo Ln  Assist EMS-
A woman stated that she ordered food from Zaxby's in Ft Oglethorpe and was delivered by a Door Dash worker. She stated after she and her friends, as well as her two year old ate, they began having a numb sensation in their mouth, and began to "feel weird". EMS responded to the scene at her request, and transported her to the hospital for evaluation. EMS on scene stated they believed the above was related to a food allergy or a reaction to "spicy food," and nothing seemed abnormal on scene.
1450 N Mack Smith-
(Susp. Person) Rick Posey called from Indirect Home Loans about homeless parties attempting to build shelter on his property. Police spoke with the parties and the parties left the area without any further incident.
4214 Ringgold Rd (Warrant)-
Kawanna Foster was turned herself in at ERPD on an outstanding warrant and was transported to HC Jail.
*********************************************************************
May 27 – Night Shift
3300 Ringgold Road / Warrant Service:
Christina Washer was arrested for an East Ridge warrant during a traffic stop at this location. (22-007506)
6514 Ringgold Road / Arrests:
Shameka Wade was arrested for driving on revoked (DUI) at this location during a traffic stop. The passenger Kevin Pearson was arrested for violation order of protection with Wade as the protected party. (22-007516)
184 24 WB / DUI:
ERPD observed a silver van failing to maintain its lane of travel. ERPD conducted a traffic stop on the vehicle due to the vehicle being a danger on the roadway. CPD arrived on scene and arrested the driver for DUI. (22-055769)
6800 Ringgold Road / Backup Other Agency:
Theodore Semonski was taken into custody after Catoosa County advised they received a call about an intoxicated male party at a residence in Georgia. Semonski was located in East Ridge and appeared to be extremely intoxicated. (22-007513)
Interstate 24 WB / Traffic Stop:
Troy Lucas was taken into custody following a traffic stop at this location after being found to have multiple warrants out of general sessions and East Ridge. (22-007521)
730 Germantown Rd / Assist fire:
Police responded to Apt 806 to assist fire. Upon arrival fire discovered a pot left unattended on a hot stove. There was no property damage. (22-007507)
600 Germantown Road / Evading:
Police attempted a traffic stop at this location for an equipment violation. The offender immediately accelerated away. Police deactivated all emergency equipment and discontinued any attempt to apprehend the offender. The offender continued to drive in a reckless manner north Germantown Road and out of sight of police. The driver is suspected to be a validated gang member. Charges are pending upon further investigation. (22-007512)
6708 Ringgold Rd / simple possession:
Nathaniel Bailey was found to be in possession of a user amount of fentanyl following a call for service at Circle K. (22-007517)
5370 Reneau Way / Disorder:
Police were dispatched regarding an intoxicated party who was refusing to exit an Uber vehicle. Moises Machado was taken into custody for public intoxication and assault on police. (22-007519)
4222 Ringgold Rd/Narcotics violation, Public intoxication: 
A subject was seen arguing and fighting with a light pole in front of the Speedway. The subject was identified as Steven Goodwin. A consent search led to the discovery of methamphetamine on Goodwin's person. Due to his impaired state, Goodwin was transported to Silverdale. (22-007509)