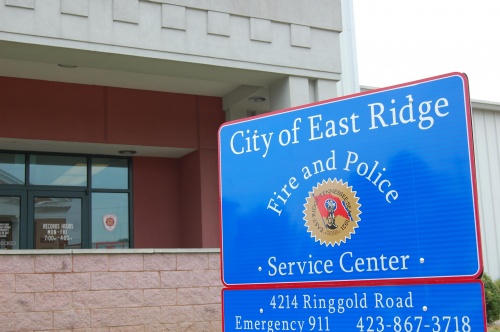 The following information was proved by East Ridge Police Department in the form of "pass along" reports.
May 07 – Day Shift
4005 Sherlin Drive:
The resident reported to police that the sticker on his vehicle tag was missing. 
482 McBrien Road:
The manager at TNT Fireworks, reported that unknown suspects have been dumping trash in and around the dumpster behind the store.  The manager has requested additional patrol at night with an emphasis being placed on the rear portion of the building. 
4340 Ringgold Road:
A caller reported having observed a suspicious man in the parking lot of the Food Lion grocery store. The caller advised that the man may be impaired. Police responded and spoke with Ronald Swafford, who was arrested for drug paraphernalia following a search of the vehicle he was occupying.
1503 McDonald Road:
Tristan Garrett was arrested at the Waverly motel after being found in possession of 18 grams of methamphetamine.  Michael Thomas and Dustin Elliot were observed interacting with Mr. Garrett prior to his arrest.  Michael Thomas and Dustin Elliot were given criminal trespass notifications for the property. 
1503 McDonald Road:
While already present at the Waverly Motel, police observed some potential issues concerning smoke detectors. East Ridge Code Enforcement personnel responded and requested police assistance with inspections. Police contacted Ruth Randolph, who had multiple warrants through Catoosa County, GA. Ms. Randolph was transported to the Hamilton County Jail.
May 07 – Night Shift
1130 Chippewah Drive:
The resident said that her Taurus PT111 firearm was stolen on March 17th from her residence.  Ms. Davis said that she had several conflicting issues in her life that prevented a timelier reporting of the theft. 
601 Walnut Street:
Bobby Rogers was arrested at the Hamilton County Jail for a failure to appear/failure to comply warrant.
Karwill Lane / Ringgold Road:
A caller reported seeing three (3) bicycle riders near Huckabee Bonding and the Local Coffee Shop around 11:50 pm.  Police did not locate anyone upon arrival. 
4320 Bennett Road:
Police approached two (2) vehicles sitting in the lower back lot of East Ridge High School at 9:45 pm.  The occupants of the vehicles were both from the nearby State Line Road area of Georgia and were looking for a lost blonde Shephard mix dog. 
6725 Ringgold Road:
Michael Ellis was issued a criminal trespass notification from Chattanooga Mercantile following a disorder that occurred. 
918 Donaldson Road:
Kenya Jones was arrested for vandalism and aggravated assault following a disorder with her boyfriend's children's mother.
4222 Ringgold Road:
Police were called to the Speedway regarding a female subject inside the store that was said to have been shoplifting. A store employee showed officers camera footage of the female subject taking items from the shelves and failing to pay for the items that had been taken. Officers located the female subject, identified as Callie Hale, who became agitated when police were conducting a search of her person. Ms. Hale kept grabbing an unknown object inside her clothing and resisted officers. Ms. Hale was arrested and charged with possession of methamphetamine, resisting arrest, assault on police, and theft involving merchandise.
6401 Ringgold Road:
Officers responded to McDonald's restaurant regarding a female subject passed out while in the driver seat of a truck that was parked on the lot. The female was transported to the hospital by EMS. A syringe, filled with suspected heroin, was found on the driver seat of the vehicle where the female had been. Drug paraphernalia was also located. Charges are pending.