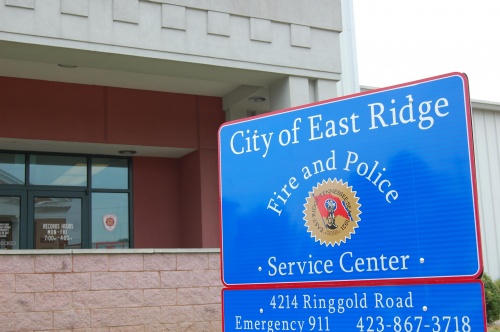 The following information was compiled from East Ridge Police Department "pass along" reports.
Nov. 25 Day Shift
3713 Ringgold Road (Subway):
Disorder Prevention/Warrant Service- Police were dispatched regarding a child custody issue and were made aware of an outstanding East Ridge warrant on an Amanda Hayes. Upon arrival Hayes was arrested and transported to 601 walnut Street.
4121 Ringgold Road (Cash Express) and 4119 Ringgold Road:
(Vacant Building)- Burglary- Upon arrival police spoke with the complainant. She advised sometime between 2000 hrs on 11/23/2019 and 0845 hrs on this date, an unknown suspect entered the business and ransacked it. Police cleared the building and requested CID to the scene. While inspecting the scene, officers located a large hole in the wall of the restroom, which shared a wall with the adjacent vacant property's restroom. Officers checked the perimeter of the building and discovered a small window, which had been shattered, and found that it also led to the vacant property's restroom. It is believed the restroom of the vacant business was the location the suspect(s) used to enter the Cash Express. It was also found that the power was turned off, disabling the surveillance camera.
5005 Covington Drive:
Warrant Service- Stephanie Allen was taken into custody on two ERPD warrants. She was transported to 601 Walnut Street.
Warrant Service-
An East Ridge warrant was served on James Turner at 601 Walnut Street.
Warrant Service-
Officers contacted Stacy Ballinger at 5313 Weaver Street. Ballinger was known to have an active warrant through East Ridge. She was taken into custody on East Ridge warrant ER181214463 and transported to the Hamilton County Jail.
6700 Ringgold Road (Quality Inn)-
Vehicle Burglary- Upon arrival police spoke to the complainant. He advised sometime between 1600 hours 11-24 and 0500 hours today someone entered his vehicle and took $3,900. He also advised his girlfriend went to his truck around 1900 hours, but he is unsure if she left the doors unlocked or took the money. 
1706 Keeble Street (Sonny's Market)-
Alarm- While on patrol police heard an audible alarm coming from the business. Police checked the business and it appeared to be secure.
Ringgold Road @ South Seminole Drive-
Traffic Stop/Warrant Service/Arrest- Marcus Gilbert was arrested and charged with possession of schedule one, possession of schedule six, and two Hamilton County warrants following a traffic stop.
Warrant Service-
Officers encountered Melissa Adair at her residence located at 4145 Ringgold Road (Lomenacque Apartments). Adair was discovered to have an outstanding Arrest Warrant (Alias Capias) for Driving on Suspended. She was arrested on the offense and then transported to the Hamilton County Jail.
5313 Weaver Street-
Arrest/Juvenile Arrest- While police were serving a warrant at 5313 Weaver Street officers contacted a white male who was identified as Caleb M. Police asked Caleb if he lived at the residence and he said he didn't. While talking to him officers could smell the odor of marijuana upon his person. When asked if he had any marijuana on him, he stated he did, and he presented a small amount of marijuana weighting approximately one gram. He also stated he bought the marijuana from someone living on the property. Officers then approached the house and contacted Stacy Ballinger and took her into custody on an ERCC warrant. While inside the house officers spoke to Jacob Edwards and asked him who was in the back yard and he advised his friend was in the shed and offered to escort officers to the shed.
While in the backyard police advised Edwards, they could smell the odor of marijuana coming from the shed and asked him if there was any marijuana in the shed. He stated there was and gave consent to search the shed. Inside the shed police located three clear bags of marijuana weighing approximately a half ounce each, a metal grinder, and small scale with a marijuana residue on it. Inside the shed, a 15-year-old juvenile was also located and had the odor of marijuana upon her person. The juvenile also stated she had been in trouble in the past for similar issues and stated no one could do anything to her because she was a juvenile. Edwards was taken into custody and transported to the Hamilton County Jail. The juvenile was transported to the Hamilton County Juvenile Center.
*********************************************************************
Night Shift
3516 Shadowlawn Dr / Noise complaint:
Police were called to this location in reference to a noise coming from this residence. Upon arrival police heard loud music coming from a tent in the backyard of the residence. Police made contact with the homeowner who stated that her kids were playing music and that they would cut it off for the night.
4100 blk Ringgold Rd / Warrant service (A.O.A):
Police had an consensual encounter with Jeffrey Callahan at this location. Mr. Callahan stated that he had a verbal argument with his girlfriend earlier in the night and he decided to get out of the car and walk.  After doing a Warrants check on Mr. Callahan It was found that Mr. Callahan had two Collegedale Warrants. He was transported to the jail.
1410 Mack Smith Rd room 3208 / assist fire / warrant service:
Police responded to this address to assist fire. Heather Scrivens used "Sevendust" to get rid of the bed bugs in her room. She gave police consent to search the room. In her purse police located drug paraphernalia and 82 Gabapentin pills not belonging to her. She was charged with schedule V and paraphernalia. Sarah Penders was arrested on a Hamilton County warrant. Bryan Pair was arrested on a Hamilton County Warrant. Darrell Trimmier was arrested on two East Ridge Warrants.
1059 Holiday Drive / Public Intox:
Robert Vaughan was taken into custody for public intoxication following an incident at this location. It was determined Vaughan was a suspect in a stabbing which occurred earlier in Chattanooga. Detectives from Chattanooga responded and spoke with Vaughan but are not charging him at this time.
Spring Creek Elementary / Open Door:
Police found the door to a utility closet on the north side of the building open. The room was checked and re-secured, it did not appear to have been disturbed.