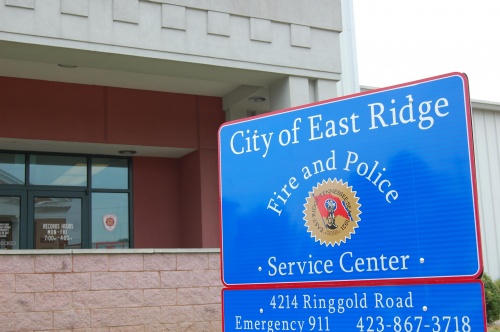 The following information is courtesy of the East Ridge Police Department.
Day Shift November 21, 2022
22-016002- 5700 BLK Ringgold Road- Alarm-
Police responded to check the business. On scene the alarm was found to be accidental.
22-016003- 5700 BLK Ringgold Road- Alarm- Police responded to check the business. On scene the alarm was found to be accidental.
22-016004- 6100 BLK Nottingham Drive- Vehicle Burglary- The caller advised three vehicles on the property were entered. The vehicles had been entered overnight between 11/20/22 after 8 PM and 11/21/22 before 7:50 AM. The victim advised an unknown suspect entered the first vehicle and took a pastel colored purse with flower designs on it. There was nothing missing from the second and third. No suspect information is available at this time.
No number assigned- 5300 BLK Oakdale Avenue- AOA- Police responded with ERFD on a fire at this residence. on scene police stood by while fire handled the call.
22-016013- 100 BLK Kingwood Drive- Disorder- The caller advised the intoxicated parties at this address were harassing workers at this location. On scene police spoke with the female and advised her to stop yelling at the workers.
22-016017- 3400 Lisa Drive- Narcotics- The caller advised a male and female were sitting in a vehicle in the parking lot possibly selling drugs. On scene police located the couple. They advised they were just talking.
22-016021- 125 Kingwood Drive- Domestic Assault/Protection Order Violation- Roger Powers was arrested following a call from the neighbor regarding a domestic assault. He was transported to Silverdale.
22-016024- 3600 BLK Mimbro Lane- Alarm-
Police responded to check the residence. On scene the house appeared secure.
22-016029- 6100 BLK Sherwood Drive- Vehicle Burglary- A citizen called regarding a theft from vehicle. On scene he advised he parked his unlocked vehicle around 10:45 PM in his driveway. He further stated around 12:45 AM his car horn went off, but they thought it was just a passerby honking. There was no suspect information to offer to police, and the ring doorbell on the house did not capture anything.
Night Shift November 21-22, 2022
22-016037- 3839 Ringgold Road- Crash-Property Damage-Misdemeanor Citation-
While investigating a Motor vehicle collision at this location police discovered one of the passengers was in possession of marijuana. Darion Daniels- Jones was issued a misdemeanor citation for simple possession and released.
22-016038- 728 Frawley Road- Theft- Officers responded to Parkridge Apartments regarding a call for two firearms which were missing from an apartment.
22-016046- 1640 Keeble St- Aggravated Domestic Assault-  Amany McClendon was taken into custody for aggravated domestic assault after slicing and stabbing her boyfriend's hand with multiple knives.
22-016047- 4000 BLK of Spriggs Street- Suspected Homicide- Officers were called to a home regarding unknown trouble. The caller advised he believed his mother-in-law was deceased. Officers arrived on scene and located a deceased female inside the home. The investigation is ongoing.
22-016048- 6510 Ringgold Rd- Assault EMS Needed- Police responded to the Stay Express Inn on a reported assault with EMS needed. Police made contact with the victim who had lacerations to the head and severe bleeding. The victim stated that she believes she fell and hit her head. Police could not determine that an assault occurred. Report on file.
22-016051- 1417 St Thomas St- Assist EMS-CPR In Progress- Police responded to the Motel 6 for a CPR in progress. Police along with fire and EMS made contact with the victim who was experiencing a medical episode.
22-016052- 4214 Ringgold Rd- Warrant Service- Tyreke Byrd was served with two outstanding East Ridge warrants at the Hamilton County jail.
22-016053- 3510 Mimbro Lane- Arrest-Domestic Assault- Summer Burkhart was arrested for domestic assault following an unknown 911 call. Conditions were served to the victim.