The following information was compiled from East Ridge Police Department "pass along" reports.
Oct. 29 Day Shift
The caretaker of the Lomenick Cemetery/Mausoleums asked for an extra patrol of the cemetery due to vandals/campers coming onto the property during the night hours.
4320 Bennett Road (East Ridge High School)-
Unruly Parent/Disorder- The school SRO called for assistance with an unruly parent in the parking lot. Per the school administration the parent attempted to break into the school after being ejected by staff. The parent was arrested and charged through the county.
3218 Gleason Drive (Ridgeview Point Apartments)-
Vehicle Burglary- While on patrol police observed a red Kia Sorento with the passenger side window busted out sitting in the parking lot. The vehicle owner was found and advised sometime between 0230 and 0430 this morning the vehicle was entered. The victim stated that nothing appears to have been taken. No suspects.
3218 Gleason Drive (Ridgeview Point Apartments)-
Vehicle Burglary- While investigating the burglary of the Kia officers found a silver 2011 Dodge Nitro with the passenger side rear window broken out. Officers were able to locate the owner. She advised she last saw her vehicle intact at around 0100 hours this morning. She advised nothing appeared to have been taken. No suspects.
3218 Gleason Drive (Ridgeview Point Apartments)-
Vehicle Burglary- Later in the morning police were dispatched back to the apartment complex. Upon arrival police spoke to the complainant. He advised coming outside today he observed his son in-law's 1998 white Ford Explorer had been entered through a broken window. The complainant advised nothing appeared to have been taken. No suspects.
323 Camp Jordan Parkway –
Assist Citizen – Officers responded with codes enforcement to check the wellbeing of Ashley B. and her four young boys. Ashley has been given permission by the park to stay in her travel trailer close to the bathrooms until Friday. After speaking with Ashley, it was determined she didn't have enough food or funds to purchase food. Officers pooled their resources with codes enforcement and purchased enough food for she and her boys to have food through the end of the week.
4328 Dupont Street-
Alarm- Police responded to the address and checked the residence. The doors and windows appeared to be secure.
Warrant Service-
Tyrone Stevenson was served with an East Ridge alias/capias warrant for possession of schedule II. Stevenson was transported to the Hamilton County Jail for booking.
*********************************************************************
Night Shift
3700 Fountain Avenue / Lost Property:
A black female and two black males were arguing over the female's missing billfold. Offices calmed the situation and also found the billfold.
5301 Ringgold Road / Theft:
Police responded to a theft call. A white female party wearing a black hoodie stole several items from the store. She left in her dark colored sedan and drove East on Ringgold Road. Walgreens provided police with security footage.
4214 Ringgold Road / Warrant Service:
David Brewer turned himself in to officers at ERPD for five outstanding warrants.  Three Forfeiture Capias on charges of Possession of Schedule II, Possession of Meth, Possession of Marijuana and Two Alias Capias on charges of Possession of Drug Paraphernalia and driving on a suspended license.  Mr. Brewer was accompanied by his bondsman from Chattanooga Bonding.  Warrants were served and bond executed releasing Mr. Brewer on bond.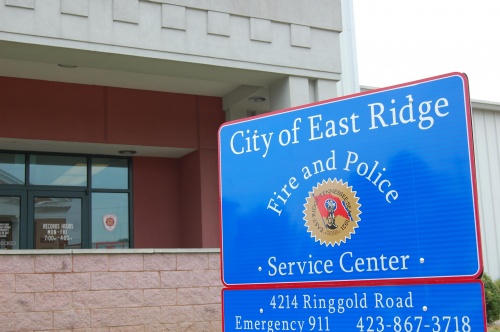 3800 Bennett Road / Traffic Stop:
Police stopped a yellow mustang for violation of light law.  Police requested the driver to provide a driver's license in which he could not.  Police issued a Misdemeanor Citation in Lieu of Arrest for driving without a license.
Oct. 30 Day Shift
941 Spring Creek Road (public intox):
Parkridge East Hospital staff called police about Ashley Tackett who had been treated and released but remained on scene at the hospital. Tackett, who was impaired on drugs and alcohol, had no place to go and had nobody to come get her. Tackett was arrested for public intoxication and transported to Hamilton County Jail.
5325 Matthew Drive (residential burglary):
The resident was returning home when she observed two unknown black males carrying her television from her house. She immediately returned to work to call police, because her phone at home did not work. Police arrived and cleared the home. CID responded and processed the scene. Golden was not able to leave work to inspect the home. 
601 Walnut Street (warrant service):
Jennifer Warlick was arrested at the jail on a petition to revoke for DUI.
1615 Heather Street (attempted burglary):
The resident came home to find his front door kicked in. Items in the house had been gone through, but nothing appears to have been taken. CID was notified.
3609 Glen Oaks Drive (auto burglary):
The resident reported his black Smith & Wesson MP9 9mm was stolen from the center console of his 2007 Chevy Silverado.  He believes the incident occurred between 0000-0020 hours on 10/29/19. There are no suspects and the firearm was entered into NCIC. 
*********************************************************************
Night Shift
3714 Edwards Terrace (Deceptive Practice):
The complainant was scammed out of $2,500 from an unknown caller stating that if she did not send him $2,500 in gift cards, he would be unable to return the $3000 that his company accidentally debited her bank account for a security software that was on the complainant's computer.
3100 Ringgold Rd:
Numerous semi-trucks were detoured away from the tunnel due to traffic being backed up on I-24 West.