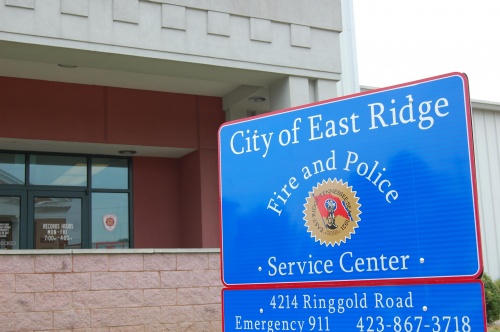 The following information was compiled from ERPD "pass along" reports.
September 12 – Day Shift
 941 Spring Creek Road (sexual assault):
A female victim went to Parkridge East emergency room and reported having been raped. Police responded to the hospital, and the victim stated she had been outside her home at 0330 hours this morning when she was approached by two white males asking for money. She stated she didn't have any money at which time the men forced her into the backyard. At this time one of the men forcibly raped her. CID responded and interviewed the victim who was then transported to the Crisis Center for testing.
525 S. St. Marks Avenue (assault, etc.):
A woman was in the process of letting her dog out this afternoon when she said Dwight Land forced his way into her home by striking her face multiple times with a closed fist. The victim had a variety of injuries to her face and head. She initially denied medical attention but later stated she would be taking herself to the hospital. Land was charged with aggravated assault, aggravated burglary, and kidnapping.
6105 Ringgold Road (theft):
The complainant met three unknown black males at Popeye's after listing an iPhone for sale on Facebook. One of the suspects gave the complainant a wad of bills and immediately snatched the phone and drove off. At this time the complainant noticed she had been given a number of fake bills.
*********************************************************************
September 12 – Night Shift
1417 St Thomas St (Narcotics):
Caller had checked into Motel 6 and quickly decided to check out because of narcotic activity. Police assured the caller they were aware of illegal narcotic issues at the motel.
1701 McBrien Rd (Assist Other Agency 20-012139):
Chattanooga PD requested assistance in locating a wanted party at this address. Party was not located.
1706 Keeble St (Unconscious Party 20-012142):
Brandon Sloan Hawkins was located unconscious in the parking lot sitting inside a red Ford. The keys were in the ignition and the vehicle was running. Hawkins was aroused by EMS personnel. She was very unsteady on her feet and refused field sobriety. Hawkins was arrested and transported to the Hamilton County Jail on charges of DUI, Possession of Schedule VI with Intent and Reckless Endangerment. Hawkins' four year old daughter was in the backseat of the vehicle at the time of the incident.
800 Belvoir Ave (Suspicious Activity):
Reporting party stated people had been loitering in the parking lot most of the evening. She is a teacher at the school and requested police be present when she left the building for the evening.
3200 Ringgold Rd (Fail to Stop):
Officers attempted to stop a silver Nissan Altima traveling at a high rate of speed westbound in the 3200 block of Ringgold Rd. The vehicle failed to stop and traveled into Chattanooga. Per ERPD policy, officers terminated all emergency equipment and ceased efforts to halt the vehicle.
3725 Fountain Ave (Noise Complaint):
Caller stated parties in Apt 50 were being extremely loud, playing music, blowing birthday horns and "stomping." Parties agreed to quieten for the evening.
5408 Ringgold Rd (FI 20-012151):
Officers observed a white male wearing a white tank top style shirt in the parking lot of Valero. The male matched the description of an assault suspect from earlier in the day. FI was conducted on the man and he was released.
5900 State Line Rd (Shots Fired 20-012152):
Reporting party stated they heard five to six gunshots. RP stated parties in a blue truck were driving east on State Line shooting from the vehicle. Nothing was located by East Ridge Police. A short time later, Catoosa County, reported seeing an older model Toyota pickup traveling north on Keeble they believed to be involved in the shooting incident.
6700 Ringgold Rd (Miscellaneous 20-012153):
Reporting party stated he had observed a female wearing a bathing suit get kicked out of a vehicle near 728 Frawley. Officers located the female in the 6700 block of Ringgold Rd in a state of undress. She was walking west wearing only under garments. The female was unable to provide funds for transportation home. Officers escorted the party to the residence of one of her friends.
1500 Mack Smith Rd (Public Intoxication 20-012154):
Officers received numerous calls about an intoxicated male in the 6500 block of Slater Rd. The party, Samuel Helton, was located in the 1500 block of Mack Smith Rd. He was found to be highly intoxicated. Helton was taken into custody for Public Intoxication and transported to the Hamilton County Jail.
4303 Worsham (Burglary Attempt 20-012157):
Reporting party stated a heavy set white male attempted to enter his shed. Police were not able to locate the suspect.
********************************************************************
 September 13 – Day Shift
490 Camp Jordan Parkway (auto burglary):
A Top Golf customer's vehicle was entered this afternoon, and two purses were stolen. A newer, dark gray Nissan Murano with no tag is a possible suspect vehicle. There is no information about suspect vehicle occupants.
201 Eads Street #424 (aggravated domestic assault):
Brhiyanna Wise was arrested after she cut her brother with a kitchen knife during an argument. The injury was a smaller cut to the hand.
5610 Ringgold Road (arrest):
Jerry L. Shirley was arrested following a traffic crash involving the metal fence surrounding Easy Auto. Shirley was charged with a variety of driving offenses and possession of drug paraphernalia.
6642 Ringgold Road (theft):The manager of the Econo Lodge reported the theft of a television from Room 117. Suspect information was provided, and the investigation is ongoing.
3700 Altamira Drive (theft):
The resident reported the theft of his Biden/Harris sign which had been in his yard.
4338 Ringgold Road (disorder):
The Food Lion shift manager reported a white male in his mid-40's with brown hair and wearing a blue face mask, white t-shirt and blue jeans became very upset because a fellow customer wasn't wearing a mask. He stated violence would break out in the store and that he wasn't through with the store employee who failed to enforce the mask requirement
201 Eads Street #135 (auto theft):
The complainant, who does not reside at the Dogwood Place Apartments, had her Enterprise rental vehicle stolen from the parking lot on 09/12/2020. She left the vehicle with the key in the middle console and the doors unlocked.  The vehicle is a 2020 white GMC Yukon bearing TN Tag# 8W52D2. Vehicle was entered into NCIC.
*********************************************************************
 September 13 – Night Shift
601 Walnut (Warrant Arrest 20-012194):
Stacy Croft was booked on East Ridge warrants at the Hamilton County Jail.
1453 Mack Smith (Disorder):
Caller in room 225 of The Fairfield said he was being harassed and threatened by a group of males. He relayed to dispatch they were yelling at him through the door to his room. He cancelled police just as officers arrived on scene. Officers made contact with the caller who stated everything was ok.
6674 Ringgold Rd (Suspicious Activity 20-012200):
Contact was made with a woman who was sitting in her vehicle in the parking lot of the Roadway Inn. The woman initially stated she was at the motel to give a friend a ride. She eventually admitted she was at the motel to buy marijuana.
400 Camp Jordan Pkwy (Warrant Arrest 20-012201):
Sharonda Taylor was taken into custody on an East Ridge warrant following a traffic stop at this location.
601 Walnut (Warrant Arrest 20-012204):
Ellis Thornhill was booked at the Hamilton County Jail on East Ridge warrants.
100 S Crest (AOA 20-012207):
CPD requested traffic control assistance and possible HNT assistance from ERPD for a suicidal party on S Crest bridge. Patrol units staged on I24 East and West to close traffic flow if necessary. The party was safely taken into custody by CPD.
Interstate 75-N (Crash Police Vehicle 20-012209):
Officer Richardson was in the process of working a crash involving two tractor trailers when another vehicle struck his parked patrol unit. Richardson was not in the vehicle at the time of the crash. THP was contacted to work the crash.