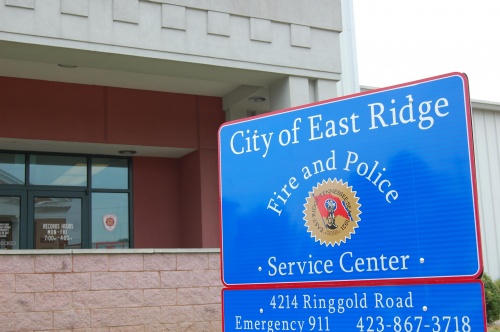 The following information was compiled from East Ridge Police Department "pass along" reports.
Sept. 18 Day Shift
3511 Ringgold Rd (Check Wellbeing):
Employees of R&R Tire called police to check on a white female talking to rims inside the store. Police made contact with the described female in the 3300 block of Ringgold Road. While speaking with police she appeared lucid and did not pose a threat to herself or others. She was sent on her way.
411 Dunlap Apt A (Warrant Service):
Destiny Carpenter was arrested on an outstanding East Ridge warrant for domestic assault following a tip about her location provided by her mother.
1519 Maxwell Road (Medical):
Police responded to a difficulty breathing call at this location and located a man turning blue. He was transported by ambulance to an area hospital.
4214 Ringgold Road (Warrant Service):
Anthony Killian turned himself into police and was arrested on three East Ridge warrants for passing worthless checks.
*********************************************************************
Night Shift
822 Belvoir Ave (Alarm):
Police responded to a motion alarm at the Good Shepherd Church. On scene, police found no signs of forced entry and no one was located near the area.
5700 Ringgold Rd (stolen vehicle recovery):
Following a traffic stop on a black Honda motorcycle with no tag, it was discovered the bike was stolen. The driver, Richard Allen Pesnell, was taken into custody. Mr. Pesnell also was driving while suspended and was in possession of drug paraphernalia.
1363 St Thomas St (Deceptive Practice):
Becky K. requested a phone call regarding deceptive practice. The woman stated that a male called her and stated that his name was Officer Jeffery Oneal and that he was with the Social Security Administration. The male stated he had an arrest warrant for the woman and wanted to get the issue resolved. The woman stated that the male was asking about several different bank accounts that she did not own, and he continued to talk about a drug bust that she had no knowledge of. The woman stated that the unknown male did not ask for any bank account information and did not ask for money. The woman did not give any other information about herself but wanted to report the suspicious phone call. 
431 Pine Bluff Dr (Assault):
A male resident was transported to Erlanger for a mental health evaluation following an assault with another male resident. One subject had punched the other in the rib area several times.
6514 Ringgold Road (Criminal Trespass):
Jonathan Finley was issued a trespass warning from the Mapco. The clerk stated the male asked her if it would be funny if he pulled his gun out. Police did not locate any firearm.