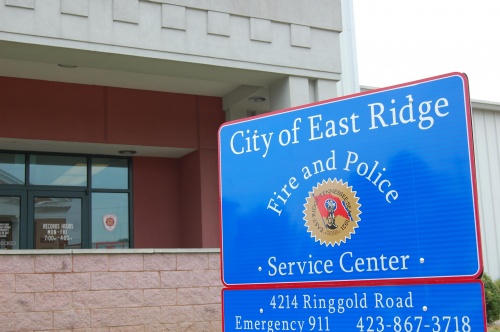 _ 4011 Ringgold Rd.: Police were called to the address Wednesday morning to investigate a suspicious person. According to a police report, the caller told dispatch that occupants inside a white car parked at the Kangaroo Express had allegedly been involved in narcotic activity. When officers arrived they discovered a 2004 Hyundai and determined the license plate didn't match the vehicle. 
Police spoke with the people inside the car, Matthew Teeters and Heather Ellis. According to the report, Teeters was concealing something in his hand and dropped several white-colored pills in the driver's side floorboard. Moments later, police received information that the couple may have been involved with a residential burglary on Greenslake Road.
Officers were dispatched to the address on Greenslake and discovered two doors had been forced open by some kind of tool. Ellis told police that they had been at the Greenslake address, claiming it was where her father lived. Teeters denied knowing anything about the Greenslake address. 
The report states that a witness saw the white Hyundai at the address and identified Teeters and Ellis as having been in the car on Greenslake Road. Police also discovered two tire tools in the Hyundai and were able to link the tools to the forced entry at the house. The report states that police assisted the victim in the Greenslake Road burglary in recovering a prescription bottle of Hydroxyzine at the top of the stairway at the home. The pills discovered in the floorboard of the car matched those in the prescription bottle, the report states.
Teeters, 25, of a Rossville address, was charged with Aggravated Burglary, Possession of Burglary Tools, Theft under $1,000, and Possession without a Lawful Prescription. Ellis, 27, of a Flintstone, Ga. address, was jailed on a charge of Passing Worthless Checks.
_ 5700 block Ringgold Rd.: On Wednesday evening an officer spotted a man and a woman standing around the Goodwill donation center at the location. According to a police report, the officer sa the man looking through items while the woman was watching. Due to recent thefts at the donation center, the officer stopped to talk with the pair. 
The man, later identified as Vander Lee Yother Jr., told the officer he had permission from an employee to take items from the donation center. The woman gave the officer an apparent false name. She was later identified as Emily Herrell, who had active arrest warrants. 
When the officer searched Herrell's person and belongings, he discovered a loaded syringe with suspected methamphetamine that field tested positive for Meth. Yother was also found to have active warrants, and subsequent to a search, police discovered 3.2 grams of suspected marijuana in his front pocket. 
Herrell, 31, of a Lafayette, Ga. address, was jailed on charges of Possession of a Controlled Substance, Possession Drug Paraphernalia and Criminal Impersonation. Yother, 55, of Rossville, was charged with Possession of Controlled Substance Schedule IV and Possession of Drug Paraphernalia.